Bill Arney
Eddie Muller Remembers the Voice of NOIR CITY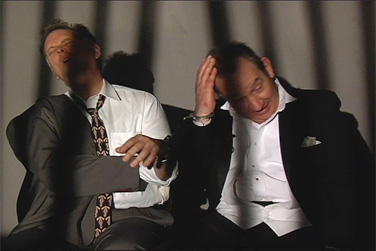 The NOIR CITY film festival has lost a bit of its soul. WILLIAM P. ARNEY aka "The Voice of NOIR CITY," died on Monday, September 27. He'd been battling an assortment of maladies over the past few months, but none that seemed lethal. In fact, Bill called me the day before he died and he sounded the same as always—charming and avuncular, with that gruff voice straight out of a 1940s film noir. An undetected virus in his lungs dropped him for the count the following day.
Bill and I had been friends from the moment we met, March 19, 2005. It was an event celebrating the American Library Association's declaration of landmark status for 891 Post St. in San Francisco. That's where Dashiell Hammett lived when he wrote The Maltese Falcon. Bill originally encountered the place on Don Herron's Hammett Walking Tour, not long after he'd moved to the city from the Midwest. Later, having spotted a "For Rent" sign on the building, he moved in. Although he was an architect by trade, Arney had the inquisitive mind of a detective—he'd suspected #401 was Hammett's crib, tracked down the building's blueprints, did comparative studies of other apartments, and came to a definitive conclusion—he was living in the apartment in which Hammett crafted his masterpiece. Bill loved to show the evidence, reciting passages from The Maltese Falcon set in Sam Spade's apartment that corresponded perfectly to the studio's layout. When I needed to relieve myself, Bill noted, "Those are the original fixtures. I researched it. You're pissing in the same toilet Hammett pissed in!"
It had to be fate that brought us together. At the luncheon following the Library event—where I first met Hammett's daughter Jo and his granddaughter Julie—Bill and I sparked off each other immediately. He was unique in an old school way. Even though we were the same age, Bill looked and sounded like a guy from another generation, like one of my father's cronies in the boxing dodge. He wore suits. He wore spats. He sported a Homburg. And he had that voice—a rumbling baritone that was gruff but gentle and filled with good humor. As I explained about my background, I mentioned that my expertise in film noir had taken me many places—"From Paris to Peoria," as I liked to say. The Peoria crack piqued his interest, and Bill asked if I'd met a woman there named Helen, who baked pies for lots of local events. Indeed, I had. Turns out that I'd met Bill's mom, Helen, before I'd ever encountered her son! Like I said … Fate.
Starting with the fourth annual NOIR CITY festival—the one-off held at the Palace of Fine Arts—I hired Bill to be the Voice of NOIR CITY, setting the tone for the evening's show with wry, wisecracking introductions. We'd write these together, often backstage just minutes before showtime, and even when they weren't that clever, Bill's voice and delivery had the desired effect, transporting the audience to a different place and time. From the start, Bill's omniscient Master of Ceremonies became an essential part of the NOIR CITY experience. He too became a fixture, making friends with many of the regular patrons. What a lot of people didn't know is that his wardrobe—the hats, spats, trench coat—wasn't a costume donned for the show. That was Mr. Arney himself.
On Bill's first date with his bride-to-be, Laurel Fontana, he took her to work—to that NOIR CITY festival in 2006, his first. It was a perfect match, and the resolute bachelor soon got hitched and moved to San Rafael. (Spade's crib is not conducive to marital bliss.) But Bill remained faithful to both Laurel and me—commuting across the bay to maintain his role as The Voice of NOIR CITY. And we brokered a deal with local writer-philanthropist Robert Mailer Anderson to assume the lease on Hammett's place, so its literary legacy would remain intact. Since 2011, Bill also hosted his own movie show, Cheese Theater, broadcast every Saturday night on Marin Community TV. I co-hosted a bunch of those early shows. We had a blast, in the studio and afterwards at nearby saloons.
Bill Arney shared another important trait with Dashiell Hammett—he was relentlessly curious. The man was never without a book, and his interests were incredibly wide-ranging. He loved learning things and discussing them deeply, preferably over drinks. I will never forget the night we invited Robert Mailer Anderson to Hammett's crib and communed with his spirit over a bottle of Prohibition era bourbon, a glass set aside for Hammett himself. It was transcendent. NOIR CITY, if it emerges from under the COVID curtain, will not be the same. Not without Bill Arney. He brought an essential panache to the affair, beginning each show with precisely the tone we wanted people to feel. An old-fashioned sense of "show biz," a cynical sneer hiding a warm heart, a tough-guy pose wrapped in sly humor. All that came out of Bill, every time he opened his mouth.
Mostly I'll miss telling Bill Arney something funny. Just to see his fabulous grin and hear that inimitable laugh. If you knew him, you know he is irreplaceable. William P. Arney was one-of-a-kind and I will sorely miss my friend and colleague.
—Eddie Muller