NOIR ALLEY
Saturday, June 30, 9:00 PM &
Sunday, July 1, 7:00 AM
FNF Prez Eddie Muller presents
ARMORED CAR ROBBERY (1950): In this awesome little action-packed noir, a police officer, Charles McGraw in a rare outing as a good guy, tries to find half a million dollars stolen by gangsters. Dir. Richard Fleischer
Sunday, July 1, 11:30 PM
LE DEUXIÈME SOUFFLE (1966) After a daring prison break, Gustave Minda (Lino Ventura) embarks on one last heist to get the money to go abroad with his lover. An intrepid policeman, Inspector Blot (Paul Meurisse) hunts him. As it is a Melville film, there's a spectacular heist sequence and meditations on loyalty, betrayal and fate. Aka Second Breath Dir. Jean-Pierre Melville
Friday, July 6, 8:30 PM
CITY THAT NEVER SLEEPS (1953): Married second generation Chicago cop Johnny (Gig Young) wants to leave his wife for his stripper girlfriend (Mala Powers) and gets embroiled with a rich lawyer (Edward Arnold) who wants to entrap his own wife (Marie Windsor) and her lover (William Talman). The adulterous pair, however, have other plans. What could possibly go wrong, especially with that cast? Dir. John H. Auer
NOIR ALLEY
Saturday, July 7, 9:00 PM &
Sunday, July 8, 7:00 AM
FNF Prez Eddie Muller presents
PARTY GIRL (1958): Don't miss this great Nick Ray film, not available on DVD, a gritty bringing down the racket story featuring an interesting love story between a beautiful showgirl (Cyd Charisse) and a gangster's mouthpiece (Robert Taylor) set in Chicago during the mob infested nineteen twenties. See if you can see spot the scene Brian De Palma stole for The Untouchables. Dir. Nicholas Ray
Monday, July 9, 7:00 PM
THE NIGHT OF THE HUNTER (1955): Bogus preacher Harry Powell (Robert Mitchum) marries an outlaw's widow (Shelly Winters in a stunning performance) in search of the dead man's hidden loot. The widow's son (Billy Chapin) sees through him, and tries to keep the secret of the treasure location and protect his mother, sister and himself from Powell. Lillian Gish plays the force of good in opposition to Mitchum's evil. Dir. Charles Laughton
Tuesday, July 10, 5:00 PM
KEY LARGO (1948): A returning veteran (Humphrey Bogart) tangles with a ruthless gangster (Edward G. Robinson) during a hurricane while falling for his dead war buddy's widow (Lauren Bacall). Claire Trevor steals the film with her Oscar winning performance as the gangster's alcoholic and emotionally abused girlfriend. Dir. John Huston
Tuesday, July 10, 9:30 PM
THE PHENIX CITY STORY (1955): Based on a true story, two crusading lawyers, a father and son (John McIntire and Richard Kiley), take on the corrupt machine running a Southern town at great personal cost. Dir. Phil Karlson
Wednesday, July 11, 6:30 AM
CRIME WAVE (1954): Steve Lacey (Gene Nelson), a reformed parolee, is forced to hide a wounded former cellmate who seeks him out for temporary shelter after being shot during robbery. After the cops find out Lacey sheltered a robbery suspect, Detective Sgt. Sims (Sterling Hayden) tries to force Lacey to find the robbers. All Lacey wants to do is protect his wife (Phyllis Kirk) and his new life. Dir. André De Toth
Wednesday, July 11, 1:15 PM—5:00 PM
Sterling Hayden
Double Bill
1:15 PM
SUDDENLY (1954): A gun hating war widow (Nancy Gates) finds her family and herself at the mercy or a ruthless hit man (Frank Sinatra). It seems that her house would be the perfect spot for his current job, assassinating the U. S. president who will be passing through her small town. Can the town's sheriff, and her ex-boyfriend, (Sterling Hayden) save them? Dir. Lewis Allen
2:45 PM
THE ASPHALT JUNGLE (1950): A hoodlum and ex-con (Sterling Hayden) hopes for one last big score that will enable him to go home to his farm in Kentucky. He falls in with a gang of small time crooks plotting an elaborate jewel heist. Of course, you can never go home again. A young Marilyn Monroe plays a small but juicy part. The film was nominated for four Oscars including a Best Supporting Actor nod for Sam Jaffe as the mastermind undone by his passion for beautiful girls. Dir. John Huston
Thursday, July 12, 5:45 AM
THE BLACK BOOK (1949): In this distinctively noirish tale set during the French Revolution, a pair of ex-lovers, Robert Cummings and Arlene Dahl, plot to bring down Robespierre, played brilliantly by the always great Richard Basehart. Charles McGraw plays Robespierre's menacing henchman. Norman Lloyd portrays Jean-Lambert Tallien. Shot by master of noir cinematography, John. Alton. Aka Rein of Terror Dir Anthony Mann
Saturday, July 14, 9:00 AM
THE HARDER THEY FALL (1956): A cynical press agent (Humphrey Bogart) tempted by the money, goes to work as a PR flak for the corrupt manager of a naïve boxer. He then must decide between the dough and exposing the inhuman conditions rife in the boxing game. DP Burnett Guffey earned an Oscar nomination for Best Cinematography, Black-and-White for his work on the film. Dir. Mark Robson
Saturday, July 14, 1:15 PM—5:00 PM
Neo-Noir Double Feature
1:15 PM
POINT BLANK (1967): Existential neo-noir at its best. Lee Marvin stars as a wraith like criminal out to get his share of the loot from a robbery after his partner shots him, leaves him for dead and absconds both with all the money and his wife. Angie Dickinson co-stars as his sympathetic sister-in-law who aids him. Dir. John Boorman
3:00 PM
THE FIRST DEADLY SIN (1980): New York police sergeant Edward Delaney (Frank Sinatra) tries to catch a serial killer while dealing with the worsening health of his wife (Faye Dunaway). Sinatra won critical acclaim for his portrayal of Delaney. Based on the novel by Lawrence Sanders. Dir. Brian G. Hutton
NOIR ALLEY
Saturday, July 14, 9:15 PM &
Sunday, July 15, 7:00 AM
FNF Prez Eddie Muller presents
ROADBLOCK (1951): This film provides a change of pace for noir stalwart Charles McGraw who usually played heavies. This time he plays the sucker who destroys himself by turning to a life of crime to woo and then attempt to keep the beautiful Diane, Joan Dixon. Screenplay by screenwriter and novelist Steve Fisher. Dir. Harold Daniels
Monday, July 16, 3:00 AM—5:00 PM
Barbara Stanwyck Birthday Salute
Here are the noirs...
5:30 AM
EAST SIDE WEST SIDE (1949): Wealthy and married Jessie Bourne (Barbara Stanwyck) finds herself attracted to ex-police officer turned author Mark Dwyer, but wants to remain loyal to her husband (James Mason). Unfortunately he's playing around with his ex-flame Isabel (Ava Gardner). Isabel tells Jessie that she has every attention of taking away her husband. Then Isabel winds up dead and Jessie falls under suspicion for the murder. Low rent noir goddess Beverly Michaels does a wonderful turn a trashy gun moll in a small but pivotal role. Dir. Mervyn LeRoy
9:15 AM
CLASH BY NIGHT (1952): In this film noir social realism hybrid, an embittered and world weary woman (Barbara Stanwyck) seeks escape from her life of hard knocks in marriage, only to fall for her husband's amoral best friend (Robert Ryan). The film features a small but nice early role for Marilyn Monroe. Based on a play by the ever ponderous Clifford Odets. Dir. Fritz Lang
Monday, July 16, 7:15 PM
ANATOMY OF A MURDER (1959): In this drily witty courtroom drama, based on real events, a small-town lawyer (James Stewart) more interested in fishing and playing the piano then practicing law gets the case of a lifetime when he defends a soldier (Ben Gazzara) accused of murdering the man who beat and raped his flirtatious wife (Lee Remick). Eve Arden once again does a lot with a small part as his long suffering secretary. Duke Ellington composed the jazz score. Dir. Otto Preminger
Tuesday, July 17, 3:15 PM
THEY DRIVE BY NIGHT (1940): Truck driver Joe Fabrini (George Raft) finds himself the victim of sexual harassment by his boss's amorous wife (Ida Lupino) in a movie stealing performance. When Joe refuses her advances, she murders her husband and then tries to frame him for it. Humphrey Bogart portrays Raft's brother and trucking partner. Dir. Raoul Walsh
Thursday, July 19, 5:00 PM
BULLITT 1968): When mobsters kill the witness Frank Bullitt (Steve McQueen) was assigned to protect, he uses unorthodox methods to investigate the case. Beautiful San Francisco location work and a breathtaking car chase sequence add additional pleasure to watching this fine neo-noir. Dir. Peter Yates
Friday, July 20, 2:15 PM
EXPERIMENT ALCATRAZ (1951): A doctor testing drugs on convicts gets mixed up in a murder investigation. Dir. Edward L. Cahn
Saturday, July 21, 10:30 AM
NORTH BY NORTHWEST (1959): Foreign agents mistake suave and swinging advertising man Roger Thornhill (Cary Grant) for a spy. He takes it on the lam and encounters a beautiful blonde (Eva Marie Saint) who may or may not be trusted. This film earned 3 Oscar nominations: Best Art Direction-Set Decoration, Color; Best Writing, Story and Screenplay - Written Directly for the Screen; and Best Film Editing. Dir. Alfred Hitchcock
NOIR ALLEY
Saturday, July 21, 9:30 PM &
Sunday, July 22, 7:00 AM
FNF Prez Eddie Muller presents
DARK PASSAGE (1947): Adapted from a story by David Goodis, this noir follows convicted wife murderer Vincent Parry's (Humphrey Bogart) escape from jail and subsequent hunt for the real killer of his wife. Sympathetic stranger Irene (Lauren Bacall) encounters him during his jail break and aids him. Agnes Moorehead steals the show as Irene's shrewish friend who knew Vincent and his wife prior to the murder. Dir. Delmer Daves
Monday, July 23, 1:15 AM
PETE KELLY'S BLUES (1955): Ex-doughboy turned jazz musician Pet Kelly (Jack Webb) leads a quartet playing at a Kansas City speakeasy during the Roaring 20s. The quartet gets crossed up with a gangster (Edmond O'Brien) and his alcoholic girlfriend (Peggy Lee). Cynical Kelly finds that he has to take a stand. Ella Fitzgerald makes a memorable cameo as singer Maggie Jacks. Look for Jayne Mansfield as a cigarette girl. Dir. Jack Webb
Monday, July 23, 11:30 PM
IN COLD BLOOD (1967) Bleak adaptation of Truman Capote's ground breaking true crime book. Two men (Robert Blake and Scott Wilson) brutally murder a small town Kansas family, thinking that ten thousand dollars is hidden in the house. They flee with the forty-three dollars they actually found and the FBI hunts them. Dir. Richard Brooks
Tuesday, July 24, 5:00 PM
BADLANDS (1973): After a charismatic James Dean wannabe (Martin Sheen) kills her dad, a baton-twirling teen (Sissy Spaceck) decides to join him on a shooting spree through Montana's Badlands. It's loosely based on the Starkweather-Fugate killings of the 1950's which also inspired Bruce Springsteen's album Nebraska and the key back story in Peter Jackson's The Frighteners (1996). Dir. Terrence Malick
Thursday, July 26, 5:00 PM—12:00 AM
Steve McQueen
Birthday Salute
Here are the neo-noirs...
5:00 PM
THE THOMAS CROWN AFFAIR (1968): A bored tycoon (Steve McQueen) turns to bank robbery and courts the insurance investigator (Faye Dunaway) assigned to bring him in. Hard to decide which of the leads is prettier. Dir. Norman Jewison
7:00 PM
THE GETAWAY (1972): In this first big screen adaptation of Jim Thompson's novel, a husband (Steve McQueen) and wife (Ali McGraw) meet a series of misadventures after a bank heist and the wife's shooting of the mastermind of the robbery who double crossed them. Stars McQueen and McGraw fell in love during the course of the shooting. Walter Hill penned the screenplay. Dir. Sam Peckinpah
NOIR ALLEY
Saturday, July 28, 9:00 PM &
Sunday, July 29, 7:00 AM
FNF Prez Eddie Muller presents
SCENE OF THE CRIME (1949): LAPD Lieutenant Mike Conovan (Van Johnson) investigates the murder of his ex-partner Ed Monigan whom the department believes was on the take, since they found $1000 in cash on his corpse. Monigan's son convinces Conovan that his father was working was actually working under cover. As Conovan tries to both find the murder and clear his partner's reputation, he cozies up to a stripper (Gloria De Haven). Meanwhile, his wife (Arlene Dahl) tries to persuade him to leave the dangers of police work behind. Dir. Roy Rowland
Saturday, July 28, 11:00 PM
THE TAKING OF PELHAM ONE TWO THREE (1974): Lieutenant Garber (Walter Matthau) races the clock to thwart the plot of four criminals Blue (Robert Shaw), Green (Martin Balsam), Grey (Hector Elizondo) & Brown (Earl Hindman). They're holding a subway car full of passenger's hostage and threaten to shoot one each minute until a one million dollar ransom is fully paid. Dir. Joseph Sargent
Monday, July 30, 3:00 AM—5:00 PM
Val Lewton Marathon
Here are the noirs...but you should watch it all.
4:30 AM
THE SEVENTH VICTIM (1943): A young woman (Kim Hunter) leaves school to investigate the disappearance of her beautiful and mysterious older sister (Jean Brooks). She finds out some interesting facts, one, her sister was married and two, she was part of a satanic set. The husband (Hugh Beaumont), a poet (Erford Gage) and a psychiatrist (Tom Conway) aid her search for the truth about her sister. Produced by horror icon Val Lewton. Dir. Mark Robson
10:00 AM
THE LEOPARD MAN (1943): Legendary B horror producer Val Lewton strays into noir territory with this suspenseful tale of a leopard on the prowl for human prey in a small New Mexican town. The night club performer (Jean Brooks) responsible for letting the leopard loose and her manager (Dennis O'Keefe), who dreamed up the stunt, began to suspect that a man, and not the leopard, is actually responsible for the deaths of several young women. Based on Cornell Woolrich's novel, Black Alibi. Dir. Jacques Tourneur
3:30 PM
MARTIN SCORSESE PRESENTS, VAL LEWTON: THE MAN IN THE SHADOWS (2007): This TCM original documentary looks at one of the most creative and imaginative producers of all time who created a timeless canon of beautiful and unsettling films on meager budgets including two supernatural noirs, The Leopard Man (1943) (Dir. Jacques Tourner) and The Seventh Victim (1943) (Dir. Mark Robson). Dir. Kent Jones
Wednesday, August 1, 9:45 PM
SUDDENLY (1954): A gun hating war widow (Nancy Gates) finds her family and herself at the mercy or a ruthless hit man (Frank Sinatra). It seems that her house would be the perfect spot for his current job, assassinating the U. S. president who will be passing through her small town. Can the town's sheriff, and her ex-boyfriend, (Sterling Hayden) save them? Dir. Lewis Allen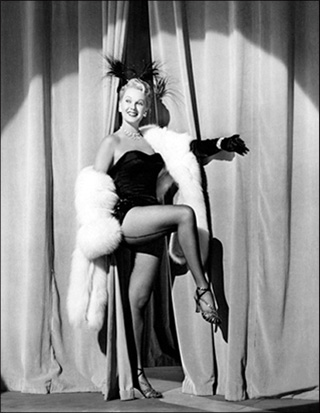 Adele Jergens in Armored Car Robbery, presented by Eddie Muller on NOIR ALLEY on July 1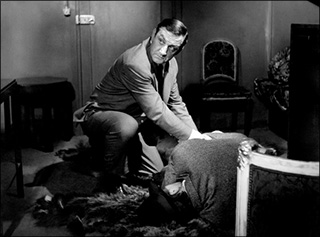 Lino Ventura stars in Melville's heist film, Le deuxieme souffle, on July 1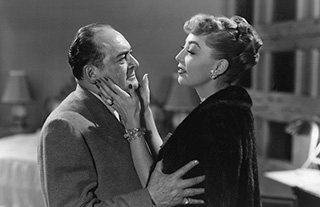 Marie Windsor and Edward Arnold in City that Never Sleeps on July 6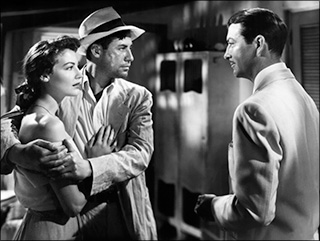 Eddie Muller presents Party Girl on NOIR ALLEY July 7 and 8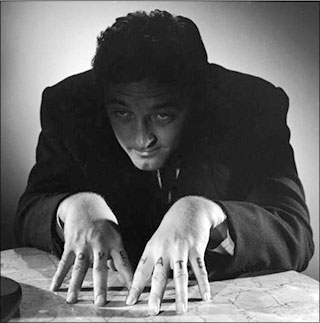 Robert Mitchum at his most menacing in The Night of the Hunter on July 9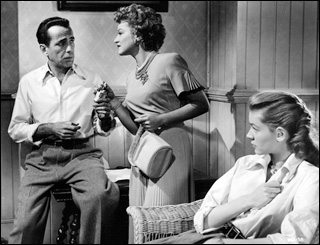 Humphrey Bogart, Claire Trevor and Lauren Bacall in Key Largo on July 10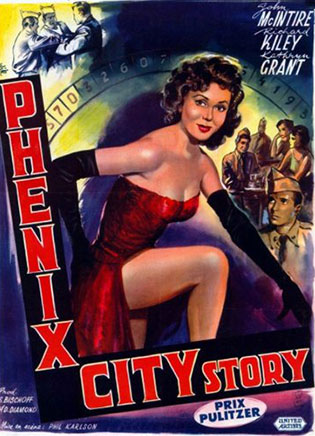 Dir. Phil Karlson's The Phenix City Story screens July 10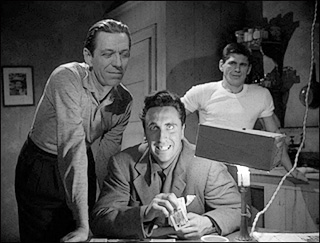 Timothy Carey and Charles Bronson in a must-see noir, Crime Wave, on July 11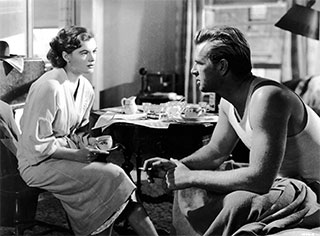 Jean Hagen and Sterling Hayden in noir-classic The Asphalt Jungle on July 11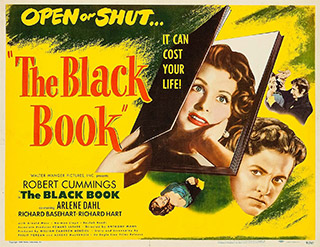 Master cinematographer John Alton's work showcased in The Black Book playing July 12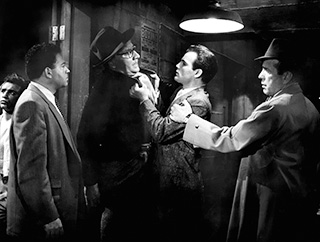 Burnett Guffey's cinematography featured in The Harder They Fall starring Humphrey Bogart on July 14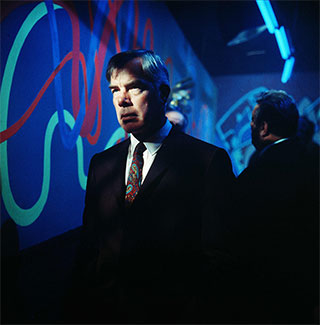 Lee Marvin and spectacular San Francisco location work in Point Blank screening July 14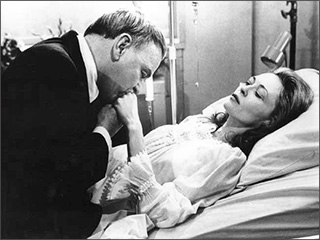 Frank Sinatra and Faye Dunaway in The First Deadly Sin on July 14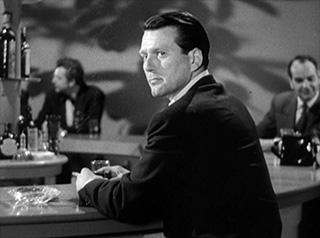 Eddie Mulller presents Charles McGraw in Roadblock on NOIR ALLEY screening July 14 and 15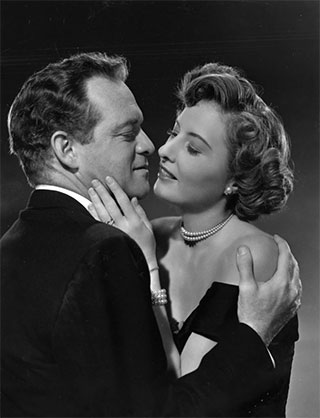 Barbara Stanwyck in East Side West Side on July 16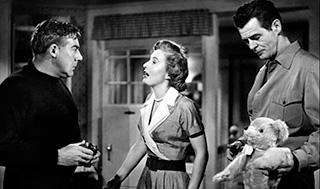 Fritz Lang's Clash by Night starring Barbara Stanwyck on July 16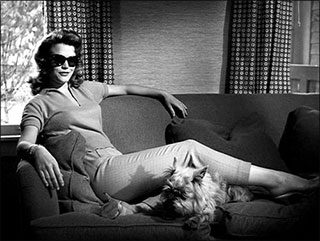 Lee Remick and James Stewart in Preminger's Anatomy of a Murder on July 16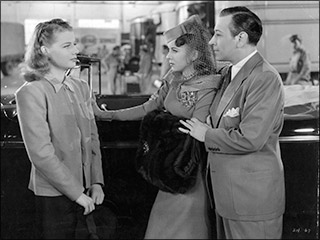 Ann Sheridan, Ida Lupino and George Raft in They Drive by Night on July 17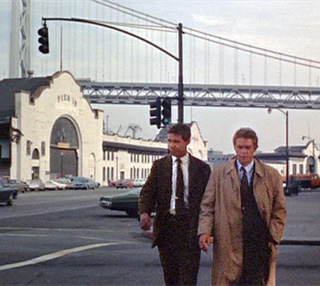 Steve McQueen in late 60's San Francisco—Bullitt on July 17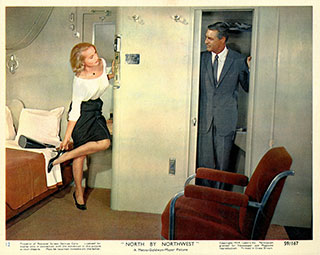 Cary Grant and Eva Marie Saint's train encounter in Hitchcock's North by Northwest on July 21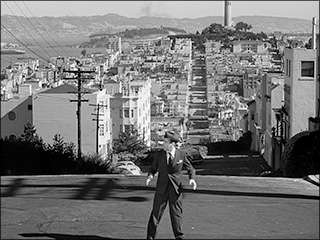 Eddie Muller presents Dark Passage on NOIR ALLEY screening July 21 and 22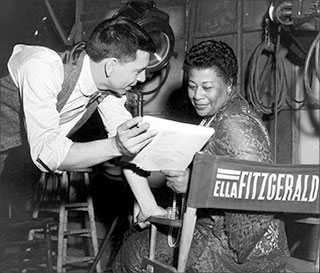 Ella Fitzgerald appears in Pete Kelly's Blues screening July 23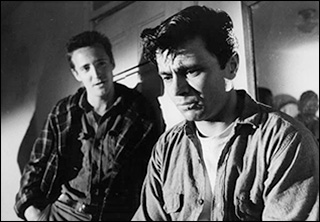 Scott Wilson and Robert Blake in In Cold Blood on July 23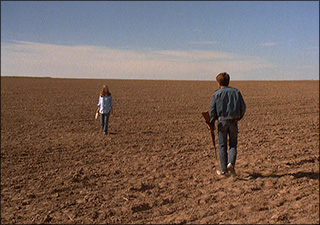 Terrence Malick's spectacular Badlands screens July 24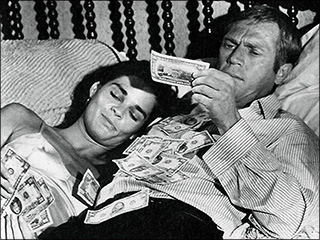 Steve McQueen with Ali McGraw in The Getaway on July 26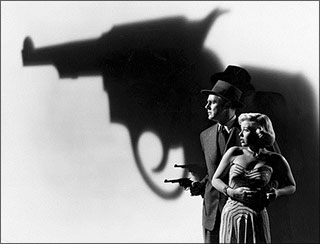 Eddie Muller presents Scene of the Crime on NOIR ALLEY July 28 and 29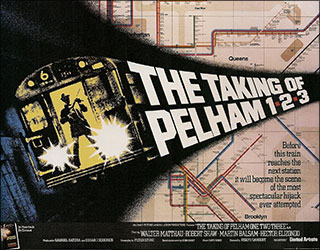 Subway hostage thriller, The Taking of Pelham One Two Three, on July 28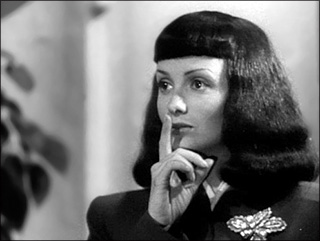 Jean Brooks in Val Lewton's darkly resonant The Seventh Victim on July 30