Saturday, June 2, 9:00 AM
DIAL M FOR MURDER (1954): A man (Ray Milland) hires a friend to murder his wealthy wife (Grace Kelly). His plan goes awry when she stabs the would-be-murderer. Then he decides he can still get rid of her, by eroding erode her self-defense claim. Her ex-lover (Robert Cummings) tries to save her. Dir. Alfred Hitchcock
Saturday, June 2, 5:00 PM—9:00 PM
Stranger Danger Noir Double Bill
5:00 PM
THREE STRANGERS (1946): Noir strays into the supernatural realm in this fantastic tale of three strangers (Sydney Greenstreet, Peter Lorre, and Geraldine Fitzgerald) whose fates entwine with a mysterious Chinese idol and a winning lottery ticket. Deeply cynical, gloriously atmospheric. Never on DVD, almost lost in 35-mm, we proudly present this forgotten classic in a brand new FNF-funded preservation print! Screenplay by John Huston and Howard Koch. Dir. Jean Negulesco
7:00 PM
STRANGERS ON A TRAIN (1951): Childlike but charming psychopath Bruno (Robert Walker) suggests that he and Guy (Farley Granger), a tennis player with political ambitions, crisscross murders. Unfortunately, Guy realizes too late that Bruno wasn't joking. Guy's unwanted wife shows up murdered and he has no alibi. Screenplay by Raymond Chandler and Czenzi Ormonde. D.P. Robert Burks' outstanding work earned an Oscar nomination for Best Cinematography, Black-and-White. Dir. Alfred Hitchcock
NOIR ALLEY
Saturday, June 2, 9:00 PM & Sunday, June 3, 7:00 AM
FNF Prez Eddie Muller presents
THE LETTER (1940): Bette Davis gives a masterful performance as a married woman claiming self-defense in the murder of a fellow Britisher on her husband's rubber plantation in Malay. This succeeds both as a film noir and an incisive look into colonialism. Herbert Marshall gives a deeply empathetic performance as the loving husband. Watch for Victor Sen Yung as a solicitous lawyer's clerk. The film was nominated for seven Oscars: Best Picture; Best Actress in a Leading Role, Bette Davis; Best Actor in a Supporting Role, James Stephenson; Best Director, William Wyler; Best Cinematography, Black-and-White, Tony Gaudio; Best Film Editing, Warren Low; and Best Music, Original Score, Max Steiner. Dir. William Wyler
Sunday, June 3, 5:15 AM
THE LADY FROM SHANGHAI (1948): An Irish sailor (Orson Welles) gets caught between a corrupt tycoon (Everett Sloane) and his voluptuous wife (Welles' real-life wife Rita Hayworth) and their plans to eliminate one another in this wonderfully convoluted noir. Trivia: Columbia chief Harry Cohn sent future horror icon William Castle along on location to keep Welles in line, on time and under budget, to no avail. Dir. Orson Welles
Friday, June 8, 9:00 PM
OBSESSION aka The Hidden Room (1949): In this Brit noir, directed by the recently blacklisted noir auteur Edward Dmytryk, cuckolded psychiatrist Dr. Clive Riordan (Robert Newton) goes the extra mile to punish his cheating spouse (Sally Gray). He abducts his wife's lover (Phil Brown) planning to eventually treat him to an acid bath. Scotland Yard Superintendent Finsbury (Naunton Wayne) and his wife's dog throw a spanner in the works. Adapted by Alec Coppel from his suspense play A Man About a Dog. Dir. Edward Dmytryk
NOIR ALLEY
Saturday, June 9, 9:00 PM & Sunday, June 10, 7:00 AM
FNF Prez Eddie Muller presents
CONFLICT (1945): A seemingly happily married man, (Humphrey Bogart) murders his wife so he can be free to marry her sister (Alexis Smith) who unfortunately does not return his affection. His friend and neighbor, a kindly psychologist (Sydney Greenstreet) starts to suspect something. Dir. Curtis Bernhardt
Friday, June 15, 3:45 AM—5:00 PM
Plastic Surgery Marathon
Here are the noirs...
5:00 AM
NORA PRENTIS (1947): In this noir tale, a decorous doctor becomes obsessed with a beautiful nightclub singer, (Ann Sheridan). Interestingly, uber straight man Kent Smith, best known as Irina's husband in Val Lewton's Cat People (1942) (Dir. Jacques Tourner) gets the chance to play a man who will stop at nothing to possess the object of his desire. Dir. Vincent Sherman
8:15 AM
BULLET SCARS (1942): Ruthless gang boss Frank Dillon (Howard Da Silva) kidnaps one of his compatriot's sister Nora, a nurse, to care for her brother who was wounded during their latest bank robbery. He then persuades a small town doctor (Regis Toomey) to care for the injured man, explaining he was hurt in a hunting accident. The doc soon realizes the truth, but how can he get Nora and himself out safely? Dir. D. Ross Lederman
9:30 AM
A WOMAN'S FACE (1941): The soon to be queen of the noirs, Joan Crawford, starred in this suspenseful drama as a facially scarred blackmailer who's given a new outlook on life after plastic surgery. Can she adjust to a normal life and stop her ex-accomplice's nefarious plan to murder his nephew? Dir. George Cukor
3:00 PM
DARK PASSAGE (1947): Adapted from a story by David Goodis, this noir follows convicted wife murderer Vincent Parry's (Humphrey Bogart) escape from jail and subsequent hunt for the real killer of his wife. Sympathetic stranger Irene (Lauren Bacall) encounters him during his jail break and aids him. Agnes Moorehead steals the show as Irene's shrewish friend who knew Vincent and his wife prior to the murder. Dir. Delmer Daves
NOIR ALLEY
Saturday, June 16, 9:15 PM & Sunday, June 17, 7:00 AM
FNF Prez Eddie Muller presents
PITFALL (1948): This independently produced gem is one of the most realistic explorations of adultery produced in 1940s. Bored suburbanite insurance salesman (Dick Powell) drifts into a dalliance with an anti-femme fatale, hard-luck model Mona (Lizabeth Scott), only to find his life and family threatened by an obsessive private eye (Raymond Burr) and a jealous ex-con. Director de Toth had the gifted Bill Bowers rewrite the script. The result is truly believable noir—a wrenching tale of repressed lust and suburban ennui. Dir Andre de Toth
Sunday, June 17, 11:30 PM
TOKYO DRIFTER (1966): An indescribably beautiful yakuza film that combines aspects of Vincent Minnelli musicals, film noir, Melville gangster pictures and even American westerns. Breathtaking cinematography and set design add tremendously to the story of a gangster gone ronin in 1960s Tokyo. Dir. Seijun Suzuki
Friday, June 22, 3:30 AM
THE BLACK BOOK aka Reign of Terror (1949): In this distinctively noirish tale set during the French Revolution, a pair of ex-lovers, Robert Cummings and Arlene Dahl, plot to bring down Robespierre, played brilliantly by the always great Richard Basehart. Charles McGraw plays Robespierre's menacing henchman. Norman Lloyd portrays Jean-Lambert Tallien. Shot by master of noir cinematography, John. Alton Dir. Anthony Mann
Saturday, June 23, 9:00 AM
FOREIGN CORRESPONDENT (1940): An American reporter (Joel McCrea) covering the war in Europe gets mixed up in the assassination of a Dutch diplomat which leads to his uncovering a political conspiracy with the aid of the daughter (Laraine Day) of a prominent politician (Herbert Marshall) and a chap named ffolliott "with two small 'f's" (George Sanders), his rival for the girl's affection. This tremendously entertaining film features several vintage Hitchcock set pieces. The film was nominated for six Oscars. Dir. Alfred Hitchcock
Saturday, June 23, 1:00 PM
GET CARTER (1971): Fantastic and brutal neo-gangster-noir. Ruthless gun-for-hire Carter (Michael Caine) searches for the truth behind his brother's death. The director went on to make another great gangster revenge picture thirty years later with Clive Owen called I'll Sleep When I'm Dead (2003). Dir. Mike Hodges
NOIR ALLEY
Saturday, June 23, 9:00 PM & Sunday, June 24, 7:00 AM
FNF Prez Eddie Muller presents
THE MAN WHO CHEATED HIMSELF (1950): A veteran San Francisco homicide cop (Lee J. Cobb) spirals into a moral morass when his married socialite lover (Jane Wyatt, in a rare fatale role) "accidentally" bumps off her husband. Instead of playing it by the book (would that be noir?), he covers up the crime, only to have his younger brother (John Dall)—a rookie homicide dick—start putting together the pieces. This James M. Cain-style thriller gets maximum impact from its San Francisco locations, including a memorable climax at Fort Point.35mm restoration funded by the Film Noir Foundation and performed by the UCLA Film & Television. Archive Dir. Felix Feist
Wednesday, June 27, 2:30 PM
NORTH BY NORTHWEST (1959): Foreign agents mistake suave and swinging advertising man Roger Thornhill (Cary Grant) for a spy. He takes it on the lam and encounters a beautiful blonde (Eva Marie Saint) who may or may not be trusted. This film earned 3 Oscar nominations: Best Art Direction-Set Decoration, Color; Best Writing, Story and Screenplay - Written Directly for the Screen; and Best Film Editing Dir. Alfred Hitchcock
Friday, June 29, 6:00 AM—5:00 PM
Peter Lorre Birthday Marathon
Here are the noirs...
10:45 AM
STRANGER ON THE THIRD FLOOR (1940): Peter Lorre is the Stranger, haunting a reporter (John McGuire) whose testimony sentenced a possibly innocent man (Elisha Cook Jr.) to death. Can the writer's girlfriend (Margaret Tallichet) uncover the truth in time? A revelatory burst of hallucinatory cinema, featuring a prolonged dream sequence that was the initial injection of noir expressionism into Hollywood's bloodstream. Often cited as the first film noir. Cinematography provided by the always excellent Nicholas Musuraca. Dir. Boris Ingster
12:00 PM
THE MALTESE FALCON (1941): How do I love this movie, let me count the ways… In arguably the first, and greatest, film noir, hard-boiled detective Sam Spade (Humphrey Bogart) gets caught up in the deadly search for a priceless statue. Along the way he tangles with a murderous liar (Mary Astor), a foppish thug (Peter Lorre) and an obese mastermind (Sydney Greenstreet). Director John Huston brilliantly adapted it from the Dashiell Hammett novel and earned an Oscar nomination for Best Writing, Screenplay. The film also garnered nominations for Best Picture and for Sydney Greenstreet, in his film debut, Best Actor in a Supporting Role. Dir. John Huston
Saturday, June 30, 2:45 PM
HARPER (1966): In this neo-noir, soon to be divorced private eye (Paul Newman) sets out to find the missing millionaire husband for his crippled wife (Lauren Bacall). The trail leads to a religious cult and a kidnapping plot. His investigation also leads him to Shelley Winters as a faded starlet. Janet Leigh plays his estranged wife whom Harper still loves. Dir. Jack Smight
Saturday, June 30, 5:00
THE MASK OF DIMITRIOS (1944): The eternal noir duo of Sydney Greenstreet and Peter Lorre star in this film adaptation of the Eric Ambler novel which also features Zachary Scott in his film debut. Novelist Cornelius Leyden (Lorre) investigates the mysterious death of international criminal Dimitrios Makopoulus (Scott) after Dimitrios' body is discovered in Istanbul. The mysterious Peters (Greenstreet) encourages Leyden and promises him a financial reward. But what is Peters' motivation for the investigation? The always wonderful character actress Fay Emerson plays a supporting role as a lover formerly fleeced by Dimitrios. Dir. Jean Negulesco
NOIR ALLEY
Saturday, June 30, 9:00 PM & Sunday, July 1, 7:00 AM
FNF Prez Eddie Muller presents
ARMORED CAR ROBBERY (1950): In this awesome little action-packed noir, a police officer, Charles McGraw in a rare outing as a good guy, tries to find half a million dollars stolen by gangsters. Dir. Richard Fleischer
Sunday, July 1, 11:30 PM
LE DEUXIÈME SOUFFLE Second Breath (1966) After a daring prison break, Gustave Minda (Lino Ventura) embarks on one last heist to get the money to go abroad with his lover. An intrepid policeman, Inspector Blot (Paul Meurisse) hunts him. As it is a Melville film, there's a spectacular heist sequence and meditations on loyalty, betrayal and fate. Dir. Jean-Pierre Melville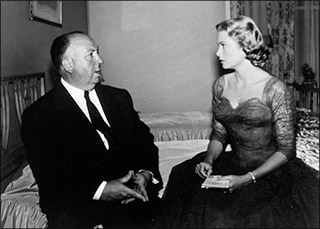 Hitchcock on the set with Grace Kelley for Dial M for Murder screening June 2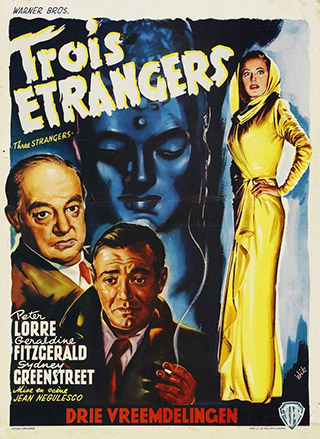 Forgotten classic Three Strangers screens on June 2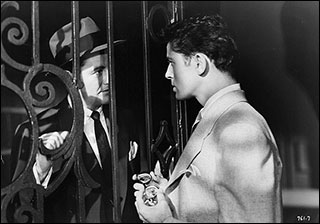 Robert Walker and Farley Granger at the gate in Strangers on a Train on June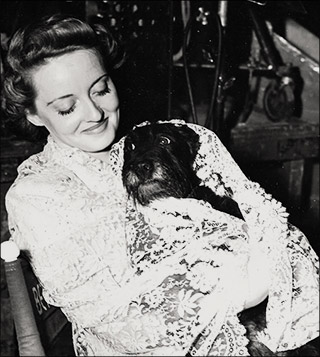 Eddie Muller presents The Letter starring Bette Davis on NOIR ALLEY screening June 2 and 3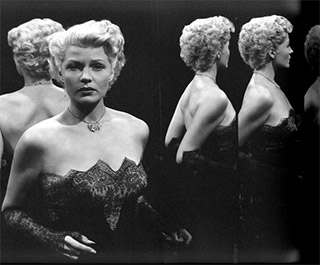 Rita Hayworth in Orson Welles' spectacular The Lady from Shanghai on June 3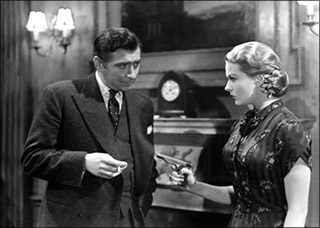 Robert Newton un-fazed by Sally Gray in Obsession on June 8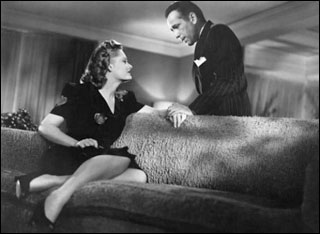 Eddie Muller presents Conflict starting Alexis Smith and Humphrey Bogart on NOIR ALLEY June 9 and 10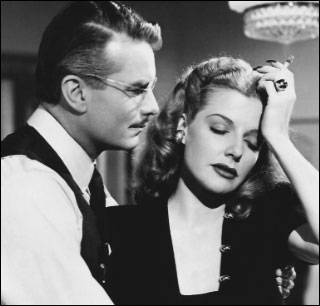 Kent Smith and Ann Sheridan in Nora Prentis on June 15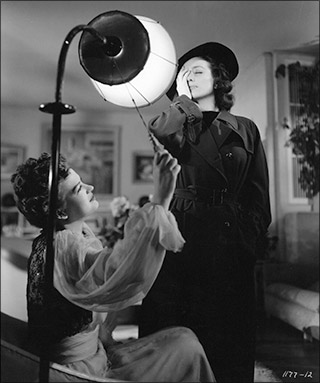 Joan Crawford stars in George Cukor's A Woman's Face screening June 15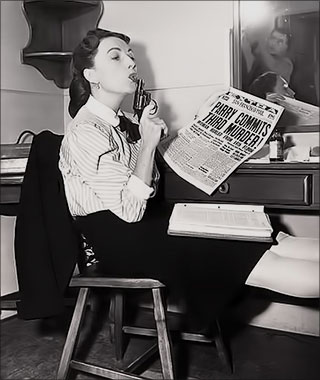 Agnes Moorehead in a publicty shot for Dark Passage on June 15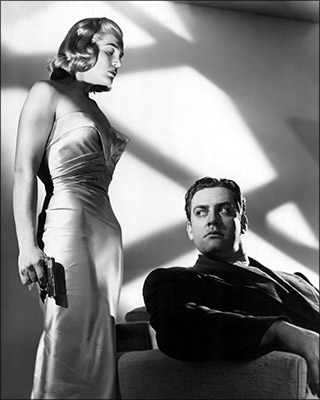 Eddie Muller presents Pitfall with Liazbeth Scott and Raymond Burr on NOIR ALLEY screening June 16 and 17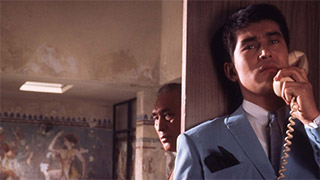 Tokyo Drifter screens June 17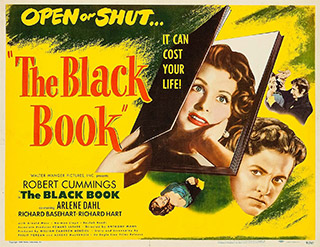 Master cinematographer John Alton's work showcased in The Black Book playing June 22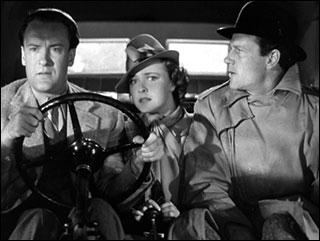 George Sanders, Laraine Day and Joel McCrea in Hitchcock's Foreign Correspondent on June 23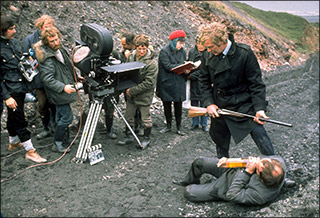 On the set of Get Carter starring Michael Caine on June 23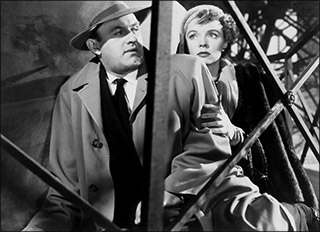 Eddie Muller presents FNF-restored The Man Who Cheated Himself starring Lee J. Cobb on NOIR ALLEY June 23 and 24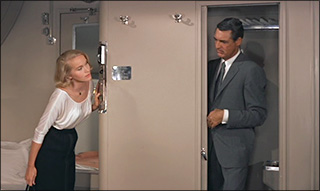 Cary Grant and Eva Marie Saint on a train in North by Northwest on June 27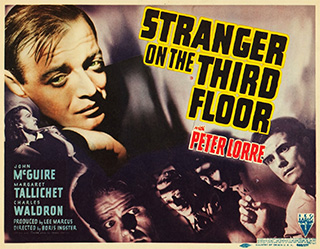 Stranger on the Third Floor in TCM's Peter Lorre Birthday Marathon on June 29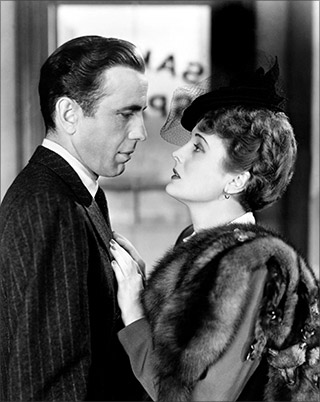 Humprhrey Bogart and Mary Astor in the 1941 version of The Maltese Falcon on June 29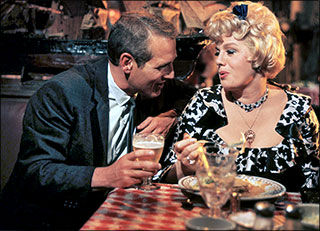 Paul Newman with Shelley Winters in Harper on June 30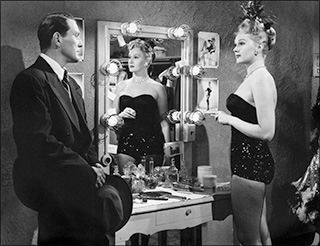 Eddie Muller presents Armored Car Robbery on June 30 and July 1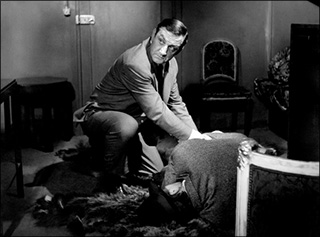 Lino Ventura stars in Melville's heist film, Le deuxieme souffle, on July 1