NOIR CITY Returns to the City of Angels
NOIR CITY: HOLLYWOOD returns to the American Cinematheque's Egyptian Theatre March 4- April 2 to take audiences on a trip back in time with a program replicating the movie-going experience of the classic noir era, ten double bills, each featuring a major studio "A" paired with a shorter "B" movie. The "A" films in the series include Fritz Lang's masterpiece of The Big Heat and the first cinematic pairing of Veronica Lake and Alan Ladd, This Gun for Hire (1942). Otto Preminger's Where the Sidewalk Ends (1950) reunites Laura co-stars Gene Tierney and Dana Andrews in an even darker tale of love and crime. The film was shot by another Laura alumni, the great Joseph LaShelle, and will be presented at NOIR CITY in a stunning 35mm nitrate print courtesy of the UCLA Film & Television Archive.
Programmers Eddie Muller, Alan K. Rode and Gwen Deglise have also chosen to revive some of their favorite rarities from 18 years of noir festivals at the Egyptian and many never-before-screened obscurities. Among these gems waiting to be rediscovered is Caluctta (1947)—one of the long-missing titles on the noir résumé of the great John Farrow. Frequent co-stars Alan Ladd and William Bendix play cargo pilots seeking revenge when their best buddy dies under suspicious circumstances. Loretta Young represents the distaff side of crime in William Dieterle's The Accused (1948), presented in a restored 35mm print from the Library of Congress. Young stars as a buttoned-up college professor who finds herself on the wrong side of the law (and in the middle of a love triangle) after killing a sexually aggressive student in self-defense. The FNF's Eddie Muller and Alan K. Rode will be your guides down the dark alleyways of classic Hollywood noir. The full schedule and program notes can be found on the American Cinematheque's website.
As if that weren't enough…NOIR CITY Hollywood will return to the Egyptian for a second outing this year, the later festival, tentatively scheduled for late June will present a variation on "The Big Knockover" program that played in San Francisco. We'll update you as plans for the second festival are announced.
2017 NOIR CITY Satellite Fests Slated
The heist theme from San Francisco's NOIR CITY 15: The Big Knockover will be carried through in most of the NOIR CITY festivals scheduled around the U.S. in the coming months. These include Seattle, February 16–22 (co-presented with SIFF and returning to the vintage SIFF Cinema Egyptian); Hollywood, March 24–April 2 (co-presented with the American Cinematheque at the Egyptian Theatre in Hollywood); Austin, May 19–21 (co-presented with the Alamo Drafthouse Ritz); and Detroit, September 22–24 (co-presented with the historic Redford Theatre).
NOIR CITY will also be returning in August to Chicago's Music Box Theatre, and to the AFI Silver Theatre and Cultural Center in Silver Spring, Maryland in October. Specific dates for those two festivals have yet to be set.
In addition, there will be a second NOIR CITY festival in Hollywood this year; it is expected that the Spring festival will feature newly recovered and freshly struck prints of classic forties' and fifties' noir, while the later festival, tentatively scheduled for late June will present a variation on "The Big Knockover" program.
FNF president Eddie Muller notes that the various festivals will not necessarily play the same lineup of titles: "There are a lot of heist films we can draw from, especially when we expand the timeline. As always, our goal is to show the best films, with the best presentation possible."
2017 Nancy Mysel Grant Recipient Announced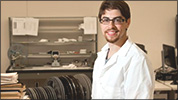 The Film Noir Foundation is proud to announce the recipient of this year's $5,000 FNF/Nancy Mysel Legacy Grant —Robert Anen of NYU's Tisch School of the Arts. Robert is enrolled in NYU's graduate program to receive his Masters of Arts in Moving Image Archiving and Preservation. The grant was announced Saturday night, January 28, at NOIR CITY 15 by festival host Eddie Muller, and an "acceptance" video by Mr. Anen was screened for the San Francisco audience.
Read about Robet Anen's lost film discovery in this NY Times article from October 2016: A Lost Snippet of Film History, Found in a Home Movie shot in 1964.
Find out more about the Nancy Myself Legacy Grant.
From the Collection of
Eddie Muller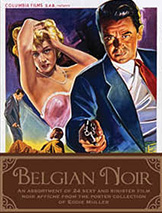 The WORLD OF FILM NOIR was created in black and white, but its intrigue and passion was sold worldwide by movie posters -- in vivid color -- that enticed audiences into this sinister and sensual demimonde. Nowhere on earth was the come-on more colorful than in Belgium, where the nation's standardly sized posters (a mere 14" x 22") virtually exploded with the danger and desire at the heart of cinema's most alluring and durable genre. Small posters from a small country--but packed with more lust and larceny than Hollywood would dare.
NOW, EXCLUSIVELY FROM BLACK POOL PRODUCTIONS—Eddie Muller, "The Czar of Noir," presents 24 glorious Belgian cinema posters from his personal collection, reproduced as 5-1/4" x 7" cards, each complete with his terse and tangy commentary highlighting what made these films—and this artwork--so magical and memorable. $20 + tax/shipping at BlackPoolProductions.com.
Don't Print the Legend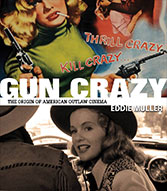 Gun Crazy caused barely a ripple in public consciousness when it hit movie screens in 1950. Yet over time it would prove to be the most innovative and provocative motion picture of its era—a simple genre film, but packed with so much cinematic bravura and timeless symbolism, its power has spanned decades, crossed oceans, and influenced countless filmmakers.
+ READ MORE

Come follow us on Tumblr to indulge your passion for noir! We'll be posting daily, celebrating all things noir with exclusive stills and images you won't see anywhere else, as well as trailers, film clips, and more.

Share our posts with your friends; your love of the art form is the Foundation's biggest asset in its mission to preserve and restore classics of the genre. We are also fully committed to present our rescued films in the way they were meant to be seen: in 35mm at our NOIR CITY festivals around the country.
Mexican Noir at NCMA
As part of their winter film series, the North Carolina Museum of Art will present a pair of classic films noir starring two of the biggest female stars from the golden age of Mexican cinema. Playing first on March 17 is Roberto Gavaldon's The Kneeling Goddess (La diosa arrodillada) from 1947. In this tale of doomed erotic desire, smoldering diva Maria Félix—known as "la devoradora de hombres" (the man-eater)—models for a sensuous nude statue, and her beauty ensnares a respectable man married to a delicate invalid.
Roberto Gavaldon's The Other One (La otra) from 1946 follows on March 24. This film takes on another classic noir trope, the evil twin. Dolores del Rio, the first Latina actress to successfully crossover to Hollywood, eventually returned to her native Mexico for the meaty roles she could no longer land in Tinseltown like this one. She plays both a struggling working girl and the rich and heedless sister that obsesses her. Tickets are available at NCMA's website.
TCM Announces Classic Film Festival Dates
The TCM Classic Film Festival will return to Hollywood April 6-9 with a variety of movies garnered from Hollywood studios, film archives, and private collectors. This year's central theme is Make 'Em Laugh: Comedy in the Movies. We're delighted that TCM is including some of our darkness in this year's festival. They will be screening the FNF funded 35mm print of Cy Endfield's The Underworld Story (1950). The classic noir stars Dan Dureya as Mike Reese, an unethical journalist turned newspaper publisher who becomes involved in creating the news and not just writing it when there's a murder case involving another publisher (Herbert Marshall). Mike starts out doing what's best for him, but when an innocent African-American maid is framed, he starts to waver in pursuing his self-interests. As in previous years, TCMFF's screenings will include special introductions to provide context about each film. Specific details will be announced in the weeks ahead, including guest appearances by actors, actresses, directors, producers and other key figures. Visit the TCMFF website for the most up-to-date information on the festival.
Panique Restored
On January 20, at the New York Film Forum, Pierre Simenon, son of novelist Georges Simenon, introduced the screening of the recently restored French film noir classic, Panique, Julien Duvivier's adaptation of his father's novel Mr. Hire's Engagement.Duvivier's first postwar project in France stars Michel Simon as Hire, a small town outcast, who makes the mistake of falling in love with Alice (Viviane Romance) who already loves Alfred (Paul Bernard). Despite being newly out of prison for taking a rap for Alfred, she doubles down on her passion for him and plots to have Hire take the fall for Alfred's current misdeed, the murder of a young woman. The film was reestored from a nitrate interpositive by TF1 Droits Audiovisuels at Digimage. Copies of the novel, in a new edition from Penguin Classics, will be available at the concession throughout the run. Check distributor Rialto Picture's official site to see when it's playing in your neck of the woods.

Tweets