NOIR CITY Invades the
Nation's Capital
NOIR CITY: DC returns to the state-of-the-art AFI Silver Theatre and Cultural Center in Silver Spring, Maryland, October 17–29. The program comprises 22 films including several restorations and preservations unveiled by the FNF in 2015—Woman on the Run (1950), The Guilty (1947) and The Underworld Story (1950)! The festival will also highlight a series of Cornell Woolrich adaptations, the Argentinian double bill Never Open That Door (No abras nunca esa puerta) with If I Die Before I Wake (Si muero antes de despertar) (1952), Roy William Neill's Black Angel (1946), John Farrow's Night Has a Thousand Eyes (1948), Mitchell Leisen's No Man of Her Own (1950), Robert Siodmak's Phantom Lady (1944), and the first cinematic Woolrich adaptation, Street of Chance (1942). As a special bonus, the series kicks off on Saturday, the 17th, with a 90-minute in-theatre presentation on the history of film noir presented by Eddie Muller in conjunction with the Smithsonian Institution. Also as part of this year's festival, cinema professor and FNF board member Foster Hirsch will present numerous screenings. For the full lineup and to buy tickets, go here.
2015 NOIR CITY DATES
Washington D.C.: October 17—29
NOIR CITY Xmas San Francisco: December 16
NOIR CITY Comes Home to San Francisco
NOIR CITY's flagship festival will return to its home at San Francisco's historic Castro Theatre, January 22-31, 2016 for its fourteenth edition. This year's lineup will be unveiled, along with the official poster, at NOIR CITY Xmas on December 16 at the Castro. Passports (full series passes) and tickets to all the festival's double features will go on sale on NoirCity.com the same evening. We look forward to seeing all of you there!
FNF Teams with Flicker Alley To Bring Restorations Home
The Film Noir Foundation will partner with Los Angeles-based Flicker Alley to bring several of its recent restorations to the home entertainment market. DVD editions of Woman on the Run (1950) and Too Late for Tears (1949) are expected to release before the year's end, complete with bonus extras produced by the FNF. "We chose to work with Flicker Alley," said FNF president Eddie Muller, "because of its commitment to producing high quality products with what other companies might consider 'marginal' titles. Plus, [Flicker Alley founder] Jeff Masino understood that value of letting us brand these titles as Film Noir Foundation discoveries." The release of more FNF titles will depend largely on the sales numbers of these first two discs. Repeat Performance (1947), High Tide (1947), and The Guilty (1947) are likely candidates for later release, as are some of the Argentinian noir films recently resurrected by the FNF. Try and Get Me! (1950), the FNF's 2012 restoration, has reportedly been forthcoming from Olive Films for two years, but there's no word yet on an actual release date.
Woman on the Run, The Guilty Latest Lost Treasures Restored
by FNF
A pair of seemingly lost films, Woman on the Run (1950) and The Guilty (1947), are the Film Noir Foundation's "rescues" for 2014. Both have been restored in brand new 35mm negatives; pristine prints of each will be presented to audiences on the NOIR CITY festival circuit in 2015. Woman on the Run is a unique noir love story, shot largely on location in San Francisco, with star Ann Sheridan serving as the film's unbilled executive producer. The film vanished from circulation after the termination of the independent production's distribution deal with Universal in the mid-1950s. + READ MORE.
Shining a Light on a Pulp
Fiction Enigma
In the U.S., pulp fiction writer David Goodis is best known for—or perhaps only known for—his novel Dark Passage, thanks to the popular film adaptation starring Humphrey Bogart and Lauren Bacall. Although the film brought its author great opportunities, his Hollywood screenwriting career would shortly fizzle out. He returned to his family home in Philadelphia, disappearing from the public eye—but launching a prodigious output of original pulp paperbacks which would earn him a huge reputation, especially in France, where his novels inspired many film adaptions, including François Truffaut's Shoot the Piano Player. In America, however, Goodis never again regained the mainstream success he had with Dark Passage. In 1982, French journalist Philippe Garnier decided to plumb the mysterious depths that had seemingly swallowed the reclusive writer. The resulting book, Goodis: A Life in Black and White is now available for the first time in English. You can buy it directly from Black Pool Productions \or at one of our NOIR CITY festivals.
Don't Print the Legend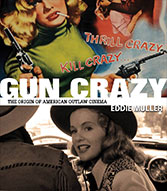 Gun Crazy caused barely a ripple in public consciousness when it hit movie screens in 1950. Yet over time it would prove to be the most innovative and provocative motion picture of its era—a simple genre film, but packed with so much cinematic bravura and timeless symbolism, its power has spanned decades, crossed oceans, and influenced countless filmmakers. + READ MORE.

Come follow us on Tumblr to indulge your passion for noir! We'll be posting daily, celebrating all things noir with exclusive stills and images you won't see anywhere else, as well as trailers, film clips, and more.

Share our posts with your friends; your love of the art form is the Foundation's biggest asset in its mission to preserve and restore classics of the genre. We are also fully committed to present our rescued films in the way they were meant to be seen: in 35mm at our NOIR CITY festivals around the country.
Film Noir in Paradise:

Humphrey Bogart Film Festival 2015

The Humphrey Bogart Film Festival returns to its tropical home in Key Largo, Florida, October 21-25, 2015. This year's festival is dedicated to both Bogart and his wife Lauren Bacall. All four of the films that the superstar couple made together will screen, including John Huston's Key Largo (1948). Is there a better place to see it? Other films in the line-up include two film noir masterpieces, Huston's The Maltese Falcon (1941) and Nicholas Ray's In a Lonely Place (1950).

FNF president Eddie Muller will co-host the event with Bogart and Bacall's son, Stephen. Documentarian Monika Henreid will also be a guest during the festival. She is the daughter of Paul Henreid, Bogart's co-star in Casablanca, also playing during the festival. Henreid and Muller will join Bogart in a round table discussion of his father's work. In addition to film screenings, there will also be the festival's first student film competition and several special events to give festival patrons a chance to socialize. Check out the official website for full festival information including the schedule and ticket information.
Mr. Muller Goes to Washington
Explore The Shadowy History of Film Noir with FNF president Eddie Muller on Saturday, October 17, 5:00 p.m. to 7:00 p.m. at the AFI Silver Theatre and Cultural Center. Eddie has curated a collection of film noir clips to illustrate the audience's dark journey through the tropes, aesthetics and history of the genre. Champagne will be served in the lobby of the theater during Eddie's post-presentation book signing. He will be autographing copies of his lavish, full color book The Art of Noir: The Posters and Graphics from the Classic Era of Film Noir. This event is the perfect prelude to NOIR CITY: D.C. which kicks off directly after the event and runs through October 29 at the AFI Silver. Ticket buyers have the option to add an admission to the opening night screening of the FNF funded 35mm restoration of Woman on the Run (1950) at 7:00 p.m. Tickets are now available online. This event is a presentation of The Smithsonian Associates in collaboration with AFI Silver Theater and Cultural Center.
Only Love Can Break Your Heart:
French Noir Fest Returns to the Roxie
Bay Area classic film fans were treated to a remarkable collection of rarely screened French films noir last year with the series THE FRENCH HAD A NAME FOR IT. The screenings sold out and now Don Malcolm and Elliot Lavine are reuniting to bring a second edition to San Francisco's Roxie Theatre, subtitled "Lovers & Other Strangers". Chief curator Malcolm will present 12 films exploring the distintctly noir trope of "love gone awry". While he will be screening Henri-Georges Clouzot's critically acclaimed Le Corbeau (1943), most of the films in the series have not screened in the U.S. in 50 years. The series will highlight famous French actors such as Jean Gabin, Simone Signoret, Yves Montand and Brigitte Bardot, as well as directors like Marcel Carné and Julien Duvivier, in unfamiliar contexts. The program will also introduce attendees to talented artists lesser known in the States, actors like Daniel Gélin, Ginette Leclerc, and Françoise Arnoul as well as directors like Henri Decoin and Henri Calef. THE FRENCH HAD A NAME FOR IT 2 runs November 6-9. Tickets for the series are available now and series pass purchasers will receive a $10 discount if they buy online on or before October 19.
Calling All Playwrights:

PL.A.Y NOIR Accepting Submissions
Punk Monkey Productions​ is accepting submissions for their 2016 production of PL.A.Y NOIR​. Here's what you need to know, "Plays should ideally be 10-20 pages in length and possess the classic noir themes of murder, mystery, deceit, and double-crossing. We always encourage playwrights to submit pieces with strong female characters, whether ingénue or femme-fatale. Examples to draw upon include The Maltese Falcon, The Third Man, and Double Indemnity." Submissions and inquiries can be sent here.
THE NANCY MYSEL LEGACY GRANT
$5K Grant for Film Preservation Students
The fortunes of the Film Noir Foundation suffered a devastating setback in 2012 when Nancy Mysel, a film preservationist for UCLA Film & Television Archive who supervised our restorations of The Prowler and Cry Danger, lost a long-running battle with cancer. The FNF is proud to be carrying on Nancy's preservation mission with the assistance of her family. Funded by the Mysel family and created in Nancy's honor, The Nancy Mysel Legacy Grant — the FNF's charitable adjunct — will grant funding to a deserving student involved in cinema restoration. The FNF invites undergraduate or graduate student currently enrolled in a film restoration/preservation or moving image archive studies program to apply now for the $5,000 grant. The 2016 Nancy Mysel Legacy Grant winner will be announced at NOIR CITY 14 on Saturday night, January 30, 2016. Visit our Grant page for details.
FNF Receives $25K Grant from the Hollywood Foreign Press Association
On Thursday night, August 13, 2015, the Hollywood Foreign Press Association hosted their annual grant awards banquet at Los Angeles' Beverly Wilshire Hotel. For the third consecutive year, one of the grant recipients was the Film Noir Foundation — with English actor Jason Issacs accepting on behalf of the Foundation and FNF promotional director Daryl Sparks in attendance. The $25,000 grant was immediately put to use, helping to complete restoration work on the FNF's latest film restoration project to premiere at San Francisco's NOIR CITY 14 in January 2016!

Tweets