NOIR CITY Xmas Returns
NOIR CITY once again offers the dark gift of film noir for the holidays. Join us at San Francisco's historic Castro Theatre on Wednesday, December 16, for a double dose of Noir Noël: Max Ophüls' The Reckless Moment (1949) at 7:30 and Henry Hathaway's Kiss of Death (1947) at 9:30.
Ophüls' heady cocktail of film noir and "women's picture" stars Joan Bennett as a housewife desperate to shield her daughter from a murder charge and James Mason as the reluctant blackmailer who develops a tenderness towards her.
Henry Hathaway's hard-bitten noir stars Victor Mature as a convict who turns informer in order to be reunited with his now-motherless children. Richard Widmark plays the vicious thug Mature befriends in order to betray.
Both films will screen in 35mm, and tickets for this exceptional event are only $12 for the double bill—less than the cost of a single holiday eggnog at any bar in town! Tickets are now available online and can also be purchased at the Castro Theatre box office on the day of the show. BUY TICKETS.
In addition to a seasonally themed double bill of vintage noir films, host Eddie Muller will be revealing the complete schedule (and scorching new poster!) for the eagerly anticipated NOIR CITY 14 festival, coming to the Castro January 22-31, 2016. Passports (full series passes) and tickets to all the festival's double features will go on sale on NoirCity.com the same evening. We will also be selling Passports at the theatre along with some brand new official Film Noir Foundation merchandise, so you can catch up on holiday gift shopping for the film noir lover in your life, too.
HOLIDAY GIVING AT NOIR CITY XMAS
You've got a chance to prove that it's not such a bitter little world after all at this year's NOIR CITY Xmas. We will have collection bins for both the San Francisco Firefighters Toy Program and the SF-Marin Food Bank at the event and we encourage everyone to give what they can.
The San Francisco Firefighters are looking for toys for kids — infants through 12-years old. Toys must be unwrapped. Their biggest need is toys for girls, ages 8 through 12. Donation suggestions: sports equipment- basketballs, footballs, soccer balls, baseballs and gloves; arts and crafts items; baby items — blankets, bottles, rattles; dolls of all nationalities and stuffed animals; iPods; books; and toy trucks. They do not accept toy guns. If you donate a game system, please include a game.
Here are the most needed foods for the SF-Marin Food Bank: peanut butter, low sugar cereal, whole grain rice, pasta and oats, low sodium soups and stews, tuna and canned meats, canned fruits and vegetables. Please, no glass, opened items, perishables, or items past their "use before" date.
NOIR CITY Comes Home to San Francisco
NOIR CITY's flagship festival will return to its home at San Francisco's historic Castro Theatre, January 22-31, 2016 for its fourteenth edition. This year's lineup will be unveiled, along with the official poster, at NOIR CITY Xmas on December 16 at the Castro. Passports (full series passes) and tickets to all the festival's double features will go on sale on NoirCity.com the same evening. We look forward to seeing all of you there!
NOIR CITY 14 Accommodations
Need a place to lay your head during NOIR CITY 14? If you're an out-of-towner looking for lodging in the City by the Bay, or a local wanting to turn a night at the festival into a romantic getaway, our friends at the Hotel Rex are offering a 15% discount off regular room rates for festival guests during NOIR CITY, January 22-31, 2016. Located at 562 Sutter between Mason and Powell, you can get to our home at the historic Castro Theatre in about 15 minutes via the MUNI underground or a cab. We feel the Rex's location in Gallery Row and its bohemian Paris ambience is perfect for this year's NOIR CITY theme, The Art of Darkness. Amenities at the Rex include complimentary Wi-Fi, upgraded to 100 MB, and flat-screen TVs with iPod docks in every room as well as a complimentary glass of wine from 5:00-6:00. The Rex's Library Bar offers handcrafted cocktails and a menu of American classics. Did we mention they are pet friendly? Book here for your special festival rate.
FNF Teams with Flicker Alley To Bring Restorations Home
The Film Noir Foundation will partner with Los Angeles-based Flicker Alley to bring several of its recent restorations to the home entertainment market. DVD editions of Woman on the Run (1950) and Too Late for Tears (1949) are expected to release before the year's end, complete with bonus extras produced by the FNF. "We chose to work with Flicker Alley," said FNF president Eddie Muller, "because of its commitment to producing high quality products with what other companies might consider 'marginal' titles. Plus, [Flicker Alley founder] Jeff Masino understood that value of letting us brand these titles as Film Noir Foundation discoveries." The release of more FNF titles will depend largely on the sales numbers of these first two discs. Repeat Performance (1947), High Tide (1947), and The Guilty (1947) are likely candidates for later release, as are some of the Argentinian noir films recently resurrected by the FNF. Try and Get Me! (1950), the FNF's 2012 restoration, has reportedly been forthcoming from Olive Films for two years, but there's no word yet on an actual release date.
Shining a Light on a Pulp
Fiction Enigma
In the U.S., pulp fiction writer David Goodis is best known for—or perhaps only known for—his novel Dark Passage, thanks to the popular film adaptation starring Humphrey Bogart and Lauren Bacall. Although the film brought its author great opportunities, his Hollywood screenwriting career would shortly fizzle out. He returned to his family home in Philadelphia, disappearing from the public eye—but launching a prodigious output of original pulp paperbacks which would earn him a huge reputation, especially in France, where his novels inspired many film adaptions, including François Truffaut's Shoot the Piano Player. In America, however, Goodis never again regained the mainstream success he had with Dark Passage. In 1982, French journalist Philippe Garnier decided to plumb the mysterious depths that had seemingly swallowed the reclusive writer. The resulting book, Goodis: A Life in Black and White is now available for the first time in English. You can buy it directly from Black Pool Productions \or at one of our NOIR CITY festivals.

Come follow us on Tumblr to indulge your passion for noir! We'll be posting daily, celebrating all things noir with exclusive stills and images you won't see anywhere else, as well as trailers, film clips, and more.

Share our posts with your friends; your love of the art form is the Foundation's biggest asset in its mission to preserve and restore classics of the genre. We are also fully committed to present our rescued films in the way they were meant to be seen: in 35mm at our NOIR CITY festivals around the country.
2015 Restoration Project
FNF Restores "Lost" Argentine Classic
Los tallos amargos (1956), a vitally significant "lost" film in the history of international noir cinema, has been restored this year by the Film Noir Foundation with the cooperation of UCLA Film & Television Archive and the Hollywood Foreign Press Association's Charitable Trust (The HFPA Trust). Based on the novel by journalist Adolfo Jasca, Los tallos amargos (The Bitter Stalks) tells the tale of a down on his luck journalist whose creation of a lucrative, if unethical, correspondence course leads to his committing the perfect murder. Although he's never apprehended, guilt takes its ultimate toll. The film won the Silver Condor—the Argentine Film Critics Association award to the nation's best film in 1957, with Best Director honors going to Fernando Ayala. Forty-three years later, in 2000, American Cinematographer magazine placed the film at #49 on its list of the "Best Photographed Films of All-Time." Despite these accolades, a 35mm print has not been available for decades, and the film is virtually unknown outside Argentina. With the FNF's restoration, including for the first time English subtitles, this classic Argentinian noir will be returned to its rightful place in cinema history.
The restored Los tallos amargos will have its American premiere at NOIR CITY 14 in January 2016. You can read the full story of the film's restoration in the current issue of NOIR CITY e-magazine.
Calling All Playwrights:

PL.A.Y NOIR Accepting Submissions
Punk Monkey Productions​ is accepting submissions for their 2016 production of PL.A.Y NOIR​. Here's what you need to know, "Plays should ideally be 10-20 pages in length and possess the classic noir themes of murder, mystery, deceit, and double-crossing. We always encourage playwrights to submit pieces with strong female characters, whether ingénue or femme-fatale. Examples to draw upon include The Maltese Falcon, The Third Man, and Double Indemnity." Submissions and inquiries can be sent here.
FNF Donation Drive: Winner Announced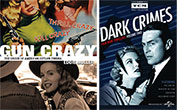 The winner of Eddie Muller's Gun Crazy: The Origin of American Outlaw Cinema, autographed by the author and by the actress Peggy Cummins is Richard Shulusky of Manchester, MO. The winner of TCM Vault Collection's Dark Crimes – Film Noir Thrillers Volume Two, a 4-DVD boxed set featuring the films You and Me, Ministry of Fear, Undertow, and Hollywood Story is: Kenneth Wishnia of Port Jefferson, NY. Thank you to everyone who contributed during our drive. Your generous donations help the FNF locate, restore, and exhibit "at-risk" noir films before they're lost forever.
THE NANCY MYSEL LEGACY GRANT
$5K Grant for Film Preservation Students
The fortunes of the Film Noir Foundation suffered a devastating setback in 2012 when Nancy Mysel, a film preservationist for UCLA Film & Television Archive who supervised our restorations of The Prowler and Cry Danger, lost a long-running battle with cancer. The FNF is proud to be carrying on Nancy's preservation mission with the assistance of her family. Funded by the Mysel family and created in Nancy's honor, The Nancy Mysel Legacy Grant — the FNF's charitable adjunct — will grant funding to a deserving student involved in cinema restoration. The FNF invites undergraduate or graduate student currently enrolled in a film restoration/preservation or moving image archive studies program to apply now for the $5,000 grant. The 2016 Nancy Mysel Legacy Grant winner will be announced at NOIR CITY 14 on Saturday night, January 30, 2016. Visit our Grant page for details.
FNF Receives $25K Grant from the Hollywood Foreign Press Association
On Thursday night, August 13, 2015, the Hollywood Foreign Press Association hosted their annual grant awards banquet at Los Angeles' Beverly Wilshire Hotel. For the third consecutive year, one of the grant recipients was the Film Noir Foundation — with English actor Jason Issacs accepting on behalf of the Foundation and FNF promotional director Daryl Sparks in attendance. The $25,000 grant was immediately put to use, helping to complete restoration work on the FNF's latest film restoration project the classic Argentianin noir Los tallos amargos (1956), premiering at San Francisco's NOIR CITY 14 in January 2016!
Don't Print the Legend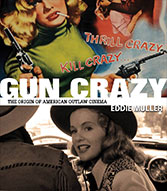 Gun Crazy caused barely a ripple in public consciousness when it hit movie screens in 1950. Yet over time it would prove to be the most innovative and provocative motion picture of its era—a simple genre film, but packed with so much cinematic bravura and timeless symbolism, its power has spanned decades, crossed oceans, and influenced countless filmmakers. + READ MORE.

Tweets