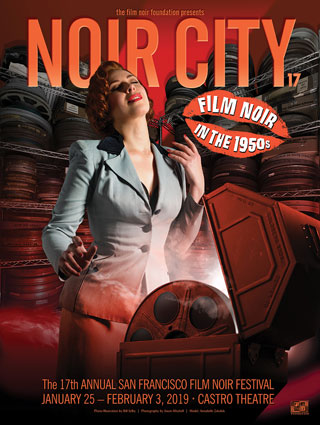 TICKETS ON SALE NOW
NOIR CITY 17 Reveals the Dark Side of Mid-Century America
NOIR CITY, the largest annual film noir festival in the world, returns to the majestic Castro Theatre for a 10-night feast of danger, desire, and despair, January 25 through February 2, 2019. This year's program extends last year's chronological pairings of "A" and "B" films of the 1940s, offering viewers a slate of 24 films that track noir through the declining studio system and into a fresh cinematic landscape where noir was refashioned, both subtly and radically, for a new generation.
Opening Night, January 25, will feature the world premiere of the FNF's latest 35mm restoration, Trapped—a 1949 noir starring Lloyd Bridges and scandal-plagued starlet Barbara Payton. The film was restored in collaboration with UCLA Film & Television Archive, with funding provided by the Hollywood Foreign Press Association's Charitable Trust and proceeds from recent NOIR CITY festivals. NOIR CITY remains the only film festival in America in which 100% of the box office proceeds directly go to funding the restoration of films.
From there, FNF prez and NOIR CITY host Eddie Muller will guide audiences year by year through the 1950s into the early 1960s when two films changed noir forever, Alfred Hitchock's Psycho and Jean Luc Godard's Breathless.
Visit NoirCity.com for the full line-up and to buy tickets ($12.50 per double bill).
NOIR CITY 17 Passports Now on Sale!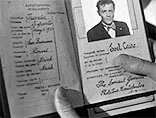 Secure your spot for all the fun with an all-access NOIR CITY 17 PASSPORT for $125 -- now on sale! PURCHASE HERE
This all-access festival pass grants the bearer:
✽ Entry to all 24 films during NOIR CITY 17
✽ Separate passport holders' queue for early admittance to the theater for all shows
✽ Opening night passholders' reception (Castro mezzanine) beginning at 6 pm on January 25, 2019.
As always, festival devotees will enjoy 10 glorious days and nights of noir-themed double features as they were meant to be seen, on the big screen, in one of America's greatest movie palaces: San Francisco's Castro Theatre.
NOIR CITY Accommodation

UPDATE AS OF 1/16/19:Our friends at Beck's Motor Lodge have been offering discounted room rates for NOIR CITY patrons, and festival guests have responded! As of this writing, Saturday, 1/26, is sold out, but some rooms at the motor lodge's regular rate may still be available. Additionally, Opening Night, 1/25, has extremely limited availability.
For the remainder of the festival, though—Sunday, 1/27 through Sunday, 2/3—Beck's continues to offer their discounted room rates for NOIR CITY guests. Rooms with a Queen bed are available for $169 plus tax, and for a room with 2 beds the cost is $189 plus tax.
Located at 2222 Market near the intersection of 15th and Sanchez, Beck's Motor Lodge is walking distance to the Castro Theatre -- and just a short walk from the NOIR CITY-recommended Last Rites bar at 718 14th (at Church). While the exterior of the iconic mid-century motel (built in 1958) hasn't changed much over the years, the interior rooms have all been totally refurbished with new furniture and bathrooms, 32" flat screen televisions, refrigerators, and coffee makers. Parking is still free, as is access to Wi-Fi
Call Beck's Motor Lodge at 415-621-8212 or email them at info@BecksMotorLodge.com to make your reservation. Make sure you tell Beck's you're calling for the NOIR CITY 17 festival rate.
Trapped Restored and Released by FNF, UCLA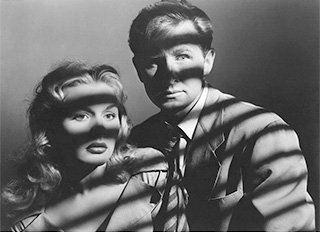 Trapped, a 1949 film noir produced by short-lived Eagle-Lion Pictures, is the latest restoration project of the Film Noir Foundation. The restored film will have its world premiere in San Francisco on Friday, January 25, kicking off the 17th annual NOIR CITY festival, which runs through February 3, 2019 at the Castro Theatre. The preservation has been accomplished through the long-standing partnership of the Film Noir Foundation and UCLA Film & Television Archive. Additional funding assistance for Trapped was provided through a grant from the Hollywood Foreign Press Association's Charitable Trust.
One of the first and best B-features by future Hollywood A-list director Richard Fleischer, Trapped is one of the few Fleischer films yet to be resurrected from this fertile yet neglected period of the director's career. Eagle-Lion films did not have the archival protection of a major studio and many of its original 35mm features have been dispersed to parts unknown. After a long and nearly fruitless search for restoration elements, UCLA motion picture archivist and FNF advisory council member Todd Wiener discovered that a private collector in New York had deposited a 35mm print of Trapped at the Harvard Film Archive in Cambridge, Massachusetts. The FNF paid a nominal fee to arrange loan of the print to UCLA Film & Television Archive for the restoration.
The 35mm restoration of Trapped will be screened nationally as part of the FNF's NOIR CITY film festival programs in 2019, as well as being eventually released on Blu-ray and DVD through the FNF's partnership with Flicker Alley, which to date has distributed its restored versions of Woman on the Run (1950), Too Late for Tears (1949), and The Man Who Cheated Himself (1950). Other titles in the Blu-ray pipeline include restorations of Repeat Performance (1947) and the Argentine noir Los tallos amargos / The Bitter Stems (1956).
You can read the full story of the film's restoration in the current issue of NOIR CITY e-magazine. Subscribe today to get your copy. Your dollars will go towards the FNF's restoration efforts.
From the Collection of
Eddie Muller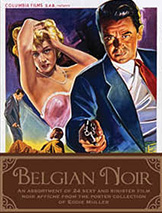 The WORLD OF FILM NOIR was created in black and white, but its intrigue and passion was sold worldwide by movie posters -- in vivid color -- that enticed audiences into this sinister and sensual demimonde. Nowhere on earth was the come-on more colorful than in Belgium, where the nation's standardly sized posters (a mere 14" x 22") virtually exploded with the danger and desire at the heart of cinema's most alluring and durable genre. Small posters from a small country--but packed with more lust and larceny than Hollywood would dare.
NOW, EXCLUSIVELY FROM BLACK POOL PRODUCTIONS—Eddie Muller, "The Czar of Noir," presents 24 glorious Belgian cinema posters from his personal collection, reproduced as 5-1/4" x 7" cards, each complete with his terse and tangy commentary highlighting what made these films—and this artwork--so magical and memorable. $20 + tax/shipping at BlackPoolProductions.com.
Don't Print the Legend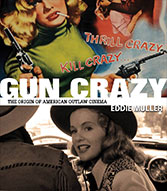 Gun Crazy caused barely a ripple in public consciousness when it hit movie screens in 1950. Yet over time it would prove to be the most innovative and provocative motion picture of its era—a simple genre film, but packed with so much cinematic bravura and timeless symbolism, its power has spanned decades, crossed oceans, and influenced countless filmmakers.
+ READ MORE

Come follow us on Tumblr to indulge your passion for noir! We'll be posting daily, celebrating all things noir with exclusive stills and images you won't see anywhere else, as well as trailers, film clips, and more.

Share our posts with your friends; your love of the art form is the Foundation's biggest asset in its mission to preserve and restore classics of the genre. We are also fully committed to present our rescued films in the way they were meant to be seen: in 35mm at our NOIR CITY festivals around the country.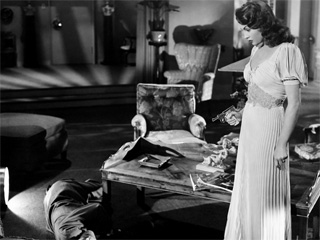 Women's Picture Meets
Film Noir
Doc Film at the University of Chicago will present Women's Picture Noir, a series exploring Hollywood classics that combined elements of film noir and "women's pictures", dramas that centered around female characters with conflicts centered in either families or relationships or both. The films in this series range from iconic noirs like Max Ophüls' adaptation of Elisabeth Sanxay Holding's novel, The Reckless Moment (1949) to gems waiting for rediscovery including Alfred L. Werker's Repeat Performance (1947)—restoration funded by the FNF in conjunction with the Packard Humanities Institute and performed by the UCLA Film & Television Archive. The series will screen on Fridays now through March 15. Some of the screenings will repeat on Sunday afternoons. Series programmed by Kathleen Geier. Schedule and program notes are available on Doc Film's website.
Cornell Woolrich To Dominate New York Noir Fest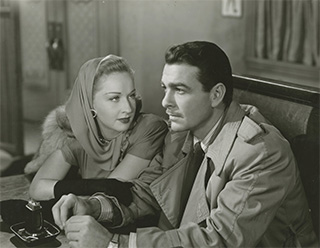 The Dr. Saul and Dorothy Kit Film Noir Festival will return for its second edition, Into the Night: Cornell Woolrich and Film Noir, at Columbia University's Lenfest Center for the Arts on March 27–31. The festival will present eleven noirs based on the works of Woolrich, a master of pulp fiction and a Columbia alumni. The program ranges from big studio classics like Alfred Hitchcock's Rear Window (1954) to Poverty Row B-pictures including John Reinhardt's The Guilty (1947)—one of the FNF's recent restoration projects.
The screenings will be accompanied by a series of talks by Woolrich experts and film historians. Speakers will include Ann Douglas (Columbia University), Frank Krutnik (University of Sussex), James Naremore (Indiana University), M. Francis Nevins (Saint Louis University), and Pamela Robertson Wojcik (University of Notre Dame). Columbia's Rare Book & Manuscript Library, located in Butler Library, will also host an accompanying exhibit of items from the Cornell Woolrich Papers. Series programmed by Rob King, Film and Media Studies.The full schedule will be announced in January 2019 here.
Now Playing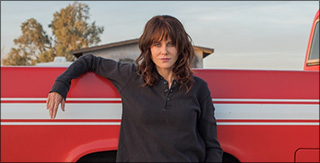 Love our film reviews in the NOIR CITY e-magazine? Get you noir-tinged movie and streaming news faster from our newly added NOW PLAYING area.
Contributors include syndicated newspaper columnist Sean Axmaker; the East Bay Express' chief film reviewer Kelly Vance and Nathalie Atkinson, a columnist for The Globe and Mail and the creator and host of the popular film series Designing the Movies.
Fritz Lang Retrospective at BAM/PFA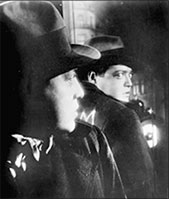 Before he came to America and became one of the most influential directors of the classic film noir era, Fritz Lang was a key figure in Germany's Expressionist film movement. The Berkeley Art Museum and Pacific Film Archive will present a series focusing on Lang's work from his German era, Fritz Lang & German Expressionism running December 7, 2018-February 23, 2019. The series will include a diverse selection of his silent films and his proto-noir M (January 20 & February 8) as well as films by several of his contemporaries including another proto-noir, Joe May's Asphalt (February 10).
According to BAMPFA Senior Film Curator Susan Oxtoby, throughout his five decade career, "Lang's work is thematically consistent, exploring struggles against destiny, entrapment, and paranoiac delusions. In mise en scène, he was a master of designing closed, labyrinthine worlds in which nightmarish adventures unfold." BAMPFA will showcase his American films later in 2019 and will give audiences a chance to see how Lang's world view and Expressionist style meshed perfectly with the film noir genre. Visit the BAMPFA's website for the full line-up and to purchase tickets.
NOIR TALK
"Now Playing" Movies + Streaming Guide and Noir on Blu-Ray, with Kelly Vance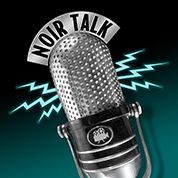 East Bay Express chief film reviewer Kelly Vance joins NOIR TALK producer/host Haggai Elitzur to chat about our website's newly added "Now Playing" area, a guide to noir-tinged movie and streaming news. (You can also enjoy Kelly's films reviews in NOIR CITY e-magazine.)
The pair also discuss a number of recent classic film noir releases on Blu-ray from specialty outlets like KL Studio Classics, Olive Films, VCI, ClassicFlix, Cohen Film Collection, Twilight Time, and Warner Archive. Flicker Alley's fully loaded dual Blu-ray/DVD editions of the FNF-funded restorations of Too Late for Tears (1949) and Woman on the Run (1950) as well as their upcoming release of our latest restoration project, The Man who Cheated Himself (1950) are included in the conversation.You can listen either on SoundCloud or on iTunes.

Tweets