FNF/Nancy Mysel Legacy Grant Winner Announced
The Film Noir Foundation is proud to announce the winner of this year's $5,000 FNF/Nancy Mysel Legacy Grant, Jana D. Gowan of UCLA, a Master of Library and Information Science/Media Archives Specialization student. Specifically, Gowan wants to pursue a career as a moving image archivist in film restoration and preservation at a regional film archive. Preserving the diverse history of rural communities by restoring locally relevant films is her passion.
Gowan attended NOIR CITY on Saturday night, January 30, for the grant announcement where she spoke on the Castro Theatre stage with FNF founder and president Eddie Muller. The Mysel family, the grant's benefactors, were in attendance as well. Gowan told the audience that the grant will enable her to accept two unpaid internships where she'll gain valuable experience without the worry of how to pay for her living expenses. She also revealed a more personal connection to the late Nancy Mysel. In addition to a shared passion for film restoration, Gowan volunteers at the hospice that assisted the Mysel family in caring for Nancy during her final days battling cancer.
Instructions for applying for 2017's FNF/Nancy Mysel Legacy Grant are already available! Students who applied this year, but were not selected, may apply for 2017's grant as long as they are in school. Applications for next year's grant are due December 14, 2016, and the winner will be announced at NOIR CITY 15 in January 2017. Visit our Grant page for details.
FNF Teams with Flicker Alley To Bring Restorations Home
The Film Noir Foundation has partnered with Flicker Alley to bring two of its recent restorations to the home entertainment market. DVD/Blu-ray editions of Woman on the Run (1950) and Too Late for Tears (1949) will be released on April 12, complete with bonus extras produced by the FNF.
"We chose to work with Flicker Alley," said FNF president Eddie Muller, "because of their commitment to producing high-quality products with what other companies might consider 'marginal' titles. Plus, [Flicker Alley founder] Jeff Masino understood that value of letting us brand these titles as Film Noir Foundation discoveries."
The release of more FNF titles will depend largely on the sales numbers of these first two discs. Repeat Performance (1947), High Tide (1947), and The Guilty (1947) are likely candidates for later releases, as are some of the Argentine noir films recently resurrected by the FNF. Olive Films will release a Blu-ray edition of Try and Get Me! (1950), the FNF's 2012 restoration, on April 19, 2016.
2015 Restoration Project
FNF Restores "Lost" Argentine Classic
Los tallos amargos (1956), a vitally significant "lost" film in the history of international noir cinema, has been restored this year by the Film Noir Foundation with the cooperation of UCLA Film & Television Archive and the Hollywood Foreign Press Association's Charitable Trust (The HFPA Trust). Based on the novel by journalist Adolfo Jasca, Los tallos amargos (The Bitter Stems) tells the tale of a down-on-his-luck journalist whose creation of a lucrative, if unethical, correspondence course leads to his committing the perfect murder. Although he's never apprehended, guilt takes its ultimate toll. The film won the Silver Condor—the Argentine Film Critics Association award to the nation's best film in 1957, with Best Director honors going to Fernando Ayala. Forty-three years later, in 2000, American Cinematographer magazine placed the film at #49 on its list of the "Best Photographed Films of All-Time." Despite these accolades, a 35mm print has not been available for decades, and the film is virtually unknown outside Argentina. With the FNF's restoration, including for the first time English sub
The 35mm restoration of Los tallos amargos made its North American premiere at NOIR CITY 14 in San Francisco on Saturday night, January 23, 2016. The film will be featured at our satellite festivals throughout the year. You can read the full story of the film's restoration in the current issue of NOIR CITY e-magazine.
Don't Print the Legend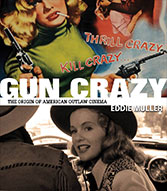 Gun Crazy caused barely a ripple in public consciousness when it hit movie screens in 1950. Yet over time it would prove to be the most innovative and provocative motion picture of its era—a simple genre film, but packed with so much cinematic bravura and timeless symbolism, its power has spanned decades, crossed oceans, and influenced countless filmmakers. + READ MORE.
The FNF Needs You!
You're the ones who make it possible for us to save and restore films like the classic Argentinian film noir Los tallos amargos (The Bitter Stems), making its North American debut at NOIR CITY 14. Do it for the love of noir—but also enjoy the thank-you gifts. Everyone who makes a (tax-deductible) donation of $20 or more and signs up on our mailing list receives our NOIR CITY e-magazine! The FNF would like to thank the following companies for including us in their Matching Donation Programs: Microsoft, Bristol-Myers Squibb, Salesforce.com Foundation, Charles Schwab, Levi Strauss & Co., Merck, and Google. If you are an employee of any of these companies and would like to contribute to the FNF, please make your contribution through your company's Matching Donation program. If you are not employed by one of these companies, and are interested in having your company match your donation, please contact the administrator of your company's Matching Donation program. Donate here and be a film noir savior!
FNF Receives $25K Grant from the Hollywood Foreign Press Association
On Thursday night, August 13, 2015, the Hollywood Foreign Press Association hosted their annual grant awards banquet at Los Angeles' Beverly Wilshire Hotel. For the third consecutive year, one of the grant recipients was the Film Noir Foundation — with English actor Jason Issacs accepting on behalf of the Foundation and FNF promotional director Daryl Sparks in attendance. The $25,000 grant was immediately put to use, helping to complete restoration work on the FNF's latest film restoration project the classic Argentianin noir Los tallos amargos (1956), premiering at San Francisco's NOIR CITY 14 in January 2016!

Come follow us on Tumblr to indulge your passion for noir! We'll be posting daily, celebrating all things noir with exclusive stills and images you won't see anywhere else, as well as trailers, film clips, and more.

Share our posts with your friends; your love of the art form is the Foundation's biggest asset in its mission to preserve and restore classics of the genre. We are also fully committed to present our rescued films in the way they were meant to be seen: in 35mm at our NOIR CITY festivals around the country.
Kim Novak Appears at San Francisco Symphony
Legendary actress-turned-artist Kim Novak will discuss one of her most famous films, Vertigo, on stage at San Francisco's Davies Symphony Hall on February 12 and 13. The talks will take place prior to two screenings of Alfred Hitchcock's 1958 masterpiece on consecutive nights. In Hitchcock's meditation on romantic fixation, an old friend hires ex-cop Scotty (Jimmy Stewart) to follow his beautiful, but emotionally disturbed, wife (Novak) through the gorgeously shot streets of mid-20th century San Francisco. Stewart gives an intensely dark performance as Scotty spirals further and further into romantic obsession.
The screenings will feature the SFS performing live Bernard Herrmann's evocative score for the film. Herrmann was one of the most important composers in classic-era Hollywood and frequently collaborated with Hitchcock, most notably on Psycho, which may have the most identifiable music in cinematic history. His long career continued into the 1970s, ending with two Oscar nominations in 1976 for his work on Brian De Palma's Obsession, a riff on Vertigo, and for Martin Scorsese's Taxi Driver. Joshua Gersen will conduct both nights. Tickets from $30-$160 are available at the Davies Symphony Hall box office, online, and by phone at 415-864-6000.
2016 NOIR CITY DATES
NOIR CITY Hollywood: April 15-24
NOIR CITY Austin: May 20-22
NOIR CITY Chicago: August 19-25
Brit Noir on the Big Screen
The Mostly British Film Festival returns for its eighth year with 28 new and classic feature films and documentaries from the United Kingdom, Ireland, Australia, and India, February 18-25, at three locations: The Vogue, Balboa, and Alamo Drafthouse at the New Mission. British Noir Night, February 19 at the Vogue (3290 Sacramento St.), showcases Jules Dassin's ode to losers and London with Night and the City (1950). Richard Widmark gives the performance of a lifetime as desperate, small-time hustler Harry Fabian. Stranded in London, he dreams of the big score that will deliver him out of the bush league. He attempts to break into professional wrestling as a promoter with tragic results. Gene Tierney plays, quite impressively, his long- suffering girlfriend and chronic mark. John Mackenzie's gritty, The Long Good Friday (1980) rounds out the double bill. This neo-noir infused gangster film launched Bob Hoskins illustrious cinematic career. He plays a criminal kinging who discovers that he has an unknown foe determined to destroy his life in the course of one day. Festival tickets and passes, including opening and closing night parties, are now on sale at MostlyBritish.org and CinemaSF.com.
Argentine Noir at NYC's MoMA
Contrary to conventional wisdom, recent discoveries are proving that film noir was definitely not confined to the Unites States and Europe. As testimony, the Museum of Modern Art in New York presents DEATH IS MY DANCE PARTNER: ARGENTINE FILM NOIR, 1949-1956 on February 10–16, 2016. This fascinating selection of films noirs from Argentina were made contemporaneously with the "classic era" and feature direction and cinematography on par with its American brethren, although not constrained by the Hollywood Production Code. Screenings will include the Film Noir Foundation's restoration of Los tallos amargos (The Bitter Stems) —restored in 2015 by UCLA Film & Television Archive—and the world premiere of The Library of Congress' digital restoration of Native Son. The series is curated and co-presented by FNF founder and president Eddie Muller and his Buenos Aires colleague Fernando Martín Peña—the man who in 2008 unearthed the seemingly lost complete version of Fritz Lang's Metropolis. The full schedule, program notes, and tickets are available at MoMA's website.
Sex, Drugs, and Pre-Code Hollywood
Perennial San Francisco film festival favorite Hollywood before the Code returns this year with an exciting change of venue and scheduling. Instead of its usual week run at the Roxie, the series will screen on six consecutive Wednesdays at the City by the Bay's historic movie palace, the Castro Theatre, Feb. 24 through March 30. The 14-film lineup of pre-code gems can best be described by this year's subtitle: SEX! CRIME!! HORROR!!! The series runs the gamut from von Sternberg's opulent Shanghai Express to Tod Browning's infamous Freaks. Howard Hawk's Scarface and Mervyn LeRoy's I Am a Fugitive from a Chain Gang, both from 1932, will be of particular interest to film noir aficionados. Both films are clear antecedents to film noir in subject and style. There's also the chance to see noted femme fatale Barbara Stanwyck before she was noir, as, of all things, a missionary, in Frank Capra's The Bitter Tea of General Yen (1933). The series was programmed by Elliot Lavine, well known in the Bay Area for his annual film noir series I Wake up Dreaming and his co-programming of The French Had a Name for It.

Tweets