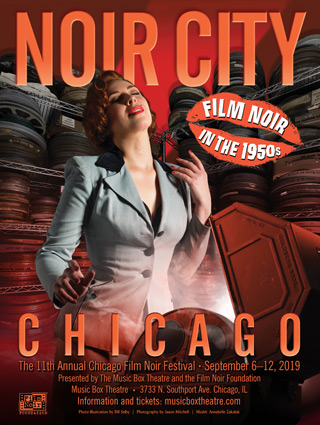 Save the Date!
NOIR CITY Chicago will return to its home at the Music Box Theatre for the eleventh time September 6-12. This year's NOIR CITY will take audiences on a trip back in time, through the ever-changing 1950s. This year's slate of films track noir through the declining studio system and into a fresh cinematic landscape where noir was refashioned, both subtly and radically, for a new generation. Also included in this year's program is the FNF's latest 35mm restoration–1949's Trapped from Eagle-Lion Films, starring Lloyd Bridges and infamous bad girl Barbara Payton. FNF president Eddie Muller will host the opening weekend, September 6-8 and FNF board member Alan K. Rode will take the reigns for the remainder of the festival, September 9-12. We'll let you know when the schedule and tickets are available on the theater's website
I Wake Up Streaming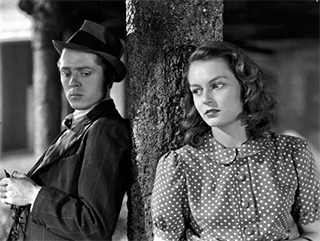 Prefer streaming to cable? We got you covered! Check out the newest edition to our website, I Wake Up Streaming—a monthly classic noir streaming column written by critic Sean Axmaker. Sean is here to guide you through the labyrinth of streaming services and lead you to the best classic film noirs available. He already regularly contributes to the FNF's NOIR CITY e-magazine as well as the NOIR NOW PLAYING section of our website. Sean also writes the syndicated newspaper column Stream On Demand and the companion website.
Trapped Restored and Released by FNF, UCLA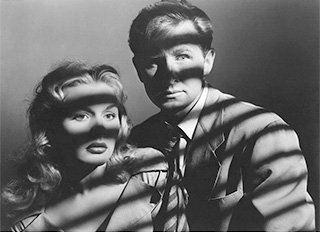 Trapped, a 1949 film noir produced by short-lived Eagle-Lion Pictures, is the latest restoration project of the Film Noir Foundation. The restored film had its world premiere in San Francisco on Friday, January 25, kicking off the 17th annual NOIR CITY festival, at the Castro Theatre. The preservation has been accomplished through the long-standing partnership of the Film Noir Foundation and UCLA Film & Television Archive. Additional funding assistance for Trapped was provided through a grant from the Hollywood Foreign Press Association's Charitable Trust.
One of the first and best B-features by future Hollywood A-list director Richard Fleischer, Trapped is one of the few Fleischer films yet to be resurrected from this fertile yet neglected period of the director's career. Eagle-Lion films did not have the archival protection of a major studio and many of its original 35mm features have been dispersed to parts unknown. After a long and nearly fruitless search for restoration elements, UCLA motion picture archivist and FNF advisory council member Todd Wiener discovered that a private collector in New York had deposited a 35mm print of Trapped at the Harvard Film Archive in Cambridge, Massachusetts. The FNF paid a nominal fee to arrange loan of the print to UCLA Film & Television Archive for the restoration.
The 35mm restoration of Trapped will be screened nationally as part of the FNF's NOIR CITY film festival programs in 2019, as well as being eventually released on Blu-ray and DVD through the FNF's partnership with Flicker Alley, which to date has distributed its restored versions of Woman on the Run (1950), Too Late for Tears (1949), and The Man Who Cheated Himself (1950). Other titles in the Blu-ray pipeline include restorations of Repeat Performance (1947) and the Argentine noir Los tallos amargos / The Bitter Stems (1956).
You can read the full story of the film's restoration in the current issue of NOIR CITY e-magazine. Subscribe today to get your copy. Your dollars will go towards the FNF's restoration efforts.
NOIR TALK
"Now Playing" Movies + Streaming Guide and Noir on Blu-Ray, with Kelly Vance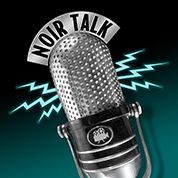 East Bay Express chief film reviewer Kelly Vance joins NOIR TALK producer/host Haggai Elitzur to chat about our website's newly added "Now Playing" area, a guide to noir-tinged movie and streaming news. (You can also enjoy Kelly's films reviews in NOIR CITY e-magazine.)
The pair also discuss a number of recent classic film noir releases on Blu-ray from specialty outlets like KL Studio Classics, Olive Films, VCI, ClassicFlix, Cohen Film Collection, Twilight Time, and Warner Archive. Flicker Alley's fully loaded dual Blu-ray/DVD editions of the FNF-funded restorations of Too Late for Tears (1949) and Woman on the Run (1950) as well as their upcoming release of our latest restoration project, The Man who Cheated Himself (1950) are included in the conversation.You can listen either on SoundCloud or on iTunes.
From the Collection of
Eddie Muller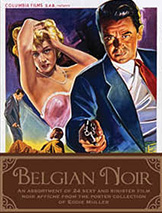 The WORLD OF FILM NOIR was created in black and white, but its intrigue and passion was sold worldwide by movie posters -- in vivid color -- that enticed audiences into this sinister and sensual demimonde. Nowhere on earth was the come-on more colorful than in Belgium, where the nation's standardly sized posters (a mere 14" x 22") virtually exploded with the danger and desire at the heart of cinema's most alluring and durable genre. Small posters from a small country--but packed with more lust and larceny than Hollywood would dare.
NOW, EXCLUSIVELY FROM BLACK POOL PRODUCTIONS—Eddie Muller, "The Czar of Noir," presents 24 glorious Belgian cinema posters from his personal collection, reproduced as 5-1/4" x 7" cards, each complete with his terse and tangy commentary highlighting what made these films—and this artwork--so magical and memorable. $20 + tax/shipping at BlackPoolProductions.com.
Don't Print the Legend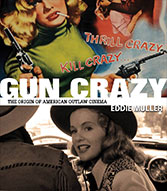 Gun Crazy caused barely a ripple in public consciousness when it hit movie screens in 1950. Yet over time it would prove to be the most innovative and provocative motion picture of its era—a simple genre film, but packed with so much cinematic bravura and timeless symbolism, its power has spanned decades, crossed oceans, and influenced countless filmmakers.
+ READ MORE

Come follow us on Tumblr to indulge your passion for noir! We'll be posting daily, celebrating all things noir with exclusive stills and images you won't see anywhere else, as well as trailers, film clips, and more.

Share our posts with your friends; your love of the art form is the Foundation's biggest asset in its mission to preserve and restore classics of the genre. We are also fully committed to present our rescued films in the way they were meant to be seen: in 35mm at our NOIR CITY festivals around the country.
Summer Noir at the BAMPFA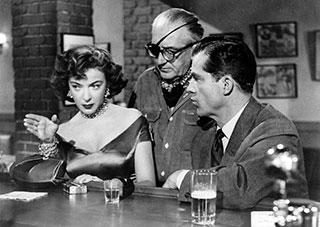 There's a veritable cornucopia for noir lovers this summer at the Berkley Art Museum & Pacific Film Archive. First up, a retrospective of an iconic film noir director, Fritz Lang's America, featuring 12 films from Lang's Hollywood period. The series kicks off on June 21 with The Big Heat (1953) and ends with While the City Sleeps (1956). Along the way BAMPFA will also present six more of Lang's noirs: Human Desire (1954), The Woman in the Window (1944), Scarlet Street (1945), Secret Beyond the Door (1948), Clash by Night (1952) and Beyond a Reasonable Doubt (1956). The series includes 35mm Archival Prints from George Eastman Museum, Harvard Film Archive, and The Library of Congress.
Orson Welles will also be saluted with their series Looking Again at Orson Welles, June 9–July 10, which includes a screening of The Lady from Shanghai (1948) on June 19.
Fans of Mexican can look forward to two Julio Bracho helmed films, 1943's Another Dawn (Distinto amanecer) on June 22 and 1945's Twilight (Crepúsculo) on June 29. Fans of neo-noir will want to see Transit (2018) directed by Christian Petzold who previously brilliantly updated The Postman Always Rings Twice to modern Germany with his 2008 film Jerichow.
Czech Noir Film Fest Returns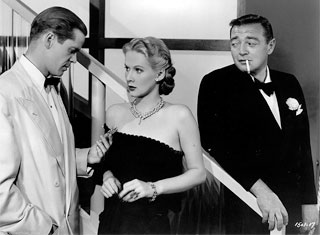 Noir Film Festival will return for its seventh edition August 23-26 to its breathtaking home, the majestic 12th century Křivoklát Castle, about 100km outside Prague in Czechia. The festival always comprises multiple series, this year's subjects include a tribute to one of pulp fiction's greatest writers, Cornell Woolrich with screenings of some of the best adaptations of his canon: Robert Siodmak's Phantom Lady (1944); Roy William Neill's Black Angel (1946); and Ted Tetzlaff's The Window (1949). The festival will also explore heist films, the centerpiece screening will be Stanley Kubrick's influential contribution to the genre, 1952's The Killing. The fest will also honor both halves of film noir's power couple, Veronica Lake and Alan Ladd with screenings of Georges Marshall's The Blue Dahlia (1946) to salute Lake and to salute Alan Ladd, Frank Tuttle's This Gun for Hire (1942). Programmers Jana Bébarová and Milan Hain have also included a Fritz Lang retrospective including 1944's Ministry of Fear and 1952's Clash by Night. Visit the festival's English language webpage for a partial list of this year's screenings. The complete NFF 2019 program will be announced on June 24, 2019.
Noir Essentials Returns
to Buffalo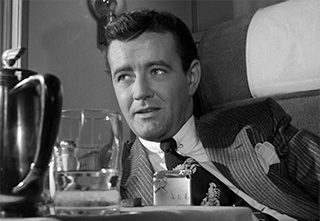 Noir Essentials is returning to the to the Dipson Theater's Eastern Hills Cinema with five classic noirs in which transit plays a key role in the story. Noir Essentials: Departures screens on consecutive Wednesdays from March 20 through July 10. The series kicks off with Alfred Hitchcock's Strangers on a Train (1951) in which two men's chance meeting on a train leads to murder. The line-up also includes Michael Curtiz's The Breaking Point (1950) on April 17th (boat); Carol Reed's Odd Man Out (1947) on May 15th (ship); Orson Welles' The Lady from Shanghai (1947) on June 12th (hansom cab and yacht); and Frank Borzage's Moonrise (1948) on July 10th (car). Alex Weinstein will return this season to introduce all the films. Tickets are available in advance on the Dipson's website or at the box office on the day of the show.
Criterion Streaming Service Debuts with Columbia Noir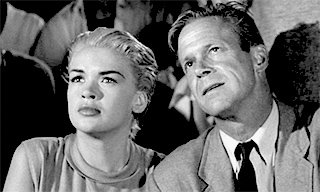 Launched in April, the Criterion Channel features eleven film noirs from Columbia studios. The collection includes two films helmed by Fritz Lang and starring Glenn Ford and Gloria Grahame, The Big Heat (1953) and Human Desire (1945). Two David Goodis' adaptations will also be featured, Paul Wendkos' 1957 adaptation of Goodis' tragic crime novel The Burglar featuring one of Dan Duryea's richest performances and Jacques Tourneur's Nightfall (1957). My Name Is Julia Ross (Joseph H. Lewis, 1945); So Dark the Night (Joseph H. Lewis, 1946); Drive a Crooked Road (Richard Quine, 1954); Pushover (Richard Quine, 1954); The Lineup (Don Siegel, 1958); Murder by Contract (Irving Lerner, 1958); Experiment in Terror (Blake Edwards, 1962) comprise the rest of the Columbia noirs.
In addition to films the site includes special materials relating to them including an introductory interview for the Columbia films with freelance film reviewer and Self- Styled Siren blogger Farran Smith Nehme and Imogen Sara Smith, author of In Lonely Places: Film Noir Beyond the City and a regular NOIR CITY e-magazine contributor.
Now Playing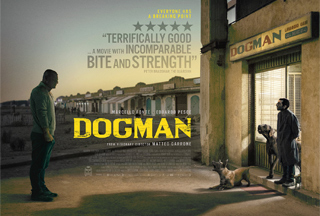 Love our film reviews in the NOIR CITY e-magazine? Get you noir-tinged movie and streaming news faster from our newly added NOW PLAYING area. Contributors include syndicated newspaper columnist Sean Axmaker; the East Bay Express' chief film reviewer Kelly Vance and Nathalie Atkinson, a columnist for The Globe and Mail and the creator and host of the popular film series Designing the Movies.

Tweets