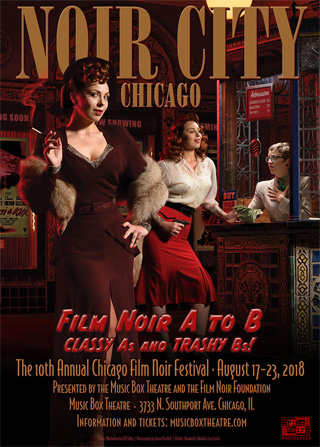 Save the Date: NOIR CITY Chicago Returns in August
NOIR CITY: Chicago will return to its home at the historic Music Box Theatre for its tenth anniversary August 17-23. This year's program will take audiences back in time by presenting classic noir films as they were during their original releases, in double features that pair a top-tier studio "A" with a shorter, low-budget second feature, or "B" film. . The FNF's Eddie Muller and Alan K. Rode will be your guides through the dark alleyways of NOIR CITY: Chicago. We'll post a link to the Music Box's website once they have posted the schedule and tickets.
UPCOMING NOIR CITY DATES
NOIR CITY Chicago: August 17-23, 2018
NOIR CITY Detroit: September 22-23, 2018
NOIR CITY D.C: October 12-25, 2018
NOIR CITY XMAS (San Francisco): Dec. 19,2018
NOIR CITY 17 (San Francisco): Jan.25-Feb 3, 2019
From Photography to Film Noir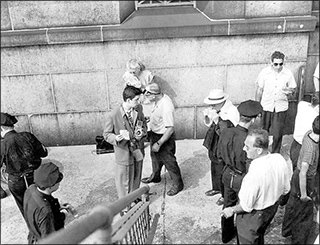 In conjunction with their current exhibition, Through a Different Lens: Stanley Kubrick Photographs,the Public Programs Department at the Museum of the City of New York will screen Jules Dassin's The Naked City (1948) on Thursday, August 2 at 8:00 pm. What is the connection to Kubrick? He took photos during the film's production for an unpublished feature and the experience sparked his interest in filmmaking. In this groundbreaking police procedural filmed largely on the streets of New York, Barry Fitzgerald portrays a compassionate cop on the trail of a murderer. Author, filmmaker, and architect James Sanders will introduce the screening. You can buy tickets for the screening online. Use the discount code KUBRICK at checkout to receive the FNF supporter's discount-the same discount that MCNY members receive! [Photo:Stanley Kubrick on the set of Jules Dassin's Naked City for Look Magazine, 1948]
FNF Launches
Now Playing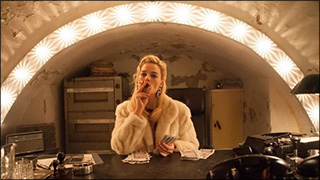 Love our film reviews in the NOIR CITY e-magazine? Get you noir-tinged movie and streaming news faster from our newly added NOW PLAYING area.
Contributors include syndicated newspaper columnist Sean Axmaker; the East Bay Express' chief film reviewer Kelly Vance and Nathalie Atkinson, a columnist for The Globe and Mail and the creator and host of the popular film series Designing the Movies.
Latest FNF Rescue: The Man Who Cheated Himself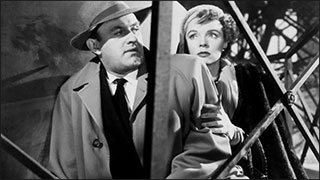 The Man Who Cheated Himself, an independently made noir thriller from 1950, is the latest preservation project of the Film Noir Foundation. The restored film had its world premiere in San Francisco at NOIR CITY 16 in January, fittingly as the film was shot in location in the City by the Bay. The Felix Feist-directed feature, which concerns a cop entangled with a cunning socialite who murders her husband, will play the NOIR CITY festival circuit throughout 2018.
20th Century–Fox, the film's original distributor, provided an original fine-grain from its vault as the essential restoration element, and UCLA's Head of Restoration, Scott Mac-Queen, oversaw the project—which for the first time includes restoration of the film's original trailer, as well.
A June 23 screening of the film on TCM's Noir Alley hosted by Muller, will be followed by Flicker Alley's release of the film on Blu-ray, with special features produced by the FNF. In addition to The Man Who Cheated Himself, NOIR CITY patrons and FNF donors have made it possible over the years for the FNF to restore Los tallos amargos (1956), Cry Danger (1951), The Prowler (1951), Try and Get Me! (1951), Repeat Performance (1947), High Tide (1947), Too Late for Tears (1949), The Guilty (1947) and Woman on the Run (1950), as well as funding our many 35mm preservations. DONATE HERE and be a film noir savior.
From the Collection of
Eddie Muller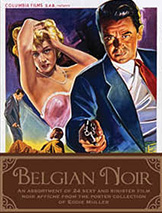 The WORLD OF FILM NOIR was created in black and white, but its intrigue and passion was sold worldwide by movie posters -- in vivid color -- that enticed audiences into this sinister and sensual demimonde. Nowhere on earth was the come-on more colorful than in Belgium, where the nation's standardly sized posters (a mere 14" x 22") virtually exploded with the danger and desire at the heart of cinema's most alluring and durable genre. Small posters from a small country--but packed with more lust and larceny than Hollywood would dare.
NOW, EXCLUSIVELY FROM BLACK POOL PRODUCTIONS—Eddie Muller, "The Czar of Noir," presents 24 glorious Belgian cinema posters from his personal collection, reproduced as 5-1/4" x 7" cards, each complete with his terse and tangy commentary highlighting what made these films—and this artwork--so magical and memorable. $20 + tax/shipping at BlackPoolProductions.com.
Don't Print the Legend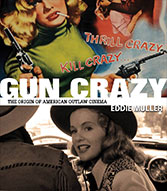 Gun Crazy caused barely a ripple in public consciousness when it hit movie screens in 1950. Yet over time it would prove to be the most innovative and provocative motion picture of its era—a simple genre film, but packed with so much cinematic bravura and timeless symbolism, its power has spanned decades, crossed oceans, and influenced countless filmmakers.
+ READ MORE

Come follow us on Tumblr to indulge your passion for noir! We'll be posting daily, celebrating all things noir with exclusive stills and images you won't see anywhere else, as well as trailers, film clips, and more.

Share our posts with your friends; your love of the art form is the Foundation's biggest asset in its mission to preserve and restore classics of the genre. We are also fully committed to present our rescued films in the way they were meant to be seen: in 35mm at our NOIR CITY festivals around the country.
FNF and SF Jewish Festival Present Budapest Noir
DIRECTOR ÉVA GÁRDOS IN CONVERSATION WITH EDDIE MULLER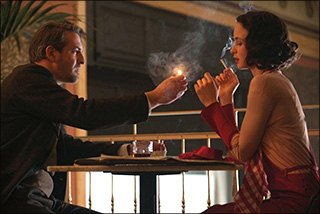 We are proud to be partnering with the San Francisco Jewish Film Festival to present the Northern California premiere of Éva Gárdos' sumptuous Hungarian neo-noir Budapest Noir (2017). Director Éva Gárdos will be in conversation with FNF founder and president Eddie Muller for the San Francisco screening on July 21, 6:00pm at the Castro Theatre.
Adapted by Gárdos and András Szekér from the popular Hungarian bestseller by Vilmos Kondor, Budapest Noir exploits the echoes of classic hardboiled detective fiction to probe the specifics of Hungarian national identity and tells a timeless tale of soul corruption. Zsigmond Gordon (Krisztián Kolovratnik) is a cynical crime reporter cut from classic film noir cloth living in in 1936 Budapest. A chance meeting with an alluring woman triggers Gordon's curiosity, especially when she later turns up murdered. Gordon sets out to learn her identity and transform her death from back-page filler to front-page news.
Tickets ($12 members / $15 general) are available on the SFJFF's website. Use the discount code NOIR38 at checkout to receive the FNF supporter's discounted price of $13. Director Gárdos will also be in person at the Palo Alto screening on Sunday, July 22. The film will play twice more, on Saturday, July 28 in Albany and in San Rafael on August 4. SFJFF 38 runs July 19–August 5 across the Bay Area.
French Film Noir at the PFA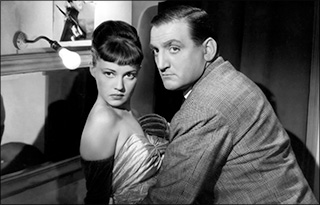 The Berkeley Art Museum & Pacific Film Archive is presenting a tribute to the French director Jacques Becker, July 12–August 31. The Becker series includes an excellent film noir, Touchez pas au grisbi (1953). An aging, world-weary gangster (Jean Gabin) is forced out of retirement when his best friend is kidnapped and their stash of eight stolen gold bars is demanded as ransom. Noir fans may also enjoy Becker's official debut as a director, the 1942 gangster film Dernier atout (The Trump Card) and the tense prison break classic, Le trou (1960). Schedule, film notes and tickets are available on the BAM/PFA website.
Outdoor Noir in Montréal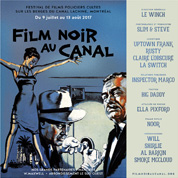 Film Noir au Canal returns for a fourth edition, Sunday evenings from July 15 to August 19 at St-Patrick Square, Montréal. The films are projected on the banks of the Lachine Canal and are preceded by musical performances. Each of the six film titles will be revealed a week prior to its screening. Visit the official Filmnoiraucanal.org for more details.
French Noir Returns to the Roxie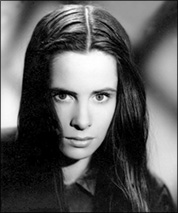 Hungering for the return of the Gallic film noir series THE FRENCH HAD A NAME FOR IT in November? Enjoy an amuse-bouche on Thursday July 26 when Midcentury Productions presents a MIDSUMMER NIGHTMARE at San Francisco's Roxie Theatre. The double bill of two 1946 French produced noirs will salute actress Andrée Clément, whom Midcentury executive director Don Malcolm dubbed "the first 'Goth girl' for her modern look, her intensity and her unique mingling of darkness and innocence." La fille du diable (Devil's Daughter) and Macadam (The Back Streets of Paris) comprise the evening's entertainment. In the former, Clément plays a small town girl who masterminds a group of thugs while finding herself embroiled in a love triangle with the mobster (Pierre Fresnay) she admires and the town consul (Fernand Ledoux) who is blackmailing him into good behavior. In the latter, she portrays the sympathetic daughter of a ruthless hotelkeeper (Françoise Rosay) whose crime-ridden establishment is located in Paris' disreputable Montmartre district. Tickets are available to purchase on the Midcentury website.
Castle Noir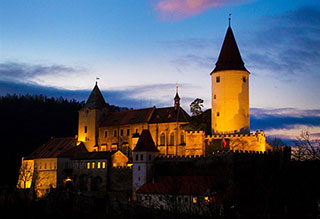 Noir Film Festival will return for its sixth edition August 23-26 to its breathtaking home, the majestic 12th century Křivoklát Castle, about 100km outside Prague in the Czech Republic. The festival includes multiple series with in the festival, including tributes to noir icons Ida Lupino and Robert Ryan, as well as celebrating the career of film director and festival patron Hynek Bočan who turned 80 this year. Programmers Jana Bébarová and Milan Hain have selected rarely screened 1940s and 50s films from Denmark, Norway, Sweden and Finland for the Nordic Noir series. The Prison Noir series will include films about both men and women behind bars: Don Siegel's Riot Cell Block 11 (1954), Jules Dassin's Brute Force (1947), John Cromwell's Caged (1950), and Robert Wise's I Want to Live! (1958). The complete NFF 2018 program will be announced on the festival's English language webpage in June.
NOIR TALK
"Now Playing" Movies + Streaming Guide and Noir on Blu-Ray, with Kelly Vance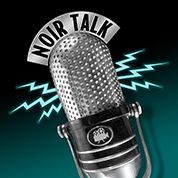 East Bay Express chief film reviewer Kelly Vance joins NOIR TALK producer/host Haggai Elitzur to chat about our website's newly added "Now Playing" area, a guide to noir-tinged movie and streaming news. (You can also enjoy Kelly's films reviews in NOIR CITY e-magazine.)
The pair also discuss a number of recent classic film noir releases on Blu-ray from specialty outlets like KL Studio Classics, Olive Films, VCI, ClassicFlix, Cohen Film Collection, Twilight Time, and Warner Archive. Flicker Alley's fully loaded dual Blu-ray/DVD editions of the FNF-funded restorations of Too Late for Tears (1949) and Woman on the Run (1950) as well as their upcoming release of our latest restoration project, The Man who Cheated Himself (1950) are included in the conversation.You can listen either on SoundCloud or on iTunes.

Tweets