AUG 28 - SEP 3
NOIR CITY Returns to the
Windy City
NOIR CITY: Chicago returns to its home at the historic Music Box Theatre for its seventh incarnation August 28-September 3. The full schedule hasn't been announcedyet, but we can tell you that two Film Noir Foundation-funded 35mm restorations will screen: Norman Foster's Woman on the Run (1950) starring Ann Sheridan and John Reinhardt'sThe Guilty (1947), based on a Cornell Woolrich story. New prints of two classic Argentine noirs funded by the FNF will also screen, No abras nunca esa puerta (Don't Open That Door) (1952) and Si muero antes de despertar (If I Die Before I Wake) (1952), both also based on the works of Woolrich. A new 35mm print of Cy Endfield's The Underworld Story (1950), starring Dan Duryea, will screen courtesy of the Film Noir Foundation collection at UCLA Film & Television Archive. FNF president Eddie Muller will host the opening weekend. FNF board member and film historian Alan K. Rode will take over as emcee for the rest of the festival. We hope to see you there!
2015 NOIR CITY DATES
Chicago: August 28—September 3
Portland (OR): September 18—20
Kansas City: October 2—4
Washington D.C.: October 17—29
NOIR CITY Xmas San Francisco: December 16
FNF Teams with Flicker Alley To Bring Restorations Home
The Film Noir Foundation will partner with Los Angeles-based Flicker Alley to bring several of its recent restorations to the home entertainment market. DVD editions of Woman on the Run (1950) and Too Late for Tears (1949) are expected to release before the year's end, complete with bonus extras produced by the FNF. "We chose to work with Flicker Alley," said FNF president Eddie Muller, "because of its commitment to producing high quality products with what other companies might consider 'marginal' titles. Plus, [Flicker Alley founder] Jeff Masino understood that value of letting us brand these titles as Film Noir Foundation discoveries." The release of more FNF titles will depend largely on the sales numbers of these first two discs. Repeat Performance (1947), High Tide (1947), and The Guilty (1947) are likely candidates for later release, as are some of the Argentine noir films recently resurrected by the FNF. Try and Get Me! (1950), the FNF's 2012 restoration, has reportedly been forthcoming from Olive Films for two years, but there's no word yet on an actual release date.
Shining a Light on a Pulp
Fiction Enigma
In the U.S., pulp fiction writer David Goodis is best known for—or perhaps only known for—his novel Dark Passage, thanks to the popular film adaptation starring Humphrey Bogart and Lauren Bacall. Although the film brought its author great opportunities, his Hollywood screenwriting career would shortly fizzle out. He returned to his family home in Philadelphia, disappearing from the public eye—but launching a prodigious output of original pulp paperbacks which would earn him a huge reputation, especially in France, where his novels inspired many film adaptions, including François Truffaut's Shoot the Piano Player. In America, however, Goodis never again regained the mainstream success he had with Dark Passage. In 1982, French journalist Philippe Garnier decided to plumb the mysterious depths that had seemingly swallowed the reclusive writer. The resulting book, Goodis: A Life in Black and White is now available for the first time in English. You can buy it directly from Black Pool Productions or at one of our NOIR CITY festivals.
FNF Receives $65K Grant from the Hollywood Foreign Press Association
On Thursday night, August 14, the Hollywood Foreign Press Association hosted their annual grant awards banquet at Los Angeles' Beverly Hilton Hotel. For the second consecutive year, one of the grant recipients was the Film Noir Foundation —with actress and new FNF advisory council member Rose McGowan accepting on behalf of the Foundation and FNF promotional director Daryl Sparks in attendance. The $25,000 grant was immediately put to use, helping to complete restoration work on the FNF's latest film restoration project.
At the end of September, HFPA board member Yoram Kahana contacted the FNF to advise us that after additional consideration, HFPA had decided to increase the 2014 grant to the FNF by an additional $40,000! It seems that the grant proposal for Woman on the Run created by FNF Promotional Director Daryl Sparks was so impressive that HFPA president Theo Kingma— once he'd beheld for himself the detailed 47-page document — took the unprecedented step of funding the grant in full! And, on-stage opening night of NOIRCITY 13, HFPA's Yoram Kahana presented FNF president Eddie Muller with a plaque celebrating the restoration of Woman on the Run prior to the film's re-premiere. Quite the memorable restoration!

Come follow us on Tumblr to indulge your passion for noir! We'll be posting daily, celebrating all things noir with exclusive stills and images you won't see anywhere else, as well as trailers, film clips, and more.

Share our posts with your friends; your love of the art form is the Foundation's biggest asset in its mission to preserve and restore classics of the genre. We are also fully committed to present our rescued films in the way they were meant to be seen: in 35mm at our NOIR CITY festivals around the country.
JUNE-JULY
FNF's Czar To Host TCM's "Summer of Darkness"
Turner Classic Movies has announced that FNF president Eddie Muller will be hosting the network's "Summer of Darkness" this June and July. During those months TCM will dedicate 24 hours each Friday to a lineup comprised exclusively of film noir. Muller will present four movies each night during prime-time, 36 films in all, as host of TCM's "Friday Night Spotlight." In addition to serving as on-air host, the "Czar of Noir" also chose the films he'll be presenting.
"I'm grateful to TCM for the chance to share my passion for these films," Muller said. "And I'm pleased that they let me throw in the occasional pitch for the Film Noir Foundation."
In fact, Muller will be hosting the TCM broadcast premieres of two FNF restorations, Woman on the Run (June 5) and Too Late for Tears (July 17). Some of his other selections include thematic groupings that focus on San Francisco, wartime noir, John Alton, the King Brothers, and much more.
FNF Donation Drive
Winner Announced
The winner of June's Film Noir Foundation donation drive prize is Terry Hinshaw of Miami Beach, Florida. Selected in a random drawing from Film Noir Foundation contributors between June 18-24, Terry will receive The Prowler, VCI Entertainment's recent Blu-ray release of the Film Noir Foundation's 35mm restoration of the 1951 film.
AUG 20 - 23
Czech Noir
The Noir Film Festival returns August 20-23 to its unique home, Křivoklát Castle located in the Czech Republic. This regal setting should prove the perfect backdrop for the Gothic Noir series, one of eleven series that forms this year's programming. The festival's third incarnation also includes three separate series honoring noir legends Joan Crawford, John Garfield and Orson WeRlles. The HBO Projections and Czech/Czechoslovak Noirs Annual series, festival favorites, return this year. The Noir Parodies, Remakes and French Noir series will provide alternative views of the genre. Check out the official website for more information including how to follow their ongoing programming announcements via social media.
Woman on the Run, The Guilty Latest Lost Treasures Restored
by FNF
A pair of seemingly lost films, Woman on the Run (1950) and The Guilty (1947), are the Film Noir Foundation's "rescues" for 2014. Both have been restored in brand new 35mm negatives; pristine prints of each will be presented to audiences on the NOIR CITY festival circuit in 2015. Woman on the Run is a unique noir love story, shot largely on location in San Francisco, with star Ann Sheridan serving as the film's unbilled executive producer. The film vanished from circulation after the termination of the independent production's distribution deal with Universal in the mid-1950s. + READ MORE.
Don't Print the Legend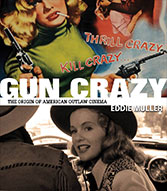 Gun Crazy caused barely a ripple in public consciousness when it hit movie screens in 1950. Yet over time it would prove to be the most innovative and provocative motion picture of its era—a simple genre film, but packed with so much cinematic bravura and timeless symbolism, its power has spanned decades, crossed oceans, and influenced countless filmmakers. It's no stretch to declare Gun Crazy one of the essential American films—as well as a cornerstone of the auteur theory that's dominated cinema discourse since the 1960s. Its larger-than-life reputation among cinephiles has mainly been based on the recollections—also larger-than-life—of its director, Joseph H. Lewis, whose intriguing yet surprisingly short career never again reached the level of this bona-fide classic.
In this thoroughly researched and vividly told tale, FNF President and NOIR CITY co-programmer Eddie Muller explodes many of the entrenched myths about Gun Crazy—and the auteur theory itself. He subverts the film's legend with the fascinating story of its actual creation, a six-year struggle that involved an array of exceptional collaborators. Packed with never-before-seen ephemera—original script pages (some never filmed), production notes, on-set photos—Gun Crazy: The Origin of American Outlaw Cinema is now available for sale online exclusively from Black Pool Productions.

Tweets