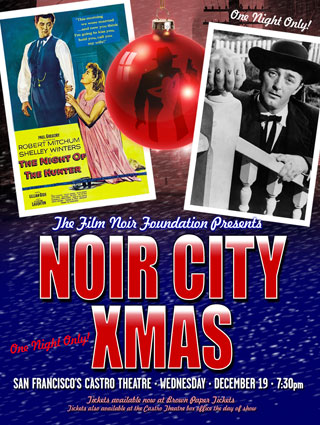 NOIR CITY Xmas
Tickets Now on Sale!
Ring in the holidays with a Cruel Yule courtesy of the Film Noir Foundation! Join us Wednesday, December 19, 7:30 p.m., at San Francisco's Castro Theatre for Charles Laughton's The Night of the Hunter (1955). The holiday season is the perfect time to share this timeless noir fairytale about the eternal human struggle—between avarice and atonement, sinners and saviors, good and evil. Robert Mitchum gives a legendary performance as a vile and conniving ex-con masquerading as a man of the cloth. He's not about to let two innocent children come between him and a long-hidden bounty. Shelley Winters may be a gullible mark for this faux preacher, but spinster Rachel Cooper (a memorable portrayal by Lillian Gish) knows the devil when she sees it. Actor Charles Laughton created a stunning work of magical realism, the only picture he'd ever direct. Why not quit while you're ahead? This is a one-of-a-kind masterpiece.
In addition to bearing gifts of compelling cinematic artistry at NOIR CITY Xmas, host Eddie Muller will reveal the program for the upcoming NOIR CITY 17 festival January 25–February 3, 2019 at the Castro Theatre. Plus, for your holiday shopping pleasure, we'll have NOIR CITY 17 Passports (all-access passes) for sale, along with select FNF merchandise, on the Castro mezzanine.
Tickets for NOIR CITY XMAS available now––$10 at Brown Paper Tickets. Tickets will also be available at the Castro Theatre box office the day of the show.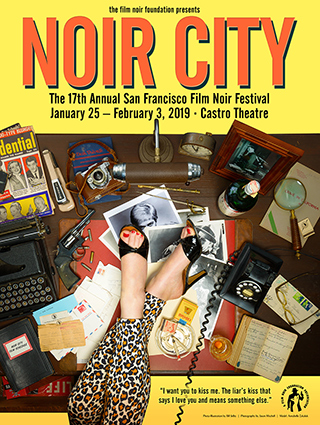 NOIR CITY 17 Passports Now on Sale!
The world's most popular film noir festival, NOIR CITY, will return to the historic Castro Theatre January 25 through February 3, 2019. Secure your spot for all the fun with an all-access NOIR CITY 17 PASSPORT for $125 -- now on sale! PURCHASE HERE
This all-access festival pass grants the bearer:
✽ Entry to all 24 films during NOIR CITY 17
✽ Separate passport holders' queue for early admittance to the theater for all shows
✽ Opening night passholders' reception (Castro mezzanine) beginning at 6 pm on January 25, 2019.
As always, festival devotees will enjoy 10 glorious days and nights of noir-themed double features as they were meant to be seen, on the big screen, in one of America's greatest movie palaces: San Francisco's Castro Theatre. The full line-up for NOIR CITY 17 will be announced Wednesday evening, December 19 at the FNF's annual NOIR CITY Xmas event at the Castro Theatre. (Festival details - including film schedule and tickets - will be available at 6:00 p.m. 12/19/18 at NoirCity.com.)
NOIR CITY Accommodation

If you're an out-of-towner looking for lodging near the Castro Theatre, our friends at the Beck's Motor Lodge are offering discounted room rates for festival guests during NOIR CITY 17. Beginning January 24 through February 3, 2019, you can get a room with a Queen bed for $169 plus tax, and for a room with 2 beds the cost is $189 plus tax.
Located at 2222 Market near the intersection of 15th and Sanchez, Beck's Motor Lodge is walking distance to the Castro Theatre. While the exterior of the iconic mid-century motel (built in 1958) hasn't changed much over the years, the interior rooms have all been totally refurbished with new furniture and bathrooms, 32" flat screen televisions, refrigerators and coffee makers. Parking is still free, as is access to wi-fi. Call Beck's Motor Lodge at 415-621-8212 or email them to make your reservation. Make sure you tell Beck's you're calling for the NOIR CITY 17 festival rate.
THE NANCY MYSEL LEGACY GRANT
$5,000 Grant for Film Preservation Students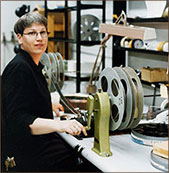 The Film Noir Foundation invites film preservation students to apply now for the 2019 Nancy Mysel Legacy Grant. Applications must be submitted by Thursday, December 13, 2018. This $5,000 grant will be awarded by the FNF in January 2019 to a deserving undergraduate or graduate student in film restoration/preservation or moving image archive studies. The grant funds are to be used to enhance or benefit a student's film restoration/preservation or moving image archive studies. Details for submitting your application can be found on the FNF grant page. The 2019 Nancy Mysel Legacy Grant recipient will be announced at NOIR CITY 17, in January 2019.
Trapped Restored and Released by FNF, UCLA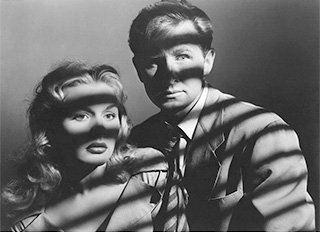 Trapped, a 1949 film noir produced by short-lived Eagle-Lion Pictures, is the latest restoration project of the Film Noir Foundation. The restored film will have its world premiere in San Francisco on Friday, January 25, kicking off the 17th annual NOIR CITY festival, which runs through February 3, 2019 at the Castro Theatre. The preservation has been accomplished through the long-standing partnership of the Film Noir Foundation and UCLA Film & Television Archive. Additional funding assistance for Trapped was provided through a grant from the Hollywood Foreign Press Association's Charitable Trust.
One of the first and best B-features by future Hollywood A-list director Richard Fleischer, Trapped is one of the few Fleischer films yet to be resurrected from this fertile yet neglected period of the director's career. Eagle-Lion films did not have the archival protection of a major studio and many of its original 35mm features have been dispersed to parts unknown. After a long and nearly fruitless search for restoration elements, UCLA motion picture archivist and FNF advisory council member Todd Wiener discovered that a private collector in New York had deposited a 35mm print of Trapped at the Harvard Film Archive in Cambridge, Massachusetts. The FNF paid a nominal fee to arrange loan of the print to UCLA Film & Television Archive for the restoration.
The 35mm restoration of Trapped will be screened nationally as part of the FNF's NOIR CITY film festival programs in 2019, as well as being eventually released on Blu-ray and DVD through the FNF's partnership with Flicker Alley, which to date has distributed its restored versions of Woman on the Run (1950), Too Late for Tears (1949), and The Man Who Cheated Himself (1950). Other titles in the Blu-ray pipeline include restorations of Repeat Performance (1947) and the Argentine noir Los tallos amargos / The Bitter Stems (1956).
You can read the full story of the film's restoration in the current issue of NOIR CITY e-magazine. Subscribe today to get your copy. Your dollars will go towards the FNF's restoration efforts.
FNF Receives HFPA Grant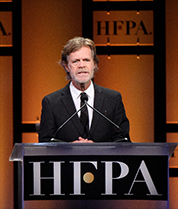 For the sixth consecutive year, the Film Noir Foundation has been awarded a grant from the Hollywood Foreign Press Association's Charitable Trust. This year's $50,000 grant will be used to help fund a 35mm film restoration the FNF will premiere next year at NOIR CITY 17 in San Francisco. HFPA's mission is to foster education, diversity, and creative expression in art and film through a variety of programs and special grants. For more than 25 years, the Hollywood Foreign Press has donated over $33 million to entertainment-related charities, scholarship programs, and humanitarian efforts.
This year's grants banquet was held Thursday, August 9, at Hollywood's Beverly Hilton Hotel with FNF promotional director and grants manager Daryl Sparks in attendance. The evening's festivities were hosted by William H. Macy and highlighted by award presentations from Hollywood celebrities, including Charlize Theron, Steve Carell, Alfonso Cuarón, Alfre Woodard, Jennifer Garner, Jason Bateman, and Dakota Fanning.
The SFJFF Needs You!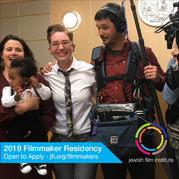 Calling all media makers! Are you working on a film or media project that makes a meaningful contribution to society's understanding of global Jewish life? Applications are now open for the Jewish Film Institute's 2019 Filmmaker Residency, a year-long intensive program at San Francisco's Ninth Street Independent Film Center to help you craft and share your story. Apply here by December 1.
The JFI is also currently accepting entries for the 39th San Francisco Jewish Film Festival (July 18 – August 4, 2019). SFJFF presents three weeks of inspiring independent cinema, events, and performances each summer in the Bay Area that expand understanding of Jewish life. We have been proud to partner with the SFJFF to present noir tinged films like this year's screening of Budapest Noir. Submit your film today here.
From the Collection of
Eddie Muller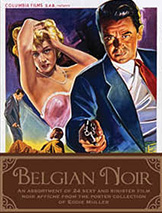 The WORLD OF FILM NOIR was created in black and white, but its intrigue and passion was sold worldwide by movie posters -- in vivid color -- that enticed audiences into this sinister and sensual demimonde. Nowhere on earth was the come-on more colorful than in Belgium, where the nation's standardly sized posters (a mere 14" x 22") virtually exploded with the danger and desire at the heart of cinema's most alluring and durable genre. Small posters from a small country--but packed with more lust and larceny than Hollywood would dare.
NOW, EXCLUSIVELY FROM BLACK POOL PRODUCTIONS—Eddie Muller, "The Czar of Noir," presents 24 glorious Belgian cinema posters from his personal collection, reproduced as 5-1/4" x 7" cards, each complete with his terse and tangy commentary highlighting what made these films—and this artwork--so magical and memorable. $20 + tax/shipping at BlackPoolProductions.com.
Don't Print the Legend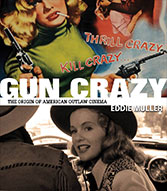 Gun Crazy caused barely a ripple in public consciousness when it hit movie screens in 1950. Yet over time it would prove to be the most innovative and provocative motion picture of its era—a simple genre film, but packed with so much cinematic bravura and timeless symbolism, its power has spanned decades, crossed oceans, and influenced countless filmmakers.
+ READ MORE

Come follow us on Tumblr to indulge your passion for noir! We'll be posting daily, celebrating all things noir with exclusive stills and images you won't see anywhere else, as well as trailers, film clips, and more.

Share our posts with your friends; your love of the art form is the Foundation's biggest asset in its mission to preserve and restore classics of the genre. We are also fully committed to present our rescued films in the way they were meant to be seen: in 35mm at our NOIR CITY festivals around the country.
And the Winner Is...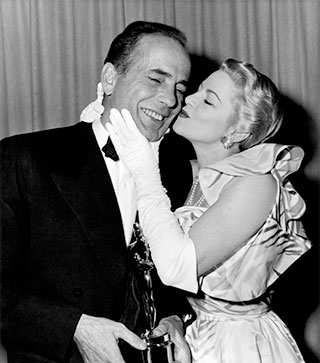 We are proud to announce the five winners of the FNF's NOIR CITY e-magazine #25 donation drive held November 20-28, 2018:
☆ The winner of the Warner Archive Blu-ray of Gun Crazy (1950): Ozzie Hawkins of New York, NY
☆ The winner of the Warner Archive DVD double feature of Crime Wave (1954)and Decoy (1946): Chandler Baer of Smithfield, UT
☆ The winner of the Warner Archive Blu-ray of Murder, My Sweet (1944): Myron Kopin of Troy, MI (new subscriber offer winner)
☆ The winner the Flicker Alley Blu-ray/DVD of Woman on the Run (1950) is: Candace Bowers of Menlo Park, CA (new subscriber offer winner)
☆ The winner of two Vincent Price books from Dover Publications is: Robert Anderson of Sunnyvale, CA
☆ The winner of the Warner Archive DVDs of Roadblock (1951) and Southside 1-1000 (1950) is: David Rinelli of Danbury, CT
☆ The winner of the Warner Archive DVDs of Betrayed (1944) and Hotel Berlin (1945) is: Katherine Wagner of San Diego, CA
☆ The winner of the Warner Archive "triple", Dark Passage (1947)/Conflict (1945)/Three Strangers (1946), is: Robert Stoldal of Las Vegas, NV
Thank you to everyone who contributed to the Film Noir Foundation! A reminder that anyone who contributes $20 or more to the FNF and signs up our mailing list always receives a free year's subscription to NOIR CITY e-magazine. Contributors may receive additional FNF thank you gifts depending on the amount of the donation.
Detour Restoration at L.A.'s Egyptian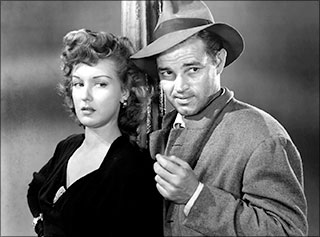 The American Cinematheque's historic Egyptian Theatre in Hollywood will screen the new 4K restoration of Edgar G. Ulmer's legendary noir Detour (1946) on Sunday, December 16, 2018 at 7:30pm. Ulmer's daughter, Arianne Ulmer Cipes, and FNF board member Alan K. Rode will introduce the film. In this low budget gem, a hitchhiker (Tom Neal) takes on a dead man's identity only to face blackmail by an unscrupulous woman (Ann Savage)—possibly the meanest woman in the history of cinema. The film's long overdue restoration was performed by the Academy Film Archive and the Film Foundation in collaboration with Cinémathèque Royale de Belgique, the Museum of Modern Art and the Cinémathèque Française. Restoration funding was provided by the George Lucas Family Foundation. Visit the Egyptian's website for details and tickets.
Now Playing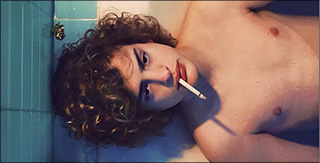 Love our film reviews in the NOIR CITY e-magazine? Get you noir-tinged movie and streaming news faster from our newly added NOW PLAYING area.
Contributors include syndicated newspaper columnist Sean Axmaker; the East Bay Express' chief film reviewer Kelly Vance and Nathalie Atkinson, a columnist for The Globe and Mail and the creator and host of the popular film series Designing the Movies.
Fritz Lang Retrospective at BAM/PFA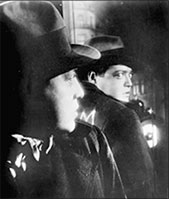 Before he came to America and became one of the most influential directors of the classic film noir era, Fritz Lang was a key figure in Germany's Expressionist film movement. The Berkeley Art Museum and Pacific Film Archive will present a series focusing on Lang's work from his German era, Fritz Lang & German Expressionism running December 7, 2018-February 23, 2019. The series will include a diverse selection of his silent films and his proto-noir M (January 20 & February 8) as well as films by several of his contemporaries including another proto-noir, Joe May's Asphalt (February 10).
According to BAMPFA Senior Film Curator Susan Oxtoby, throughout his five decade career, "Lang's work is thematically consistent, exploring struggles against destiny, entrapment, and paranoiac delusions. In mise en scène, he was a master of designing closed, labyrinthine worlds in which nightmarish adventures unfold." BAMPFA will showcase his American films later in 2019 and will give audiences a chance to see how Lang's world view and Expressionist style meshed perfectly with the film noir genre. Visit the BAMPFA's website for the full line-up and to purchase tickets.
Oldest U.S. Film Noir Festival Returns to Seattle
The Seattle Art Museum's film noir festival returns for its 41st edition on September 27. This year's line-up, entitled Night Heat, ranges from well-known classics like Charles Laughton's The Night of the Hunter (1955) starring film noir stalwart Robert Mitchum to lesser known gems like Hugo Haas' Wicked Woman, starring the incomparable film noir Amazon Beverly Michaels. A Top Pot Doughnuts post-film party follows the opening night screening of Raoul Walsh's White Heat (1949), showcasing James Cagney as a psychotic, mother-obsessed gangster. The last two weeks of the festival include a late-era noir Robert Rossen's Lilith (1964) and Michael Mann's high-octane heist flick Heat (1995). Films screen every Thursday night through December 6 except for Thanksgiving Day. Full series pass ($78) available on SAM's website. A limited number of single-film tickets may be available on a first-come, first-served basis the day of the show, at 7:25 p.m., at the auditorium entrance for $9 (cash/check only).
Coen Brothers Retrospective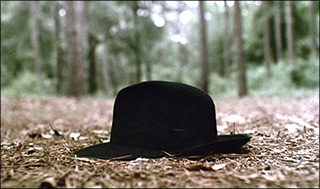 Dipson Theatres and Noir Essentials have teamed up to present The Coen Brothers Bible of America, a monthly retrospective of Joel and Ethan Coen's neo-noir films, August 22-December 12 at the Dipson Eastern Hills Cinema in Buffalo. Host Alex Weinstein will take audiences on a journey, both geographic and cinematic, through five modern classics from the filmmaking team: Texas (Blood Simple, No Country for Old Men); North Dakota (Fargo); post-War California (The Man Who Wasn't There), and an unnamed Prohibition-era gangster infested city (Miller's Crossing). The films also cover a journey through crime fiction writing from golden age pulp—The Man Who Wasn't There was inspired by James M. Cain's writing, especially The Postman Always Rings Twice and Miller's Crossing is an uncredited reworking of Dashiell Hammett's The Glass Key—to the work of a modern literary master, Cormac McCarthy, author of No Country. Tickets are available at DipsonTheatres.com or in person at the Eastern Hills Cinema box office.
NOIR TALK
"Now Playing" Movies + Streaming Guide and Noir on Blu-Ray, with Kelly Vance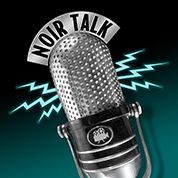 East Bay Express chief film reviewer Kelly Vance joins NOIR TALK producer/host Haggai Elitzur to chat about our website's newly added "Now Playing" area, a guide to noir-tinged movie and streaming news. (You can also enjoy Kelly's films reviews in NOIR CITY e-magazine.)
The pair also discuss a number of recent classic film noir releases on Blu-ray from specialty outlets like KL Studio Classics, Olive Films, VCI, ClassicFlix, Cohen Film Collection, Twilight Time, and Warner Archive. Flicker Alley's fully loaded dual Blu-ray/DVD editions of the FNF-funded restorations of Too Late for Tears (1949) and Woman on the Run (1950) as well as their upcoming release of our latest restoration project, The Man who Cheated Himself (1950) are included in the conversation.You can listen either on SoundCloud or on iTunes.

Tweets