Film Noir & Neo Noir News
Take a Break from the Holiday Season with NOIR CITY XMAS
On Wednesday, December 17, The Film Noir Foundation presents its 5th annual holiday show at San Francisco's majestic Castro Theatre!
In addition to a seasonally themed double bill of vintage noir-stained films, host Eddie Muller will be revealing the complete schedule (and hot new poster!) for the eagerly anticipated NOIR CITY 13 festival, coming to the Castro on January 16-25, 2015!
Enjoy the big-screen premiere of a new documentary showcasing the world renowned NOIR CITY festival (you might be in it!) and catch up on gift shopping for the film noir lover in your life! The night's features will be: O. Henry's Full House (1952, 117 minutes) This anthology of short stories by America's master of the ironic twist is as entertaining as it is star-studded—featuring juicy roles for Richard Widmark, Anne Baxter, Farley Granger, Marilyn Monroe, Charles Laughton, Jean Peters, and many more. 20th Century-Fox employed several of its most renowned directors—Henry Hathaway, Henry King, Howard Hawks, Henry Koster, and Jean Negulesco—to bring to life such famous O. Henry tales as "The Last Leaf," "The Clarion Call," and the Christmas classic, "The Gift of the Magi." Each segment introduced by John Steinbeck!
Playing with— The Curse of the Cat People (1944, 70 minutes) This sequel to 1942's The Cat People is a stunner on many levels—far from being a horror story, it's a poignant and deeply felt meditation of the pain and loneliness of childhood, and perhaps the most sublime and personal film in the career of legendary producer Val Lewton. Eight-year-old Ann Carter gives a mesmerizing performance as imaginative little Amy, with Simone Simon (the original Cat Woman) reappearing as her imaginary friend. A spellbinding classic, co-directed by Robert Wise. → ADVANCE TICKETS AVAILABLE HERE.
Woman on the Run, The Guilty Latest Lost Treasures Restored by FNF
A pair of seemingly lost films, Woman on the Run (1950) and The Guilty (1947), are the Film Noir Foundation's "rescues" for 2014. Both have been restored in brand new 35mm negatives; pristine prints of each will be presented to audiences on the NOIR CITY festival circuit in 2015. Woman on the Run is a unique noir love story, shot largely on location in San Francisco, with star Ann Sheridan serving as the film's unbilled executive producer. The film vanished from circulation after the termination of the independent production's distribution deal with Universal in the mid-1950s. Following insistent prodding from festival programmers Eddie Muller and Anita Monga, a pristine 35mm print was discovered at Universal in 2002 and debuted at the first San Francisco NOIR CITY festival in 2003. Sadly, the lone U.S. 35mm print was destroyed in a 2008 fire that burned many films in the Universal vault. In 2013, the FNF discovered in the BFI archive original elements from the British release of the film; these served as the basis of the restoration. + READ MORE.
SEP 25-DEC 18
37th Annual Film Noir Festival at Seattle Art Museum
The oldest running film noir series in the U.S. returns to the Seattle Art Museum every Thursday night from September 25 through December 18, with two weeks off for good behavior around Thanksgiving. This year's nine-film-program Live by Night delves into film noir's twilight time and features the works of directors John Huston, Jacques Tourneur, Anthony Mann, and iconic noir cinematographer John Alton among others. Screenings comprise beloved genre classics like Huston's The Maltese Falcon, Tourneur's Out of the Past, Mann's Joseph Lewis' The Big Combo, the latter two shot by Alton. SAM will also present rarely screened gems waiting to be discovered anew like 711 Ocean Drive, Abandoned and Shakedown. David Mamet's critically lauded neo-noir House of Games crowns the series. Although they do sell single tickets at the door day of show, availability is extremely limited. For full program and ticketing information visit SAM's website.
FNF Now Has Its Own
Femme Fatale
Actress Rose McGowan is the latest addition to the Film Noir Foundation's Advisory Council, joining such notables as James Ellroy, Leonard Maltin, Dennis Lehane, and Marsha Hunt. She became aware of the FNF's work after appearing with at the 2011 TCM Classic Film Festival with Eddie Muller, where the pair hosted Recrea session on vintage noir—imagining themselves the co-heads of RKO Radio Pictures in 1947, seeking to create the ultimate film noir. McGowan has appeared in such films as The Doom Generation (1995), Scream (1996), Jawbreaker (1999), Grindhouse (2007), and Fifty Dead Men Walking (2008), among many others. On television, she played Ann-Margret in the Emmy-winning Elvis (2005), costarred on the popular series Charmed (2001-06), and guest starred on the cable series Nip/Tuck (2009). She's also starred in the 2010 re-boot of Conan the Barbarian and the on-line series Chosen (2013). Recently, McGowan made her directorial debut with the short film, Dawn (2014), and she stars in the forthcoming feature adaptation of Poe's The Tell-Tale Heart.
Shining a Light on a Pulp Fiction Enigma
In the U.S. pulp fiction writer David Goodis is best known for—or perhaps only known for—his novel Dark Passage, thanks to the popular film adaptation starring Humphrey Bogart and Lauren Bacall. Although the film brought its author great opportunities, his Hollywood screenwriting career would shortly fizzle out. He returned to his family home in Philadelphia, disappearing from the public eye—but launching a prodigious output of original pulp paperbacks which would earn him a huge reputation, especially in France, where his novels inspired many film adaptions, including François Truffaut's Shoot the Piano Player. In America, however, Goodis never again regained the mainstream success he had with Dark Passage. In 1982, French journalist Phillip Garnier decided to plumb the mysterious depths that had seemingly swallowed the reclusive writer. The resulting book, Goodis: A Life in Black and White is now available for the first time in English. You can buy it directly from Black Pool Productions or at one of our NOIR CITY festivals.
FNF Receives $25K Grant from the Hollywood Foreign Press Association
On Thursday night, August 14, the Hollywood Foreign Press Association hosted their annual grant awards banquet at Los Angeles' Beverly Hilton Hotel. For the second consecutive year, one of the grant recipients was the Film Noir Foundation —with actress and new FNF advisory council member Rose McGowan accepting on behalf of the Foundation and FNF promotional director Daryl Sparks in attendance. The $25,000 grant will immediately be put to use, helping to complete restoration work on the FNF's latest project. Details of this rescue and reclamation mission will be announced in the Fall issue of the NOIR CITY e-magazine, releasing October 1. Especially exciting is that this year's efforts have resulted in the restoration of two "orphaned" noir films, both of which will have their re-premieres at the upcoming NOIR CITY festival in San Francisco, Jan. 16–25, 2015.

Come follow us on Tumblr to indulge your passion for noir! We'll be posting daily, celebrating all things noir with exclusive stills and images you won't see anywhere else, as well as trailers, film clips and more.

Share our posts with your friends; your love of the art form is the Foundation's biggest asset in its mission to preserve and restore classics of the genre. We are also fully committed to present our rescued films in the way they were meant to be seen: in 35mm at our NOIR CITY festivals around the country.
JAN 16-DEC 25
November Donation Drive Winner Announced
The winner of the FNF's November donation drive prize is Jason Macario of San Francisco. For his much appreciated donation, Jason receives a copy of Eddie Muller's Gun Crazy: The Origin of American Outlaw Cinema from Black Pool Productions.
Here's what Leonard Maltin has to say about Eddie's latest book: "At last: a thorough look at one of the great American films, told by someone who sees both the Big Picture and the details that make Gun Crazy so memorable. Artfully combining history and analysis, this book is a must for any fan of film noir." You'll be able to buy a copy of Muller's new book at our upcoming NOIR CITY Xmas event on December 17 at the Castro Theatre or on the Black Pool Productions website starting in December.
Eddie Muller Awarded Preservation Prize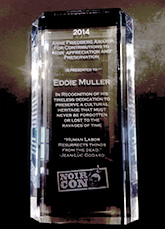 At the recently concluded NoirCon in Philadelphia, screenwriter and professor Howard A. Rodman presented the FNF's Eddie Muller with the first Anne Friedberg Award for contributions to noir education and preservation. Rodman declared Muller "the Raoul Wallenberg of noir, rescuing so many noir films from the dustbin of history, and tirelessly helping them find their place in the world. … As Karl Marx said (or as Godard said that Karl Marx said): human labor resurrects things from the dead. It is easy to preserve a cultural heritage by entombing it in amber; it's a far more difficult task to make it live. Anne Friedberg did that, and Eddie Muller does that, and it's a calling that all of us, gathered here this weekend, wish to honor and celebrate."
Anne Friedberg (1952-2009) was a scholar and historian of film, first at NYU, then at the University of California Irvine, and finally at the University of Southern California. At the time of her death, she was a Motion Picture Academy Scholar, and the President-Elect of the Society of Cinema and Media Studies. Her works, which continue to shape the evolving field of visual studies, include Window Shopping: Cinema and the Postmodern, and The Virtual Window: from Alberti to Microsoft.
OCT 22 - MAR 1
Noir Exhibitions at the Skirball Cultural Center
The Skirball Cultural Center pays homage to the actors, directors, writers, and composers who fled Nazi persecution in Europe with Light & Noir: Exiles and Émigrés in Hollywood, 1933–1950, running October 23 through March 1. The exhibition explores the impact on American cinema and culture of film directors such as Fritz Lang, Otto Preminger, and Billy Wilder, who made their way to California and shaped the look of Hollywood's "Golden Age." Different genres in which the exiles and émigrés were especially productive—the exile film, the anti-Nazi film, film noir, and comedy— are addressed through a never-before assembled selection of film footage, drawings, costumes, posters, photographs, and memorabilia, including numerous objects from the Academy of Motion Picture Arts and Sciences' Margaret Herrick Library.
Complementing the Light & Noir exhibition is The Noir Effect which considers how film noir gave rise to major trends in contemporary American popular culture, art, and media. Exploring key noir elements such as the city, the femme fatale, the antihero, and moral codes, The Noir Effect considers how the noir phenomenon has found creative and pervasive expression in American society and culture. Go here for details.

Tweets