Film Noir & Neo Noir
in the Theaters
NOIR CITY International-Next Stop: Chicago
MARK YOUR CALENDARS: NOIR CITY makes its way to Chicago's historic Music Box Theatre August 29–September 4. The 6th edition of NOIR CITY: Chicago will predominantly feature international titles, exploding the long-held belief that noir stories and style are specifically American. The focus is on the immediate post-WWII years, spotlighting noir from France, Japan, Argentina, Spain, and Italy—including Death of a Cyclist (Spain, 1955), Ossessione (Italy, 1942), Pepé Le Moko (France, 1937), Rififi (France, 1955), Two Men in Manhattan (France, 1959), Hardly a Criminal (Argentina, 1949), Drunken Angel (Japan, 1948) and Stray Dog (Japan, 1949).
As usual, the festival will include films restored by the FNF, funded largely by the generous support of our NOIR CITY festival patrons and FNF donors. A new FNF-funded subtitled print of the Argentine rarity El Vampiro Negro (1953), a revisionist take on M, will screen on a bill with the 1951 Hollywood version of Fritz Lang's famous 1931 film. The FNF, co-presenters of the festival, will also be presenting its latest 35mm film restoration, Too Late for Tears (1949), as well as a newly struck 35mm print of the tough-as-nails Roadblock, starring noir favorite Charles McGraw. We'll update you when the full schedule and tickets go on sale at Music Box Theatre.
FNF Co-Presents Puzzling Comedy at SFJFF
In Steve Mimm's mystery tinged romantic comedy Arlo & Julie, the eponymous young couple is adrift in the post-college ether of Austin. The pair's lives are upended when Julie starts to receive a series of mysterious packages in the mail. Each one contains more pieces of the same jigsaw puzzle. As they try to solve the mystery, they descend into an obsession that threatens to change everything. The result is an uplifting, surprisingly moving exploration of art and history, love, trust and faith. The film screens twice during the 34th edition of the San Francisco Jewish Film Festival, both times preceded by the short A Knock at the Door. The FNF co-presented screenings play in San Francisco at the Castro Theatre on Saturday, July 26, at 7:00pm and in Berkeley, at the California Theater on Saturday, August 2 at 8:55pm. For more on the festival, including ticket information, visit the SFJFF's website.
FNF Now Has Its Own Femme Fatale
Actress Rose McGowan is the latest addition to the Film Noir Foundation's Advisory Council, joining such notables as James Ellroy, Leonard Maltin, Dennis Lehane, and Marsha Hunt. She became aware of the FNF's work after appearing with at the 2011 TCM Classic Film Festival with Eddie Muller, where the pair hosted a session on vintage noir—imagining themselves the co-heads of RKO Radio Pictures in 1947, seeking to create the ultimate film noir. "Film noir captured my imagination when I was very young," says McGowan. "I knew I wanted a life in the shadows. And I wanted to live my life off the books. Noir appeals to the antihero in me. Give me a fierce Stanwyck or snaky Greer any day of the week."
An avid fan of old Hollywood, McGowan was co-host with Robert Osborne of TCM's The Essentials (2009-11), enthusiastically presenting an array of classic films, including A Face in the Crowd (1957), Sweet Smell of Success (1957), The Postman Always Rings Twice (1946), Psycho (1960), The Spiral Staircase (1945), and Night of the Hunter (1955). She is also an ardent proponent of film preservation: "It is our history, American history, world history, and it is our future," she declares. "Film is our art. That Hollywood doesn't understand that is, sadly, not mind-blowing. Classic film moves so many to create themselves, I wish those people would start to give back. A collection at each DGA meeting, on sets, at the Screen Actors' Guild... I think this could be done. We owe it to our heritage."
MoMA's Summer of Dangerous Dames
Crime movies were a Columbia Pictures staple during the studio's first decades as a budget-conscious, high-volume producer of mass entertainment. The Museum of Modern Art explores the distaff side of the studio's crime genre output with "Lady in the Dark: Crime Films from Columbia Pictures, 1932–1957," screening July 11–August 4. The MoMA exhibition, organized by Dave Kehr, the museum's new adjunct film curator, and Joshua Siegel, the department's long-time curator, traces the evolution of the genre at Columbia, from atmospheric whodunits that dominated the early 1930s (By Whose Hand?, The Ninth Guest) through the moody, despairing films noirs of the 1940s and 50s. Check MoMA's online calendar for schedule and times. FNF honcho Eddie Muller will introduce several films on the opening weekend of the MoMA series, including 1947's rarely screened I Love Trouble, written by witty and prolific Roy Huggins (Too Late for Tears).
Chrome Plated Noir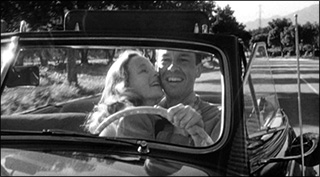 Glendale, CA celebrates America's automotive obsession with its yearly "Cruise Night" on July 19. One week later, on Saturday, July 26, the Alex Film Society will present Chrome-Plated Crime: A Car-Crazy Film Noir Double Feature, presenting the diesel-fueled duo of Gun Crazy (1949) and The Lineup (1958) as their homage to the city's annual celebration. In the former, John Dall and Peggy Cummins play gun-obsessed lovers on a cross-country crime spree. The film features one of the most influential scenes in cinema, a bank heist shot from the backseat of the getaway car in one continuous take. The latter portrays the quest of two amoral criminals through the streets of San Francisco in search of heroin placed in the luggage of unsuspecting travelers. The FNF's Alan K. Rode will introduce the program. For complete details and ticket information visit the Alex Film Society website.
Femmes Fatale: From Lulu to Kathleen
New York City's Film Forum is taking a comprehensive look at lovely but lethal beauties throughout film history with its series Femmes Noirs: Hollywood's Dangerous Dames. Although the programming includes films from the silent period (Pandora's Box) to the age of modern neo-noir (Body Heat), classic-era films noir dominate. The iconic roles of this series comprise wicked women portrayed by legendary actresses: Barbara Stanwyck's borderline psychotic Phyllis in Double Indemnity; Joan Bennett's singularly manipulative and slatternly Kitty in Scarlet Street; and Mary Astor as congenital liar Brigid O'Shaughnessy in John Huston's adaptation of Dashiell Hammett's The Maltese Falcon. There are also surprising against-type performances by movie stars: Gene Tierney in Leave Her to Heaven, Jean Simmons in Angel Face, Marilyn Monroe in Niagara. Joan Crawford plays the victim of devious women twice, in Mildred Pierce and Sudden Fear. The B-girls also get their due, with screenings of Gun Crazy and Detour, featuring two of the greatest female performances in noir, Peggy Cummins and Ann Savage respectively. See the Film Forum's website for details on the series, running Friday, July 18 through Thursday, August 7.
Too Late for Tears on Tour
When a pair of screen personas like Lizabeth Scott and Dan Duryea collides, the sparks will fly. Jane Palmer (Scott) and her husband Alan (Arthur Kennedy) mysteriously have $60,000 literally dropped in their laps. The circumstances look pretty suspicious and dangerous to Alan, who wants to turn the money over to the police. But in a materialistic rapture, Jane won't let it go. She doesn't care where it came from, not if it can bring her the luxuries she craves. Enter shady Danny Fuller (Duryea, as cocky and menacing as you've ever seen him) who claims the money belongs to him. Let the games begin—which means sex, deception and murder. Roy Huggins' snappy script is a complex, breezy and black-hearted homage to Cain and Chandler, and his Jane Palmer is one of the juiciest female villains in Hollywood history, and Scott's best role ever.
Too Late for Tears has been underappreciated for decades mainly because it was almost impossible to see. Now it returns to the big screen in a completely restored 35mm print, the result of a five-year campaign by the Film Noir Foundation to rescue this nearly extinct gem. The restored print premiered during the opening weekend of NOIR CITY 12. More screenings of the restored noir continue at the 2014 NOIR CITY satellite festivals in Seattle, Austin, Los Angeles, Chicago, Portland (OR), and Washington D.C.
Shining a Light on a Pulp Fiction Enigma
In the U.S. pulp fiction writer David Goodis is best known for—or perhaps only known for—his novel Dark Passage, thanks to the popular film adaptation starring Humphrey Bogart and Lauren Bacall. Although the film brought its author great opportunities, his Hollywood screenwriting career would shortly fizzle out. He returned to his family home in Philadelphia, disappearing from the public eye—but launching a prodigious output of original pulp paperbacks which would earn him a huge reputation, especially in France, where his novels inspired many film adaptions, including François Truffaut's Shoot the Piano Player. In America, however, Goodis never again regained the mainstream success he had with Dark Passage. In 1982, French journalist Phillip Garnier decided to plumb the mysterious depths that had seemingly swallowed the reclusive writer. The resulting book, Goodis: A Life in Black and White is now available for the first time in English. You can buy it directly from Black Pool Productions or at one of our NOIR CITY festivals.
Keep Us Posted!
Keep us posted on noir news and events in your area! Email Anne Hockens, Film Noir Foundation news and events editor.
<!fin keepposted-->
Blu-Ray & DVD Releases
Cohen Media Group
While most noirs take place within city limits, a notable subset such as Detour (1945) and The Hitch-Hiker (1953) venture into the desert, where evil can flourish with no witnesses. Writer-director Craig Lahiff places Swerve (2011)— an innocent bystander is caught in a web of adultery, drug money, police corruption and murder—solidly within this subgenre, crafting a twisty tale set in the Australian outback. Colin (David Lyons) tries to do the right thing, turning over a suitcase full of money he found at a car accident to Frank (Jason Clarke), the local lawman of a one-horse town. As it turns out, Frank's unhappy wife Jina (Emma Booth) is the only other witness to the accident. + READ MORE.
20th Century –Fox Home Entertainment
It's tempting to view The Counselor as the photo negative of director Ridley Scott's previous effort. If the raison d'être for 2012's Prometheus is to clear up any lingering questions from Alien (1979), The Counselor goes out of its way to provoke head-scratching. The story, about a nameless Texas legal wizard (Michael Fassbender) who ventures into business with a drug-dealing client only to unleash Old Testament-level fury, ultimately resolves with a considerable amount of cleverness and satisfaction. But the route to that conclusion is so circuitous that many viewers will only recall their confusion—and Cameron Diaz's character having sex with a Ferrari. + READ MORE.
Universal Home Entertainment
We hope it's a good sign that Universal Home Entertainment, notoriously slow to plumb its depthless classics catalog, has released optimized Blu-ray versions of the two greatest noirs it owns: Double Indemnity and Touch of Evil. It also means 4K digital DCPs of both now exist—exponentially decreasing the odds of ever again seeing them in 35mm. The good news—as was the case with Paramount's recent 4K version of Sunset Boulevard.—is that digital restoration serves cinematographer John F. Seitz so well. Double Indemnity hasn't looked this good since its opening day. This "Limited Edition" Blu-ray coincides with the film's 70th anniversary (amazing how significant such ballyhoo is to marketeers); it includes all the bonus material that filled the previous "Special Edition" just a few years back—a pair of audio commentaries, a fun documentary about the making of the film and its influence, and even a pack of miniature lobby cards. But is it essential for noir fans to own? We say—"Yes," especially if your home set-up is of sufficient size and resolution to reveal Seitz's genius in never-before-seen detail. + READ MORE.
Olive Films
Sleep My Love. This little-known offering from director Douglas Sirk is in the mold of more famous films such as Suspicion and Gaslight (is caddish hubbie trying to snuff his starry-eyed wife?), but has its own quirky appeal thanks largely to a clever script by Leo Rosten and New Yorker veteran St. Clair McKelway, and appealing turns by stars Claudette Colbert and Robert Cummings. Both display more wit and panache than typically found in "woman in jeopardy" films. Noir fans will enjoy appearances by familiar faces Raymond Burr and Hazel Brooks, while suave Don Ameche effectively plays against type. + READ MORE.
We're delighted that Olive Films has released the FNF funded restoration of Robert Parrish's Cry Danger (1951) on Blu-ray and DVD. In this unjustly little known noir, Rocky (Dick Powell), recently sprung from the big house, wants to find the rat who framed him for the robbery that landed him there. Priceless dialog and an outstanding supporting performance by Richard Erdman as Powell's alcoholic sidekick elevate this noir well above the ordinary. Sadly, no extras on either format.
Warner Archive Collection
In Roadblock Charles McGraw offers the most conflicted characterization in a lengthy resume of cinematic hard cases. His honest-John insurance investigator falls for ingénue Joan Dixon, who has a yen for the high life her lover can't possibly afford. The smitten McGraw concocts a robbery scheme that eventually consigns the star-crossed couple to a noir-stained finale. + READ MORE.
George Raft is an uneasily acquired taste for anyone who grew up admiring Brando, Clift, Dean and all the Method-trained "naturalist" actors they spawned. But his tough and taciturn style often works well in noir, especially when he plays it deadpan in a story filled with fast-paced twists and turns. For our money, Nocturne and Red Light are two of the best Raft vehicles of the '40s, both slightly but spicily scripted and filled to the brim with great art direction and evocative chiaroscuro. + READ MORE.
Warner Archive has released Caged (1950) as a standalone DVD, previously it was only available as part of Warner's Women in Peril set. This film noir in women-in-prison clothing details the transformation of a young, naïve and pregnant widow (Elanor Parker) into a hardened convict. She learns the hard way how to survive in the big house from a sadistic prison guard (Hope Emerson) and the failure of a good hearted warden (Agnes Moorehead) to reform the prison. This is more than an exploitation flick, it's an intelligent social drama and raises the still prescient issue facing the American penal system, is it actually reforming first time offenders or just turning prisoners into career criminal? + MORE WARNER RELEASES.
Film Noir Foundation Partners with TCM and Sony Pictures Home Entertainment
The Film Foundation in partnership with Turner Classic Movies and Sony Pictures Home Entertainment have released a DVD/Blu-ray combo pack of Orson Welles' The Lady from Shanghai (1947)—the first-ever Blu-ray release of the film, featuring a brand-new 4k digital restoration from the original negative. In this wonderfully convoluted noir, an Irish sailor (Orson Welles) gets caught between a corrupt tycoon (Everett Sloane) and his voluptuous wife (Rita Hayworth) and their plans to eliminate one another. Special features include an introduction by Robert Osborne and a commentary by Peter Bogdanovich. Available exclusively here from the TCM Shop. + MORE TCM RELEASES
Twilight Time
Twilight Time has released a limited edition 3-D Blu-ray of Man in the Dark 3-D (1953). Pinched by the cops after pulling off a big heist, crook Steve Rawley (Edmond O'Brien) undergoes an experimental operation to eliminate his criminal urges. It also makes him forget where he hid the loot—much to the consternation of his old gang and his itchy-fingered girlfriend (Audrey Totter). INCLUDES 2-D VERSION NOTE: When viewed on a compatible 3-D monitor and 3-D blu-ray player set-up, the menu offers an option for both 3-D and 2-D playback, but when this disc is viewed on a regular 2-D monitor and 2-D Blu-ray player, the 3-D version is. Special features comprise an isolated score track and an original theatrical trailer. Available here from Twilight Time. + MORE TWILIGHT TIME RELEASES.
Columbia Pictures
The Columbia Pictures Film Noir Classics IV DVD set is now available exclusively from the TCM Shop. The set includes Joseph H. Lewis' So Dark the Night (1946) in which a Parisian detective (Steven Geray) on vacation finds love and murder in a small coastal town. Dick Powell plays a casino co-owner who finds himself in both criminal and romantic trouble in Robert Rossen's Johnny O'Clock (1947). An FBI agent (Dennis O'Keefe) and a Scotland Yard detective (Louis Hayward) team up to bring down a spy ring led by frequent noir heavy Raymond Burr in Gordon Douglas' Walk a Crooked Mile (1948). Two cops (Edmund O'Brien and Mark Stevens) find their friendship tested by their pursuit of a racketeer and their mutual love of the same woman (Gale Storm) in Gordon Douglas' Between Midnight and Dawn (1950). Alfred L. Werker's Walk East on Beacon! (1952), adapted from an article written by then Director of the F.B.I. Edgar J. Hoover, follows a dedicated G-man (George Murphy) as hunts down a Communist sleeper-cell in Boston. Extras include an introduction by Martin Scorsese and a digital image gallery.
Criterion Collection
Criterion is now offering a new 2K digital restoration of Fritz Lang's Ministry of Fear (1944) on both DVD and Blu-ray. In this effectively paranoiac and suspenseful noir, a recently released mental patient (Ray Milland) finds himself embroiled in a fantastic espionage plot after getting his fortune told at a fete. Watch for a wonderfully chilling performance by Dan Duryea as a conspiratorial tailor. Extras include an interview with Fritz Lang scholar Joe McElhaney, trailer and an essay by critic Glenn Kenny. + MORE CRITERION RELEASES.
MGM Releases
MGM's has added several noir titles under their Limited Edition Collection brand. The films are available on demand from various retailers, including Amazon and the Warner Archive. In Budd Boetticher's The Killer is Loose (1956), a seemingly mild mannered embezzler (Wendell Corey), recently released from prison, tries to avenge his wife's accidental shooting by Detective Sam Wagner (Joseph Cotton) by killing Sam's wife (Rhonda Fleming). Can Sam stop him? + MORE MGM RELEASES
NOIR CITY E-MAG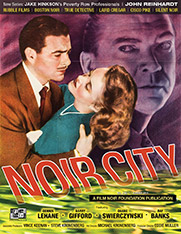 At left, the cover of NOIR CITY® — the Film Noir Foundation's latest e-magazine issue. For access to the best writing on noir available today, and to enjoy one of the most cutting-edge interactive multimedia cinema publications in the world, subscribe to NOIR CITY. Start by adding your name to our mailing list and then making a donation to the FNF of $20 or more. For an overview of the current issue and to view article excerpts, go here.
TV NOIR/NEO-NOIR
Check our monthly listings for noir and neo-noir films coming up on TCM.