LE SAMOURAÏ
(1967) Criterion - Blu-ray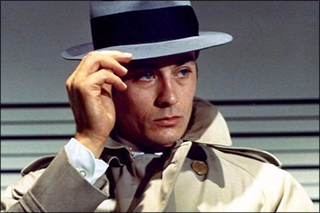 Opinions are understandably split when arguing which is the greatest of Jean-Pierre Melville's films, but I think we can come to consensus that Le Samouraï is his purist, most austere, most distilled film—the ultimate existential expression of the filmmaker's noir sensibility. Alain Delon, in his first of three films with Melville, is the cool, self-assured assassin Jef Costello, a meticulous, exacting professional in an alienated world of glass and metal who lives the way he works: simple, direct, emotionally distant. The closest he has to a relationship is a woman (Nathalie Delon) who provides his alibis (she holds onto the transaction as a symbol of emotional connection) and a caged bird whose distress at any intrusion into their Spartan isolation is better than an alarm system. Costello is a cipher, a Zen killer with none of the desperation or psychotic drive of the classic noir killers and victims, but his façade begins to crack as the world closes in on him.
Melville's measured pace, austere direction, and minimalist soundtrack creates an otherworldly ambiance, an uneasy calm on the verge of shattering, as if letting us into the wound-up psyche hidden behind Costello's blank face, and he rethinks the film noir visual world in soft, somber color and sleek images (courtesy of cinematographer extraordinaire Henri Decaë). The Blu-ray debut from Criterion features a new digital master and the short 2011 documentary Melville-Delon: D'honneur et de nuit along with the interviews and booklet carried over from Criterion's 2005 DVD release.
THE CRIMSON KIMONO
(1953) Twilight Time - Blu-ray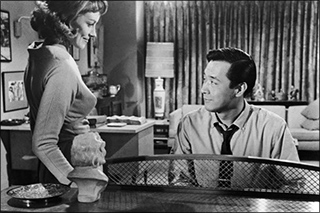 Sam Fuller knows how to grab an audience. After the credits play over a time-lapse painting of a woman in a kimono from sketch to completion, we are immediately slammed into "Los Angeles—Main Street": a montage of seedy burlesque club and strip joint marquees at night that ends with a brassy blonde stripper running half-naked through the streets. The tawdry tabloid energy gives way to a police procedural, but the real story of The Crimson Kimono is the buddy drama between police detective partners Joe (James Shigeta), a Japanese-American married to the job, and easy-going Caucasian cop Charlie (Glenn Corbett): roommates, best friends, and battlefield blood brothers whose friendship is upended by a girl (Victoria Shaw). It's a romantic triangle tangled up in cultural identity and racism, and Fuller offers an interesting flip on his approach to race in America (a theme that goes back to his 1951 Korean War drama The Steel Helmet). Set in L.A.'s Little Tokyo, the blasts of Japanese culture offer fresh flourishes to familiar genre conventions. Anna Lee, playing a skid row artist with a taste for bourbon and cigars, is one of the greatest of Fuller's gallery of streetwise eccentrics. For all of the director's commitment to the celebration of racial and cultural diversity, The Crimson Kimono remains more interesting than illuminating or dramatically gripping. The Blu-ray debut from Twilight Time presents a crisp master of the black-and-white image. It carries over two featurettes from Sony's 2009 The Samuel Fuller Collection DVD box set and features an isolated soundtrack and booklet.
—Sean Axmaker
HE WALKED BY NIGHT
(1948) ClassicFlix - Blu-ray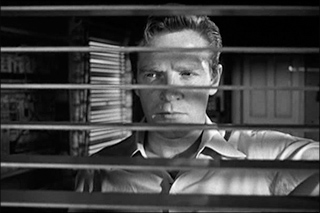 Some noir films are so adept at telling the story visually that the inclusion of dialogue becomes incidental. He Walked by Night (1948) is one such case. At an airtight 79 minutes, the film chronicles the LAPD's efforts to apprehend Roy Martin (Richard Basehart), a burglar responsible for killing one of their own. Despite its tired premise, it excels by providing cinematographer John Alton with a chance to flex his incomparable skill in nearly every scene.
In addition to maintaining a cohesive style under two directors (Alfred L. Werker and an uncredited Anthony Mann), Alton builds upon each of Martin's volatile encounters, like a recurring and foreboding theme. Dialogue is kept to a minimum whenever the killer appears, with auditory and visual tactics used to heighten tension. It works brilliantly. Then, of course, there is the film's iconic finale, where the cops chase Martin through the city's underground sewer system. The imagery here all but overloads the ocular senses, with reflective surfaces puncturing the darkness and chiaroscuro wielded with a precision that leaves subsequent examples underwhelming in comparison.
ClassicFlix's Blu-ray gives He Walked by Night the definitive home release. The picture transfer, capturing every flicker and visual flourish, is immaculately handled, as is the audio commentary by film historians Alan K. Rode and Julie Kirgo. Additional perks include the featurette "Below the Surface" and a lush, 24-page booklet by author Max Alvarez (and designed by the FNF's Michael Kronenberg) that details the film's perplexing directorial history.
HELL ON FRISCO BAY
(1955) Warner Archive Blu-ray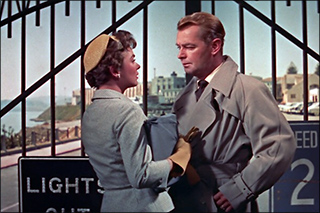 Despite its saturated, widescreen WarnerColor photography, 1955's Hell on Frisco Bay offers familiar noir shenanigans with Alan Ladd typecast as Steve Rollins, a grim ex-cop attempting to settle a score with a menacing San Francisco mob kingpin. Said mobster, Vic Amato, is played by Edward G. Robinson in full "now don't get sore, see" mode, fully unrepentant for sending decent-guy Rollins to San Quentin on a false murder rap. Spurred on by a Biblical "vengeance is mine" morality, Rollins sets out to kill the men who framed him despite the pleas of his former love (Joanne Dru), an elegant nightclub singer. Rollins comes to realize, however, that Amato's death-grip on the city's police force and business community has made himself the target. Although the script depends too heavily on Ladd and Robinson's well-established screen personae, Hell on Frisco Bay is a watchable-enough crime melodrama bolstered by an array of fascinating supporting characters (Fay Wray's poised, yet anxious, movie-queen-turned-gangster's-moll, for instance). Parts of the Frank Tuttle-directed movie were filmed throughout San Francisco, causing some jarring transitions between outdoor locales and sterile studio-bound scenes. Warner Archive's Blu-ray edition sports a pristine picture and lush sound (in mono), a fitting venue for a typically grandiose score from Max Steiner.
INTO THE NIGHT
(1985) Shout! Factory - Blu-ray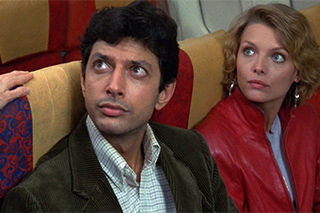 John Landis is not a name you connect to the neo-noir boom of the '80s, but his 1985 Into the Night takes a classic noir situation—the middle-class innocent (Jeff Goldblum, in his first leading role) jolted out of his protected-but-dull existence and plunged into a nightmarish odyssey through the urban underworld—and gives it a charge of romance and an edge of danger. Michelle Pfeiffer (in her first lead) is the tough-talking former model and jilted mistress who smuggles the film's MacGuffin into L.A. and ends up targeted by both gangsters and Goldblum, a bystander who provides her getaway and then sticks around.
nto the Night plays like the flip side of Martin Scorsese's After Hours, where the suburban guy caught in the nocturnal city finds he's not only more at home in the dark than in the mundane routine of his daytime life—he thrives on the danger. The insomniac who sleepwalks through his days comes alive, finding not just inner strength but an old-fashioned sense of chivalry and a surprising calm in the midst of chaos. Landis has fun without making fun of it, and the mix of B. B. King guitar lines through the synth score is surprisingly evocative. Shout! Factory's newly remastered Blu-ray preserves the rich, deeps colors evoking the city at night, and features new interviews with John Landis and Jeff Goldblum, plus a 26-minute TV documentary with B. B. King and Landis.
T-MEN
(1947) ClassicFlix - Blu-ray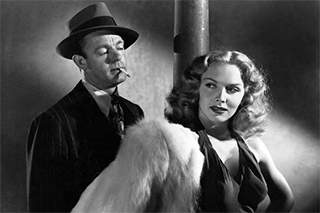 Of the countless "docu-noirs" released during Hollywood's golden age, none are as slyly contradictory as the 1947 classic T-Men. A fictional retelling of an actual treasury case, the film cuts through its cloying propagandic message with a startlingly bleak depiction of the criminal world in which its titular agents (Dennis O'Keefe and Alfred Ryder) are forced to navigate—a world where the smallest mistake can mean the difference between life and death, regardless of what side you're on.
T-Men has strong narrative tension, as the threat of violence constantly looms over its undercover agents, but for the most part the screenplay takes a back seat to the extreme stylings of director Anthony Mann and cinematographer John Alton. In this, the first of their six collaborations, the duo blend shadows, smoke, and sordid location shooting into a hypnotic visual brew. Each scene could be bottled and sold as emblematic of the film noir aesthetic, due to Mann's dynamic framing of tough guys O'Keefe and Charles McGraw, and Alton's mastery of single-source lighting, always accentuating the uncertainty of the surroundings. Their efforts ensure that the film's stilted (and mercifully sparing) narration doesn't deter from its momentum.
All this comes expertly packaged in ClassicFlix's new Blu-ray release. In addition to a superb digital restoration, T-Men comes with a booklet by author Max Alvarez, a commentary by Alan K. Rode, and a pair of featurettes, the more notable of which includes an interview with Anthony Mann's daughter, Nina.
FOUR FILM NOIR CLASSICS
Arrow Films UK
FORCE OF EVIL (1948) / THE DARK MIRROR (1946) / SECRET BEYOND THE DOOR (1947) / THE BIG COMBO (1955)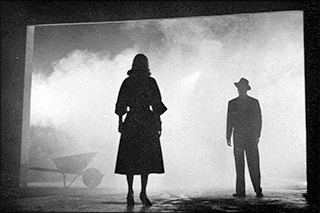 UK distributor Arrow Films has released a handsome, limited-edition box set (complete with Saul Bass-inspired artwork) that includes Blu-ray/DVD combo packs of four noirs originally released in the U.S. by Olive Films.
If we're being honest, the "classic" label only applies to two of the selections: The Big Combo (1955) and Force of Evil (1948). The former follows a trio of characters—single-minded cop Leonard (Cornel Wilde), quietly psychotic gangster Mr. Brown (Richard Conte), and Susan (Jean Wallace), the tortured woman stuck between their two competing agendas—as they circle each other, their flaws and weaknesses pushing them into some of noir's darkest corners. The film boasts some genuinely nasty content for a 1955 release, as well as some of legendary cinematographer John Alton's finest work. The latter, a searing indictment of conscience-free capitalism from Body and Soul (1947) scribe Abraham Polonsky, stars the typically excellent John Garfield as Joe, a corrupt lawyer caught between Tucker, his numbers-running client, and one of Tucker's targets: Joe's younger brother, Leo (Thomas Gomez). Martin Scorsese's citation of its influence on several of his movies provides a sufficient indicator of its quality. + READ MORE
HANGOVER SQUARE
(1945) Kino Lorber Blu-ray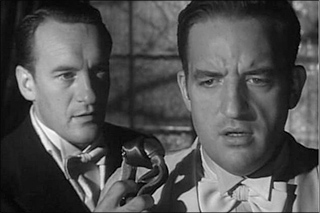 The sensitive, physically imposing actor Laird Cregar received his greatest showcase in 1945's Hangover Square, yet he never lived to see the film's release. Luckily for us, this archetypal gothic thriller survives, looking immaculate on Kino Lorber's Studio Classics Blu-ray. Cregar's mesmerizing presence dominates the film as George Bone, an early 20th-century London composer prone to mysterious blackouts. Lacking any awareness or memory of what happens during these spells, Bone starts to wonder if he may be the culprit behind the murder of a local antique dealer. Help and comfort from a doctor (George Sanders) and a young student (Faye Marlowe) do little to stem Bone's fear of another lethal blackout—and it intensifies when he crosses paths with a sultry, ambitious pub singer (Linda Darnell) who hopes that Bone's music will make her a star. Sure, it's over-the-top nonsense, yet Cregar's committed performance places it a notch above the rest, alongside some gorgeous cinematography by Joseph LaShelle (Laura) and an early, unusual-for-its-time score from the legendary Bernard Herrmann. Some of the genuinely eerie moments in this film include Cregar disposing of a corpse atop a bonfire set by revelers on Guy Fawkes Day, and the chilling climax with Cregar solving his problem the only way he knows how. Extras on this edition include two revealing audio commentaries, a vintage radio drama version (with Vincent Price taking over Cregar's role), and an absorbing short documentary on Cregar's career and untimely death.