Contribute
Film noir's rain-slicked streets, shadowy alleys, and sex bombs in silk peignoirs deserve a permanent place on the BIG screen. But hey, "it's a bitter little world," and we can't do it alone. We need your donations to help us locate, restore and exhibit these films before they're lost forever. Do it for the love of noir—but enjoy the thank-you gifts too! Take a look at the donation levels listed on the right—and select the option that's right for you!
The Film Noir Foundation is a registered 501(c)(3) non-profit public benefit corporation created as an educational resource regarding the cultural, historical, and artistic significance of film noir as an international cinematic movement.
Charitable giving questions can be directed to Daryl Sparks, FNF Promotional Director, at fnfcharitablegiving@gmail.com.
The FNF would like to thank the following companies for including us in their Matching Donation Programs: AT&T, Bristol Myers Squibb, Community Bank of the Bay, Google, Merck, Microsoft, Salesforce.com Foundation, Charles Schwab, and Levi Strauss & Co. If you are an employee of any of these companies and would like to contribute to the FNF, please make your contribution to FNF through your company's Matching Donation program. If you are not employed by one of these companies, and are interested in having your company match your donation, please contact the administrator of your company's Matching Donation program.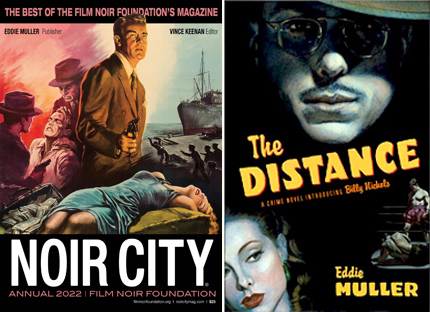 CONTRIBUTE ONLINE VIA PAYPAL (or use your credit card) specifying the dollar amount on the PayPal screen that follows.
→ In order to receive NOIR CITY Magazine Digital Version, donors must SIGN UP on the mailing list and reply to the confirmation email.
CONTRIBUTIONS BY CHECK to the Film Noir Foundation should be sent to: 1411 Paru Street, Alameda, CA 94501.
Please allow at least 6-8 wks for delivery.
To receive merchandise be sure to provide your mailing address. Apologies, but we cannot ship donor thank‑you packages outside the United States.
Does your PayPal address differ from your mailing list email address?
If your PayPal email address differs from the email address provided for our mailing list, be sure to let us know, so you will be included in the NOIR CITY e-mag broadcasts.
Providing Additional Info
Any additional information can be included in the PayPal note field. When reviewing your order summary in PayPal, click the Add Note link that appears below your shipping address. Here's an example.
Contact
For problems receiving NOIR CITY Magazine or donor perks, contact us at
Shamus
$20 to $49
Receive NOIR CITY Magazine digital version (e-mail address required)
Muscle
$50 - $99
Receive the NOIR CITY Magazine digital version and the most recent NOIR CITY poster
Henchman
$100 - $249
All of the above, plus the 2023 NOIR CITY 20 Souvenir Program and a copy of the NOIR CITY Annual 15 (published September 2023).
Torpedo
$250 - $499
Receive all of the above plus a signed first edition of Eddie Muller's 2002 novel, The Distance
Kingpin
$500+
The whole shebang plus a NOIR CITY Passport (all-access pass) to NOIR CITY 21 at Oakland's Grand Lake Theatre, January 19 - 28, 2024.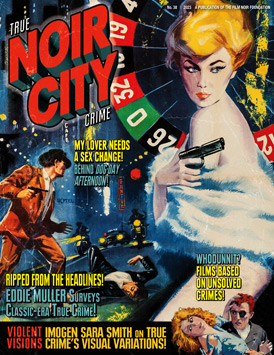 Get NOIR CITY!
If you donate $20 or more and sign up on the mailing list, you'll receive the NOIR CITY Magazine digital version for a year, delivered directly to your inbox as a PDF every four months.
Please allow 48-72 hours processing time.
Problem receiving NOIR CITY?
✓ Be sure that you've signed up on the mailing list + replied to the confirmation email.This ensures our mailing list email can reach you.
✓ Check your junk folder or email security settings to ensure our emails have not been mistaken for spam.
✓ If you've signed up on the mailing list more than 72 hrs after donating, let us know:
✓ If you're having download issues, let us know more: what device you're using (laptop, desktop, tablet or phone), which browser, error message, and any info helpful to troubleshooting.