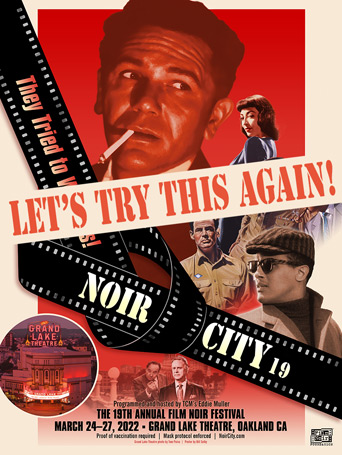 NOIR CITY Returns to Bay Area!
Let's try this again! The NOIR CITY film festival returns from COVID hiatus for an incisive and inspiring four-day festival at a new venue, Oakland's historic Grand Lake Theatre, March 24-27. Produced, programmed and hosted by Film Noir Foundation president Eddie Muller, 2022's edition, subtitled "They Tried to Warn Us!", showcases 12 movies from mid-20th century Hollywood sure to resonate with contemporary viewers. Included are shockingly prescient films focusing on megalomaniacal politicians, corrupt businessmen, neo-Nazis, racism, anti-Semitism, sexual predators, serial killers, police brutality — even a viral epidemic! This NOIR CITY program could not be more timely or topical.
For the return to in-person screenings, Muller has shifted the event to Oakland after many years at San Francisco's Castro Theatre. The Grand Lake's vintage movie palace atmosphere and the care and upkeep of the venue work perfectly for the type of show NOIR CITY loyalists have come to expect. To ensure festival attendees' safety, proof of vaccination is required and mask protocols will be enforced.
NOIR CITY 19: The Bay Area Film Noir Festival will open Thursday night, March 24, with a double bill. First up, All the King's Men (1949), the noir-stained 1950 Best Picture Oscar winner, starring Broderick Crawford as Willie Stark, an ambitious Southern politician who doesn't let ethics interfere with his meteoric political rise. Crawford won a Best Actor Oscar for his performance. It's paired with the world premiere of the FNF's latest 35mm restoration — The Argyle Secrets, a 1948 B-picture directed by Cy Endfield, returned to circulation this year through the partnership of the Film Noir Foundation and UCLA Film & Television Archive. The film's mystery centers around "The Argyle Album" containing the names of U.S. politicians and industrialists who abetted the Nazis in World War II.
Weeknight shows will be presented as double bills, with one $15 admission price for two movies. Saturday and Sunday shows will have separate admissions ($12.50) for each screening. All-access Passports, granting admission to all 12 films, are available for $100, a $30 savings over the purchase price of individual tickets. FNF proceeds from the NOIR CITY festival benefit the foundation's efforts to rescue and restore noir films in danger of being permanently lost or damaged.
The full schedule, program notes are available at NoirCity.com
UPCOMING NOIR CITY DATES
NOIR CITY 19: Mar 24-27
NOIR CITY: Seattle: Feb 11-17
NOIR CITY: Chicago: Aug 26-Sep 1
NOIR CITY: Detroit: Sep 23-25

NOTE: Other U.S. cities will be added as festival dates are confirmed.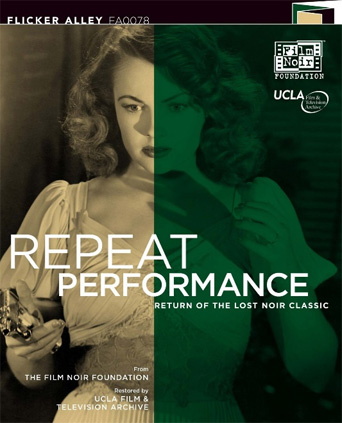 Repeat Performance Available for Pre-order
The FNF's restoration of Repeat Performance (1947) will be released January 24, 2022, in a beautiful Blu-ray/DVD combo set that includes extensive special features. Pre-order your copy now from Flicker Alley. An amazingly original hybrid of film noir, supernatural fantasy, and backstage melodrama, the film stars Joan Leslie as a Broadway actress who magically relives the previous year of her life, but can she alter the fateful mistakes and misjudgments that led to a New Year's Eve tragedy? Think of it as film noir's answer to It's a Wonderful Life or a full-length precursor to The Twilight Zone. + READ MORE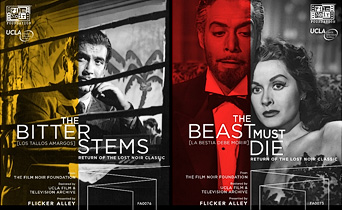 Two FNF Argentine Restorations Now Available on Blu-ray/DVD
We are proud to announce the release of two FNF restorations as Blu-ray/DVD combos from Flicker Alley: The Bitter Stems and The Beast Must Die, two classics of Argentine noir.. → READ MORE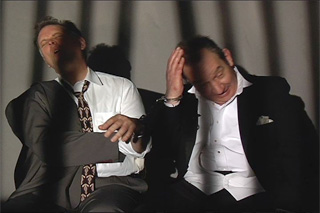 Bill Arney
Eddie Muller Remembers the Voice of NOIR CITY
The NOIR CITY film festival has lost a bit of its soul. WILLIAM P. ARNEY aka "The Voice of NOIR CITY," died on Monday, September 27. He'd been battling an assortment of maladies over the past few months, but none that seemed lethal. In fact, Bill called me the day before he died and he sounded the same as always—charming and avuncular, with that gruff voice straight out of a 1940s film noir. An undetected virus in his lungs dropped him for the count the following day.
Bill and I had been friends from the moment we met, March 19, 2005. It was an event celebrating the American Library Association's declaration of landmark status for 891 Post St. in San Francisco. That's where Dashiell Hammett lived when he wrote The Maltese Falcon.→ READ MORE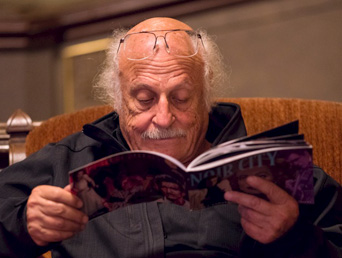 Yoram Kahana
Remembering Our Champion
Yoram Kahana was one of the Film Noir Foundation's greatest allies. His association with us even pre-dates the FNF's creation. Our first meeting was at one of the earliest noir festivals at the Egyptian Theatre in Hollywood, presented in conjunction with the American Cinematheque. At the end of the evening Yoram approached me, the first time I'd ever seen what would become a familiar visage: the wild tangle of white hair, the light-colored, lightweight, lived-in outfit (complete with photojourvalist vest) suggesting a war correspondent in some humid, hostile outpost (nah, just Hollywood). The bemused, crooked smile—and, of course, the gruff, almost indecipherable accent that prevented me from really knowing his name until I looked it up online. → READ MORE
LIMITED TIME OFFER
NOIR CITY T-shirts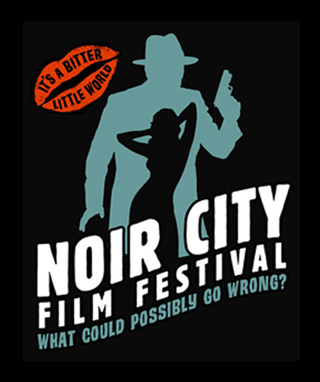 Our unique t‑shirts are still available. Shirts are black, short-sleeved, 100% cotton with silkscreened graphic on front. What's more appropriate than a NOIR CITY t‑shirt with the tagline "What could possibly go wrong?"
$20 + shipping • Sizes available: S
→ ORDER ON THE FNF's SHOP PAGE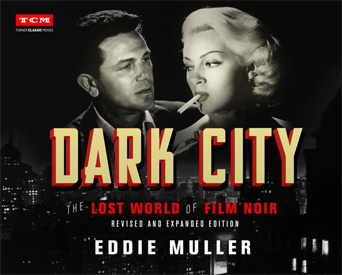 Czar of Noir's DARK CITY available now!
The revised and expanded edition of FNF prez and Noir Alley host Eddie Muller's Dark City: The Lost World of Film Noir is now available for purchase from the TCM Shop or your favorite bookseller.
Presented by Turner Classic Movies, Muller's film noir lover's bible takes readers on a tour of the urban landscape of the grim and gritty genre in a definitive, highly illustrated volume. Dark City expands with new chapters and a fresh collection of restored photos that illustrate the mythic landscape of the imagination. It's a place where the men and women who created film noir often find themselves dangling from the same sinister heights as the silver-screen characters to whom they gave life.
Muller guides fans on a spellbinding trip through treacherous terrain: Hollywood in the post-WWII years, where art, politics, scandal, style—and brilliant craftsmanship—produced a new approach to moviemaking, and a new type of cultural lore. This journey hits all the finer neighborhoods: Shamus Flats, Vixenville, Blind Alley, Losers' Lane—with stops at The Precinct, The Psych Ward, The Big House, and other dank corners, with shady protagonists ready to spill their bitter life story before retreating to the shadows.
From the Collection of Eddie Muller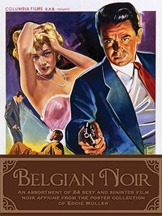 The WORLD OF FILM NOIR was created in black and white, but its intrigue and passion was sold worldwide by movie posters -- in vivid color -- that enticed audiences into this sinister and sensual demimonde. Nowhere on earth was the come-on more colorful than in Belgium, where the nation's standardly sized posters (a mere 14" x 22") virtually exploded with the danger and desire at the heart of cinema's most alluring and durable genre. Small posters from a small country--but packed with more lust and larceny than Hollywood would dare.
NOW, EXCLUSIVELY FROM BLACK POOL PRODUCTIONS — Eddie Muller, "The Czar of Noir," presents 24 glorious Belgian cinema posters from his personal collection, reproduced as 5-1/4" x 7" cards, each complete with his terse and tangy commentary highlighting what made these films—and this artwork--so magical and memorable. $20 + tax/shipping at BlackPoolProductions.com.
Don't Print the Legend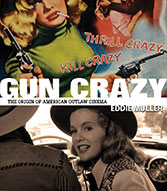 Gun Crazy caused barely a ripple in public consciousness when it hit movie screens in 1950. Yet over time it would prove to be the most innovative and provocative motion picture of its era—a simple genre film, but packed with so much cinematic bravura and timeless symbolism, its power has spanned decades, crossed oceans, and influenced countless filmmakers.
+ READ MORE
Come follow us on Tumblr to indulge your passion for noir! We'll be posting daily, celebrating all things noir with exclusive stills and images you won't see anywhere else, as well as trailers, film clips, and more.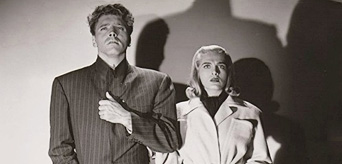 Share our posts with your friends; your love of the art form is the Foundation's biggest asset in its mission to preserve and restore classics of the genre. We are also fully committed to present our rescued films in the way they were meant to be seen: in 35mm at our NOIR CITY festivals around the country.

Ask Eddie Anything!
Did you know that The Film Noir Foundation has livestreams each month on our Facebook page in which Eddie Muller answers questions submitted by our e‑mail subscribers?
All previous broadcasts are available on our YouTube broadcast archives page.
→ Subscribe to our mailing list, so you can get your question answered next month.
UPCOMING BROADCASTS
Broadcasts are scheduled for January 13 and 27 at 7pm  PT on Facebook. All broadcasts are available to watch on our YouTube channel the following day.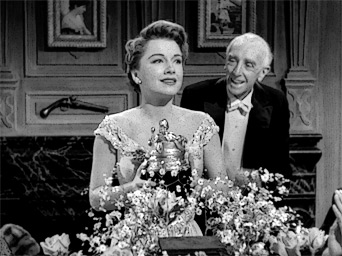 And the winner is...
We are proud to announce the winners of the FNF's NOIR CITY e-magazine #33 donation drive held December 31– January 8, 2022:
✩ The two winners of the Flicker Alley Blu-ray/DVD release of the FNF's restoration of Too Late for Tears: Andrew Stees, Chicago, IL and Stephen McCallister, Bothell, WA
✩ The winner of original magazine ads for Crossfire (1947) and No Way Out (1950) from the FNF archives: Judy Edelhoff, Washington D.C.
✩ The winner of two recent Flicker Alley Blu-ray/DVD releases of FNF Argentine restorations Los tallos amargos (1956) and La bestia debe morir (1952): Francis J. Turk, Pasadena, CA
✩ The winner of a special-edition DVD of The Murderers Are among Us (Germany 1946) from the DEFA Film Library at the University of Massachusetts Amherst, the two Flicker Alley Argentine FNF restorations Los tallos amargos and La bestia debe morir, PLUS Flicker Alley's release of Universal's 4K restoration of the 1929 silent classic mystery The Last Warning, and two Jacques Tardi works from Fantagraphics Books -- Run Like Crazy Run Like Hell and Fog Over Tolbiac Bridge. Irene Turner, Los Angeles, CA
✩ The new-subscriber winner of Warner Archive's Blu-ray release of The Big Sleep (1946) starring Humphrey Bogart and Lauren Bacall: Marianne LePore, Tarrytown, NY
✩ The new-subscriber winner of Flicker Alley's Blu-ray/DVD release of the FNF's restoration of The Man Who Cheated Himself, a 1950 cop-gone-bad thriller with stunning San Francisco location photography, starring Lee J. Cobb, Jane Wyatt, and John Dall: Steven Barron, San Francisco, CA
Thank you to everyone who contributed to the Film Noir Foundation! A reminder that anyone who contributes $20 or more to the FNF and signs up our mailing list always receives a free year's subscription to NOIR CITY e-magazine. Contributors may receive additional FNF thank you gifts depending on the amount of the donation.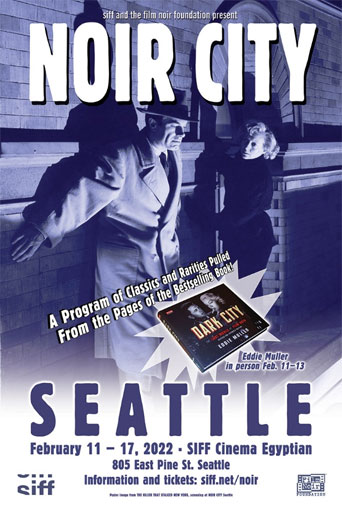 NOIR CITY Seattle 2022
Passes on Sale!
Passes are now on sale for NOIR CITY Seattle taking place February 11–17 at Seattle's historic SIFF Cinema Egyptian. This year's festival is based on FNF prez Eddie Muller's recently re-published book Dark City: The Lost World of Film Noir, the 2022 program will include films from all the finer Dark City neighborhoods—Shamus Flats, Knockover Square, Vixenville, Blind Alley and Hate Street, with stops at The City Desk, The Psych Ward, Losers' Lane, The Big House and other dark alleys.
Eddie will introduce screenings February 11–13. Copies of his book will be available on site for sale and signing.
The $150 pass admits holder to all NOIR CITY screenings at the Egyptian February 11-17. Pass pickup available beginning February 11 at the Egyptian. All FNF proceeds from Noir City festivals go to finding and restoring films in danger of being lost or permanently damaged. Buy your pass here.
We will update you when the schedule is posted, and individual tickets are available.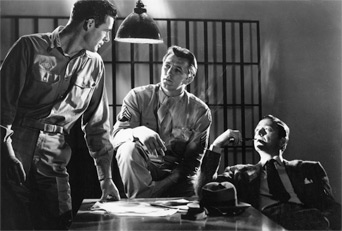 Kit Noir Film Fest Back in Person
The third annual edition of the Dr. Saul and Dorothy Kit Festival will pay homage to the role Jewish filmmakers played in the creation of film noir, and it will showcase films that speak to the Jewish experience during a time of extreme political turmoil. The festival will be held at the Lenfest Center for the Arts at Columbia University March 23-27.
This year's edition will include films by émigré directors, films that address anti-Semitism and World War II, and films on the blacklist and the media. The lineup features 11 films released between 1945 and 1957 including Edward Dmytryk's Crossfire (1947), John Berry's He Ran All the Way (1951) and Billy Wilder's Ace in the Hole (1951). Most of the titles will screen in 35mm. A list of all the films that will screen is on the festival's website.
Screenings will be accompanied by discussions with film scholars Noah Isenberg, Vincent Brook, and Steven Ross. All talks will be livestreamed for those who cannot attend in person. We'll update you when showtimes and tickets are available.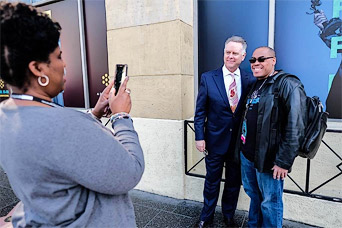 TCMFF Back on the Big Screen
The TCM Classic Film Festival will return to its home in Hollywood, CA, Thursday, April 21 through Sunday, April 24. In honor of the festival's return to in cinema screenings, 2022's programming theme is "All Together Now: Back to the Big Screen.". An extensive lineup of movies will be presented at multiple venues: The TCL Chinese Theatre IMAX, the TCL Chinese 6 Theatres multiplex, and Hollywood Post 43 of the American Legion.
So far, TCMFF has announced two film noir titles, John Houston's Key Largo (1948) and Abraham Polonsky's 1948 classic Force of Evil. The former co-stars Humphrey Bogart, Lauren Bacall, Edward G. Robinson, and Lionel Barrymore but is owned by Claire Trevor who won a supporting actress Oscar for her indelible performance as Robbins' alcoholic ex-moll. The latter was recently restored by the UCLA Film and Television Archive and the Film Foundation and features noir legends Marie Windsor and John Garfield. We will update you on the noir aspects of the festival, including appearances by NOIR ALLEY host and FNF prez Eddie Muller, as TCM announces more details on screenings.
The festival will also include appearances by legendary stars and filmmakers, presentations and panel discussions, special events, and more. The festival's official hotel and central gathering point will again be The Hollywood Roosevelt Hotel which will also be the location for Club TCM events. Due to the success of the 2021 virtual festival on HBO Max, there will again be custom programming on that streaming platform.
Passes for the 2022 TCM Classic Film Festival are available for purchase on the festival's website.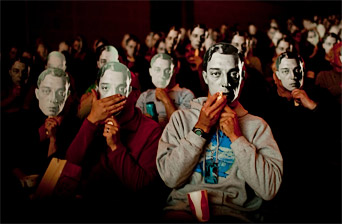 SFSFF Returns in Spring 2022
Good news from the San Francisco Silent Film Festival, they will return with an in-person festival for their 25th anniversary, May 5–11. No details yet on the programming, but they promise that they will celebrate their anniversary in style and are looking forward to "to getting together with our friends from the Bay Area and around the world to revel in beautiful images on screen combined with superb musical accompaniment."
We will keep you updated as we learn more about the festival. Here's a link to their events page.

Tweets