Noir Now Streaming
BABYLON BERLIN
The most expensive German TV series ever produced, Babylon Berlin, is Weimar noir, a detective drama turned conspiracy thriller set against the backdrop of decadence, poverty, and corruption in 1929 Berlin just before the Nazi party rode the swell of nationalism to power. Think Cabaret meets L.A. Confidential as produced by UFA, recreating a cultural moment that is about to implode.
Gereon Rath (Volker Bruch), a Cologne cop working with the Berlin vice squad, is a World War I vet who conceals his shellshock tremors with black market morphine. He's a tarnished hero on a covert mission to track down a pornography ring blackmailing a politician back home, but then pretty much everyone has shadows over them. Part-time secretary Charlotte (Liv Lisa Fries) supplements her day work with night shifts in the basement bordello of the Art Deco nightclub Moka Efti, while Gereon's senior partner Bruno (Peter Kurth), a veteran of the force, isn't above a little extortion himself.
The show is lavish, yes, with the budget put to recreating the glamour and the squalor of the era, from a May Day protest-turned-riot to a beautifully staged train heist. I was hooked from the first episode, but when it pulled out all stops for a supercharged production number in the second outing, defining the Berlin cabaret culture where rich and poor rub shoulders and dance with delirious frenzy, I was all in. This was cinematic TV.
But the spectacle is in service to a damnably compelling story. It's adapted from the novels of Volker Kutscher by Tom Tykwer (Run Lola Run), who shares writing, producing, and directing credit with collaborators Henk Handloegten and Achim von Borries. Together, they limn a busy, complicated web of secrets and shaky alliances: a deadly cargo of poison gas is slipped into the city and Gereon tracks a plot involving a Trotskyite communist splinter cell; a right-wing cabal of Prussian military officers and industrialists; German gangsters; a Russian spy with a double life as a nightclub drag superstar (Severija Janusauskaite); and a fortune in smuggled gold.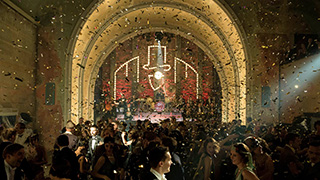 Trying to keep the threads straight can be tough, but Tykwer and friends deftly sidestep clichés (you won't see a Nazi uniform until the series is practically over) and the characters carry us through. Charlotte, the sole breadwinner in a family of slovenly leeches, aspires to be the department's first female detective. Bruno's practical opportunism is balanced by personal loyalty, making him unpredictable but never capricious. And Gereon, haunted by war and carrying a torch for the wife of his brother (officially "missing in action" but presumed dead), is no boy scout. Confounding twists in the first eight-episode run start winding together in the back half of the show but are even more satisfying as revelations of character; actions really do tell us who these people are, and they are compelling. There are more Gereon Rath novels and the producers, while yet to receive an official renewal, are already scripting a second series. The show's success in Europe and now, thanks to Netflix, the U.S., leaves me hopeful.
—Sean Axmaker
Sean Axmaker lives in Seattle with his cats, Hammett and Chandler, and writes the syndicated newspaper column Stream On Demand and the companion website.