Noir Now Streaming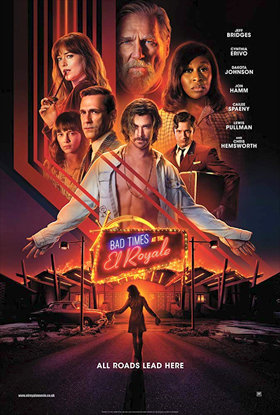 BAD TIMES AT THE EL ROYALE
One by one the guests arrive at the empty lodge in Bad Times at the El Royale. Laramie Seymour Sullivan (Jon Hamm) is a traveling vacuum cleaner salesman (so he claims) with a corny, motor-mouthed Southern accent. Father Flynn (Jeff Bridges, doing Rooster Cogburn lite), a forgetful Catholic priest, comes in and makes straight for the bar. Cocktail lounge singer Darlene Sweet (Cynthia Erivo) needs a place to stay because her car broke down on the way to Reno. Bad attitude champ Emily Summerspring (Dakota Johnson) has a mean temper and wants to be left alone. Emily's little sister Ruth (Cailee Spaeny) is there against her will. And the hotelkeeper—the only person on staff at the lavishly decorated yet utterly customer-free place—is a nervous drug addict named Miles Miller (Lewis Pullman). Other characters are sure to drop in, some quite heavily.
An alert viewer will notice right away that producer-writer-director Drew Goddard's violent, sketchy thingamabob looks eerily familiar. That Googie-style exterior and the parking lot with the state line running through it is a dead ringer for the old Cal Neva Resort & Casino in North Lake Tahoe, fabled hangout/hideout for Frank Sinatra and his pallies. Certainly that touchstone was part of filmmaker Goddard's (Buffy the Vampire Slayer, The Cabin in the Woods) thinking, but so were lots of other identifiers
Many online hagiographies will undoubtedly be devoted to Goddard's elaborate mosaic of plot turns and characters. And we admit, for about half of the two-hour-plus running time it's fun to catalog the references—before everything bursts into flame. "Derivative" is the kindest way to describe this mess of borrowed riffs.
The most obvious is Quentin Tarantino's The Hateful Eight (desperate hombres stranded in a snowstorm). Do people still imitate Tarantino? Apparently so. Then there's the oeuvre of David Lynch, especially, but not limited to, Twin Peaks. Hotelkeeper Miles' hobby/job smells strongly of last year's unsatisfying peeping-tom documentary Voyeur. Stir in Psycho, Rashomon, John Huston's Key Largo, a whiff of Wes Anderson's The Grand Budapest Hotel, and a smidgeon of Huston's Beat the Devil and assorted other what-the-hell buddy pics, notably Rat Pack items such as the original Ocean's 11 or Robin and the 7 Hoods. Which further reminds us that when Huston or Sinatra did a spoof they had Humphrey Bogart, Dean Martin, Angie Dickinson, Peter Lorre, and Richard Conte to work with. Goddard is stuck with the Mighty Thor.
Speaking of Chris Hemsworth, there's a separate movie's worth of material jimmied into the last third of Bad Times. Add Vincent Bugliosi's Helter Skelter and Tarantino's Once Upon a Time in Hollywood (still in the production pipeline) to the list of samplings. There's more than a whiff of Charles Manson in Hemsworth's cult killer, Billy Lee. The actor's cavorting is loads more entertaining, in a retro-exploitationer way, than the hidden cameras and JFK-Marilyn-Monroe shack-up-bungalow teasers.
In the end, there's too much incident and too many loose threads for this movie to handle. Singer Erivo (her version of "Try a Little Tenderness" is a highlight), trickster Bridges, and maniac Hemsworth deserve more coherent showcases. Most worrisome of all, there's the lingering suspicion that Bad Times at the El Royale is taking itself seriously. That would be tragic.
—Kelly Vance
Kelly Vance saw 99 River Street on TV at age eleven and, ever since, has had an irrepressible urge to beat up Jack Lambert. Kelly is the chief film reviewer at the East Bay Express and a member of the San Francisco Film Critics Circle.