Noir Now Streaming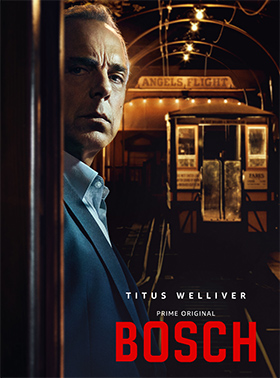 BOSCH
From its disorienting opening credits, a kaleidoscope of metropolitan Los Angeles to the desiccated cliffs of its more desolate locales, Bosch promises and delivers a procedural showcasing Southern California landmarks brought down to earth with gritty realism.
Our antihero made his debut in 1992's The Black Echo by former Los Angeles Times police reporter Michael Connelly, who saw metaphoric potential. LAPD homicide detective Harry Bosch is a nod to medieval artist Hieronymus Bosch, whose densely populated paintings were hellscapes comprising finely rendered miniature vignettes of violence, debauchery, and human debasement. At a glance, Bosch's tentacled plots can feel as overwhelming as those canvases, made up of small epiphanies, drudgery, and seemingly unrelated incidents. Each season-long case sprawls with supporting stories and individual character arcs that explore notions of greed, trust, ambition, and the relationship between the underworld vice and high-level corruption.
Harry maintains a side hustle working his own demons, an efficient but haunted—is there another kind?—detective troubled by his past, both as a military veteran (his Vietnam service as a 'tunnel rat' in the novels is shifted to Gulf War) and a product of the juvenile detention system. He investigates the circumstances surrounding the death of his mother, a sex worker murdered in the 1970s. The detective lives in a cantilevered glass house in the hills, overlooking the city he patrols, much as Philip Marlowe did from his apartment in the sky in the 1973's The Long Goodbye. Titus Welliver (Deadwood) plays Harry in a similarly minor key, a cynical cop who's slower on his feet than he used to be, but no less relentless.
Now in its fourth season, Amazon's longest-running original dramatic series survived a prosaic debut outing and started to thrive once it began spending more time with its superb ensemble players; so the audience is as invested in the marriage of partner J. Edgar (Jamie Hector, "Marlo" on The Wire), the career of deputy chief Irwin (Lance Reddick) and Sarah Clarke as Harry's ex-wife Eleanor, an FBI operative turned professional gambler facing off against high-rolling Chinese players while parenting their precocious teenage daughter Maddie (Madison Lintz). Good and evil aren't easily drawn, and the concentration is on character and milieu rather than denouement.
The visual storytelling on Bosch is crucial as the casting. A roster of seasoned 'prestige TV' directors uses long lenses, inventive compositions and carefully chosen lighting; many episodes, for example, are directed by Ernest Dickerson (Juice, The Wire and cinematographer on Do The Right Thing) and another cinematographer-turned-director, Alex Zakrzewski. One episode has everyone communicating by mobile phone in transit, criss-crossing the city in cars with recognizable neighborhoods unspooling in a blur over their shoulders. Another, from director Neema Barnette and cinematographer Michael McDonough (of Terence Davies' stunning Sunset Song) is an extended underground exploration that plays flashlight reflections off the gloss and matte blacks of the darkness, silent except for the dripping of water (evoking another Harry's journey through the sewers of Vienna). As Bosch ventures down the tunnel toward this season's solution to the Koreatown Killings, the murder of high-profile attorney Howard Elias, and another critical cold case besides, there's neither satisfaction in getting there nor any triumph in the grim anti-climax. In noir, that's a good thing. Next season can't come soon enough.
—Nathalie Atkinson
Nathalie Atkinson is a Toronto-based freelance culture writer and film critic, and a columnist for The Globe and Mail, Canada's daily newspaper; she regularly interviews a range of leading writers, actors, showrunners, and filmmakers (and screen icons like Kim Novak). A member of the Toronto Film Critics Association, Nathalie is also the creator and host of the popular film series Designing the Movies.