Noir Now Streaming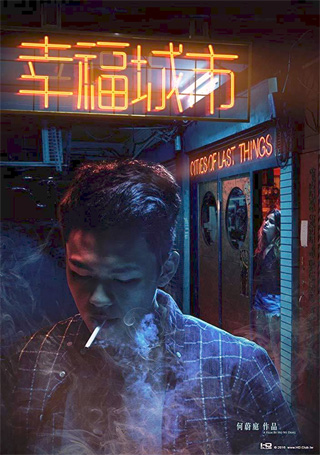 CITIES OF LAST THINGS
Ho Wi Ding seems determined to rack up degree of difficulty points. The Malaysian-born, Taiwan-based filmmaker's latest effort, which took home the coveted jury prize from the 2018 Toronto International Film Festival's Platform section, is no mere ho-hum noir told in reverse chronological order à la Christopher Nolan's Memento. Cities of Last Things is an ambitious triptych that begins in an all-too-plausible science fiction future before its story of abandonment, betrayal, and loss spirals decades into the past.
The first of Cities' three chapters is set in 2049 Taipei. Its opening image certainly commands the attention: a graphic high-rise suicide observed by drone, the death prompting automated public service announcements about the perils of negativity. The totalitarian environment depicted, complete with constant surveillance and readily available anti-aging drugs, feels like the slightest exaggeration of the present day. We follow the dour Zhang Dong Ling (Jack Kao) as he sets about mysterious errands that include acquiring a gun and confirming the whereabouts of a government minister. He pauses only to assault his wife's ballroom dancing partner in the middle of their performance, and to see a young European prostitute (Louise Grinberg) whom he insists reminds him of someone; technology raises the faint possibility she could actually be who he thinks—and hopes—she is.
Upon completion of Zhang's grim business, the action moves backward to roughly the present day, when Zhang is a straight-arrow vice cop (now played by Hong-Chi Lee from another recent perception-bending noir, Long Day's Journey into Night). His marriage is already unhappy, and he's warned by his corrupt superior that his "stubbornness could cost you your career." During a particularly bad day he encounters the French woman, again played by Grinberg, who will spark tomorrow's reveries. Here, she's a vagabond who shoplifts for her own intensely personal reasons. She registers as more of a conceit than a character, though, her connection with Zhang elusive. Zhang, meanwhile, starts off self-righteous and becomes bitter, a tough enough transition when presented in linear order. Reversed, it's even harder to become invested in his plight.
Consequently, it takes the third act, set when Zhang is a hellraising teenager (Chang-Ying Hsieh), a good deal of time to connect both structurally and emotionally. When it does, thanks in large part to Ding Ning's hugely compelling turn as charismatic criminal Big Sister Wang, the suggestion of an operatic arc in Zhang's life arrives almost too late.
Cities is more coherent visually than psychologically, with cinematographer Jean-Louis Vialard (Tropical Malady) lending the images a rich consistency across a half-century's worth of nights. Still, the fully imagined sequence set in the future, with its potent mixture of the familiar and the frightening, remains the most involving. Ho accomplishes this with minimal special effects; repeated glimpses of Zhang and other isolated passengers on an automated driverless bus conjure a sense of pervasive loneliness. As the film's physical settings grow more recognizable and its emotions more prosaic, audiences can be forgiven for wanting to go back (or forward) there.
—Vince Keenan
Vince Keenan is the co-managing editor of Noir City. With his wife Rosemarie Keenan, he writes the Agatha and Anthony Award-nominated Lillian Frost and Edith Head mysteries under the pen name Renee Patrick.