Noir Now Streaming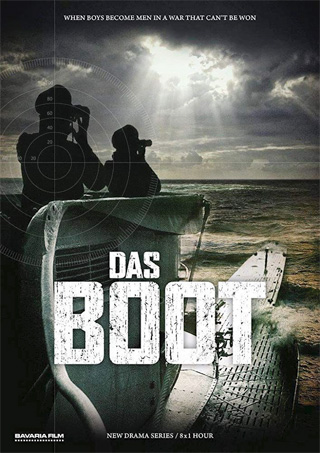 DAS BOOT (2019)
Das Boot shares the same title as Wolfgang Petersen's 1981 film (and is technically a sequel), but familiarity with the original is unnecessary to start the series. Also based on the novel Das Boot by Lothar-Günther Buchheim as well its sequel Die Festung, the 2019 series is set in late 1942, nine months after the film's finale, with a new crew, a new mission, and a new vessel.
Klaus Hoffmann (Rick Okon), a young, inexperienced officer with a military hero father, is promoted to captain of U-162, much to the resentment of First Watch officer Karl Tennstedt (August Wittgenstein) and a crew loyal to the veteran officer. You might expect the film to center on their story, but top billing goes to Vicky Krieps (Phantom Thread) as Simone Strasser, an Alsace-German woman who arrives in the port city of La Rochelle in occupied France to visit her brother, radio operator Frank Strasser (Leonard Scheicher).
Both Strassers are outcasts, considered French by the nationalistic Germans and the enemy by the French. Simone is determined to prove her loyalty to the fatherland as a translator for the military. Her brother, she soon learns, took a different path, and just as Gestapo officer Hagen Forster (Tom Wlaschiha) takes an interest in her both personally and professionally, Simone finds herself in an uneasy relationship with the American leader (Lizzy Caplan) of the local French Resistance cell.
The dramatic tension between the French civilians and the arrogant German occupiers—taking "Master Race" status literally—follows familiar-but-effective patterns of espionage drama. Deception and conflicted motivations complicate every moment. And while the multilingual production is primarily in German and French, English serves as a kind of lingua franca between the Germans and the French Vichy cops, a nice touch that reminds us, fascist sympathies aside, they are not natural allies.
Out in the Atlantic, however, the U-boat is rife with dissention and bullying, divided by nationalistic bigotry and stirred up by rumor-mongering. In the original film, director Wolfgang Petersen gave us a crew united by purpose and professionalism, and he used the big screen to pull us into a claustrophobic atmosphere where death was a depth charge away. The series uses that oppressive eternal twilight as a pressure cooker. Anxiety and rancor boil over into aggression, bigotry, and insubordination. Reckless attacks instigated by a rogue captain only plunge them farther into the depths, where the pressure (literal and figurative) threatens the crew's survival. Battle fantasy collides with the reality of war, and the crew's odyssey carries us into some of the most grueling drama in small-screen storytelling. With the focus constantly shifting between the characters and conflicts in all sections of the ship, this story is a constantly surprising and a thoroughly satisfying tour of duty.
Andreas Prochaska directs all eight episodes, which co-stars Vincent Kartheiser and James D'Arcy in small roles.
In German, French, and English, with subtitles. Eight episodes.
—Sean Axmaker
Sean Axmaker lives in Seattle with his cats, Hammett and Chandler, and writes the syndicated newspaper column Stream On Demand and the companion website.