Noir Now Streaming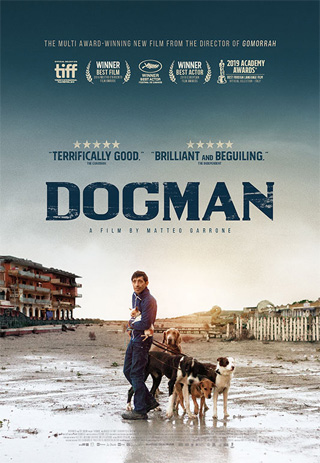 DOGMAN
Ever since filmmaker Matteo Garrone dazzled stateside audiences with his blistering crime pic Gomorrah (2008), we've come to think of him as the cinematic King of Naples — or at least the go-to guy for street-level vignettes of life in that sprawling Mediterranean city. It's always a tough life in a very tough place.
Consider the career of Marcello (played by Marcello Fonte), the protagonist of Garrone's Dogman. Marcello runs a dilapidated dog-grooming salon in the sleepy coastal town of Castel Volturno, northwest of Napoli. He's one of those sad-faced, chatty little men — actually quite wiry and agile — you can find in any Italian café or perhaps at the track desperately searching the racing form for a winner. When he isn't prepping a poodle for a canine beauty show or giving us a lesson in how to give a vicious bulldog a bath while it's trying to bite his hand off, Marcello can usually be found sitting at the café with his fellow small-time businessmen, interjecting comments in a high, squeaky voice.
One of the top subjects of conversation in Castel Volturno is Simone (Edoardo Pesce), a hulking leg-breaker who zooms around the territory on his motorcycle shaking down practically everyone he meets, especially small-business owners. The shopkeepers in Marcello's neighborhood are tired of being Simone's chumps and want to get rid of him, but no one is brave enough to step up. Marcello has his own reason for putting up with Simone –– the dogman has a sideline dealing cocaine (he uses a little himself) and Simone is one of his best customers … when he actually pays up. Otherwise, the big goon treats the little guy like his personal lackey, forcing him to go out with him on house burglaries and even having Marcello operate on him for a gunshot wound. Things cannot go on like this forever.
Where Gomorrah was a panoramic saga of crime with a variable cast of non-actors, Dogman is more of a fable. Diminutive Marcello essentially portrays the Commedia dell'arte character of Zanni, the holy fool, a poor little man – un borghese piccolo piccolo, with apologies to director Mario Monicelli – not quite as helpless nor as stupid as he appears at first. Marcello can handle the fiercest mutts with ease, but his big challenge is how to balance his professional skills with his innate desire to be one of the guys.
As in Gomorrah and Garrone's 2012 release Reality (a sharp satire in its own right), loquacious, gregarious Neapolitan characters are a major part of the story. "Irrepressible" doesn't begin to describe the figures of Marcello and Simone, let alone Simone's mother (Nunzia Schiano), who cuffs the heavyweight slugger around like a brat for using dope; Mirko, the surly coke supplier (Mirko Frezza), in his fabrication workshop; or the slimy police inspector (Aniello Arena from Reality) who fixes Marcello with a leer that says, "You can't afford any of my justice, buddy."
The director, who wrote the screenplay with help from a squad of six other writers, frames his characters with precision in their natural habitat. If he weren't already using the name of Marcello's shop, Dogman, as his title, Garrone could be excused for copping the title of Paolo Cavara, Gualtiero Jacopetti, and Franco Prosperi's 1962 documentary exploitationer Mondo cane. In Dogman, Marcello and Simone's world has indeed gone to the dogs. We wouldn't have it any other way.
—Kelly Vance
Kelly Vance saw 99 River Street on TV at age eleven and, ever since, has had an irrepressible urge to beat up Jack Lambert. Kelly is the chief film reviewer at the East Bay Express and a member of the San Francisco Film Critics Circle.