Noir Now Streaming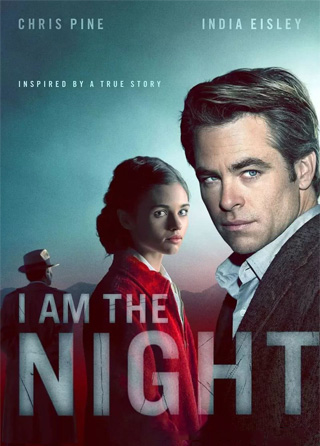 I AM THE NIGHT
We can thank Wonder Woman for the miniseries I Am the Night. Director Patty Jenkins not only connected with her star, Chris Pine, over the project, but Pine's interest inspired a new character in the screenplay her husband, Sam Sheridan, was writing. The result is an "inspired by a true story" six-part TV-miniseries as dark and lurid as any fictional film noir.
India Eisley stars as Pat, a mixed-race high school girl in 1965 Nevada who discovers that everything her mother Jimmy Lee (Golden Brooks), a single, African-American woman, told her was a lie. Starting with her name: she was born Fauna Hodel, daughter of a white mother and a black father, and granddaughter of wealthy Los Angeles doctor George Hodel (Jefferson Mays). He sounds perfectly inviting when she reaches him by telephone, but the seemingly avuncular fellow with a gentle voice is a powerful man with a sense of privilege and a shadowy past—he was a suspect in the Black Dahlia murder, among other crimes. He's protected by both the police and the mobsters of L.A. And he's been keeping an eye on Fauna all these years.
That's the "true story" part of the drama. Jay Singletary, the obsessive, afflicted journalist played by Chris Pine, is a fictional construct, but no less fascinating. Once a brilliant investigative journalist, his career was destroyed by Hodel and the Korean War took care of the rest. So often the cool or cocky hero, Pine is twitchy and aggressive as Jay, a broken man with PTSD that he medicates with drugs and alcohol. Self-righteousness and self-destructive in equal measure, he stumbles through a minefield of triggers and seems to take masochistic satisfaction in the routine beatings from the cops. Pine's performance is a constant churn of emotional lurches and instinctive impulses, as unnerving as it is intense and riveting, yet always believable.
The two characters connect about halfway through the show, as Jay tails Fauna and her step-grandmother Corinna (Connie Nielsen) in a scene that gently references Vertigo, and they negotiate a partnership to find Fauna's mother. Pine's performance could easily overwhelm Eisley, but while her doe eyes and pillow lips make her look like an innocent among wolves, Eisley's Fauna is smart and perceptive and determined. Her life as a light-skinned black girl is its own tightrope walk, whether it's police "protecting" her from a young black man walking her home or their hostile turn when she tells them she's "colored."
Some of the dialogue in Sam Sheridan's script is a little on-the-nose, but that's a minor issue. Patty Jenkins directs the first two episodes shaping Pine's combustible performance and establishing the long game approach to the production—it's a pleasure to see how seemingly minor details return with major payoffs—and Carl Franklin (Devil in a Blue Dress) beautifully pulls the complicated relationships and revelations of the final two episodes together as the Watts riots erupt around their story. It's a fascinating journey, a gut-punch of a story, and a nuanced exploration of family and identity.
—Sean Axmaker
Sean Axmaker lives in Seattle with his cats, Hammett and Chandler, and writes the syndicated newspaper column Stream On Demand and the companion website.