Noir Now Streaming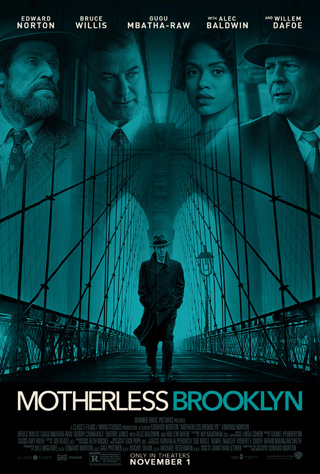 MOTHERLESS BROOKLYN
Lionel Essrog, nicknamed Brooklyn because he was raised in an orphanage in that borough, has his challenges as he makes his way through Motherless Brooklyn. The amiably inquisitive gofer and photographer for a private investigation agency in the late 1950s (played by the director, Edward Norton) suffers from Tourette Syndrome. That condition of the nervous system causes him to twitch uncontrollably at times and suddenly exclaim his private thoughts, often in rhyming form, at top volume. The unexpected yelling spoils the surreptitious approach favored by most gumshoes. A colleague says being with him is "like living with an anarchist."
As described by screenwriter Norton, liberally adapting the novel by Jonathan Lethem, the affliction also unfairly labels Lionel as more of a harmless goof than the careful, analytical detective he really is. He has built-in disadvantages. The women he encounters mostly warm up to him, almost as if they find his weakness attractive. But when he happens to blurt out a non-sequitur to the sort of tough guy he frequently meets on the job, Lionel tends to get beaten up. It's a tough way to make a living, but Lionel is diligent.
Armed with such a semi-reliable protagonist/narrator, Norton sets his noirish period character study in the era of "urban renewal" – with all the negative racial connotations that now-disgraced theory of city planning possesses. As practiced by blowhard director Moses Randolph (Alec Baldwin), the all-powerful Borough Authority is in the business of turning public land over to private investors. When misfortune strikes the boss of the detective agency (Bruce Willis) and suspicion falls on hoodlums connected to Randolph, Lionel and his fellow snoopers decide to go after the mega-developer and make him pay.
With its odd combination of period crime and slapstick, Motherless Brooklyn takes its time warming up, but Norton's Brooklyn – both the place and the man – grow on us. He falls in love with Laura Rose (Gugu Mbatha-Raw), a socially progressive ally of anti-business activist Gabby Horwitz (Cherry Jones), and we're introduced to Laura's Harlem jazz club owning father (Robert Wisdom), the club's charismatic star performer (Michael Kenneth Williams), and Paul (Willem Dafoe), Randolph's seemingly delusional outcast brother. There are overtones of both Chinatown and Joe Gould's Secret in Lionel's rambling investigation, particularly when Randolph goes into a Noah Cross-style rant about Central Park. If someone were to accuse Baldwin of basing his characterization on his notorious Donald Trump impersonation, we'd have to say that makes sense.
Norton's sure storytelling touch with the Brooklyn milieu – shot on location in NYC instead of Toronto – lends the production its authentic noirish glow, but Lionel/Brooklyn (he also occasionally calls himself Bailey) and his stubborn struggle against greed and bigotry add an apt public-service credential. If this out-of-control neighborhood flunky can rescue New York from a corrupt empire builder (Randolph is putatively based on neighborhood-destroyer Robert Moses), a case of Tourette's certainly is no obstacle. Brooklyn may be motherless, but he's no sucker.
—Kelly Vance
Kelly Vance saw 99 River Street on TV at age eleven and, ever since, has had an irrepressible urge to beat up Jack Lambert. Kelly is the chief film reviewer at the East Bay Express and a member of the San Francisco Film Critics Circle.