Noir Now Streaming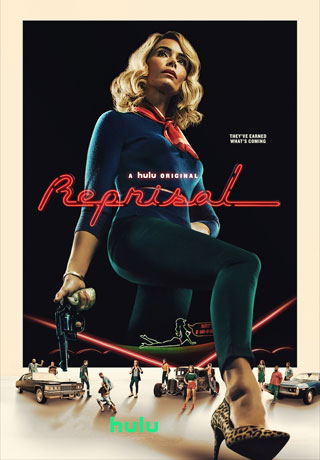 REPRISAL: SEASON 1
Somewhere in a pulp fiction neverland that straddles World War II-era glamour, fifties hot rods, The Rocky Horror Picture Show, and flip phones, Reprisal plays out a tale of vengeance executed by a woman horribly, brutally wronged.
Abigail Spencer (Timeless, Rectify) plays Katherine Harlow, who in the opening minutes of the series is dragged to her death for betraying The Banished Brawlers to rival gang The Ghouls. Except she was innocent, framed as part of a power play, and she survived, reinventing herself as Doris Quinn.
As she later explains, "All my life, men have underestimated me." She uses that to her advantage as she plots revenge, aided by a reluctant mole (Mena Massoud of Disney's live-action Aladdin) and a robbery crew nicknamed The Monsters. Yes, this show is big on logo-ready monikers.
The action takes place in an America of small towns, anonymous hotels, and two-lane country highways that stretch for miles without a house or a human in sight. Sons of Anarchy has been the ready comparison in reviews, thanks to the outlaw gang culture of clan machismo and rural crime empires. But where SOA glorified the bonds of brotherhood, Reprisal slowly reveals the Brawlers as something more like a cult, its leader Burt (Rory Cochrane) a quasi-guru demanding absolute fealty and sacrificing his own family to build his authority. It's only the folks on the margins who choose personal connection over blind loyalty.
TV rarely commits fully to the pulp fiction milieu. Reprisal embraces it with gusto, dishing out dime-store mythology while acknowledging its shortcomings. Creator Josh Corbin offers a culture of male bonding while observing the way women stake out their autonomy in the world (or at least try to), and does it without slipping into the easy exploitation so common to pay cable and streaming TV. The opening act of violence is brutal but not explicit, and the Brawlers' strip club hangout is like a 1960s go-go den reimagined as a southwest honky-tonk. Meredith (Madison Davenport), star attraction of the floor show, dresses like a yesteryear pin-up in a club where the dancers never actually take it off.
The mechanics of the gang's income are foggy—something about "taxes" and tickets to their private roadhouse hangout—and the gang members seem to be competing for a trophy in world-weary cool with their grizzled performances, but the show's style and sensibility are a hoot. Spencer's Doris isn't exactly a femme fatale, but she has a way of drawing folks into her very personal mission, hiding her character's endgame behind a tight smile and lilting voice that never drops its Southern manners. The out-of-time iconography, decades-straddling style, and anywhere USA setting (it's shot in North Carolina) invite the audience to relish Reprisal's pulp ethos and appreciate the twists and turns of the ride as Doris unleashes chaos.
—Sean Axmaker
Sean Axmaker lives in Seattle with his cats, Hammett and Chandler, and writes the syndicated newspaper column Stream On Demand and the companion website.