Noir Now Streaming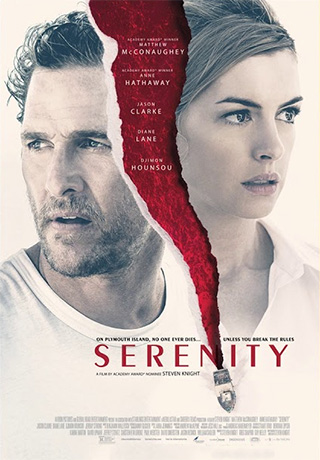 SERENITY
A broke, dejected fishing boat captain reduced to taking drunken tourists out for a day at sea. His beautiful ex-wife, now unhappily remarried. Her current husband, an abusive, loud-mouthed bully. The boat captain's faithful but mistreated deck hand. The captain's sultry night-time girlfriend. The captain's neglected son, glimpsed in flashbacks and inserts. An odd little man in a suit, who always arrives a minute too late. Assorted local rummies. A frigatebird hovering ominously overhead. Sugarcane fields reveling in the humidity. A colorful but run-down port on a fictional tropical island. Much alcohol.
Steven Knight's Serenity has everything it needs to be a blueprint neo-noir. In fact, the movie's strongest selling point, aside from the wonderfully balmy sea-breeze atmosphere, is its old-Hollywood crime-of-passion pedigree. Any comparisons to To Have and Have Not or The Breaking Point are actively invited. The lust, regret, and flat-out nastiness are feelings we can curl up with and relate to. Suffering salt Baker Dill's (Matthew McConaughey) misery is our salvation. Not even the screenplay's dents and scratches make much of a difference in our enjoyment of all this negativity on display.
"Serenity" is the name of Dill's boat, where most of the dirty deeds take place. McConaughey plays Dill in full crazy Conch mode – tanned, 24-hour shadow, doesn't bathe regularly, hydrates with beer, long conversations with imaginary companions. When he isn't worrying about his misplaced son, he's obsessing about that big tuna that continually eludes him. We can't help thinking about Geoffrey Firmin, the self-inflicted wounded protagonist of Malcolm Lowry's Under the Volcano. Dill is evidently a role that McConaughey keeps in his duffel bag, always ready to use at a moment's notice whenever an ill-fated Sun Belt burnout is called for.
Anne Hathaway's Karen matches up well with Dill. Maybe it's the blond hair or the welts on her back. Karen brings out a doomed, druggy sensuality we've never before really associated with Hathaway. $10 million is a lot of money just to drop an intoxicated goon off a power boat. Let writer-director Knight (Peaky Blinders, Eastern Promises) have his fun with underwater mysticism and the pathetic little figure of Samson the albatross (Garion Dowds). None of that matters when Karen starts to purr about her daddy, whomever that may be at the moment. Karen is a bad bitch looking to unload. Sailors take warning.
About Jason Clarke's Frank Zariakis –– what is there to say except that all the overacting in the world can't detract from his performance as the most loathsome individual on Plymouth Island. Clarke is one of the best in the business for this sort of part. Try to imagine propping up a badly beaten, thoroughly drunk, light-heavyweight specimen of fake machismo long enough to make sure he won't fall down on the pier, and then putting him into a swiveling deck chair in the hot sun on a heaving craft five miles offshore, waiting for an accident to happen.
There are little things wrong with the setup, but nothing that the above actors, composer Benjamin Wallfisch's sweeping orchestral score, Diane Lane's reliably horny townie, the lush Mauritius location, and filmmaker Knight's keen nose for ordinary wickedness can't fix. Not to go too far overboard on the subject, but we sincerely needed this.
I think the reason other reviewers made such a fuss over the surprise twist is that it was their main reason for dismissing the film. I'm no big fan of the twist, but it did not distract me from having fun with the general over-the-top tone of the movie. My tendency is to downplay or ignore plot twists unless they change the dramatic thrust of the movie. Despite all the furor it's caused, such is not the case in Serenity.
—Kelly Vance
Kelly Vance saw 99 River Street on TV at age eleven and, ever since, has had an irrepressible urge to beat up Jack Lambert. Kelly is the chief film reviewer at the East Bay Express and a member of the San Francisco Film Critics Circle.