Noir Now Streaming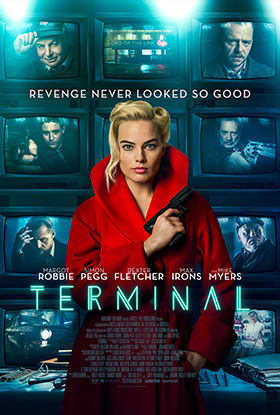 TERMINAL
Prognosis: Terminal. The flirty blond waitress (Margot Robbie) at the diner near the railway station is not exactly what she seems, as two hit men (Dexter Fletcher and Max Irons) and a dying schoolteacher (Simon Pegg) discover. That's just about all there is to writer-director Vaughn Stein's expensive-looking, cheap-playing mood piece. With a setup like that, a cinematic stylist with flair could have lots of room to explore the characters and the milieu and put an exclamation mark on an open-ended, somewhat clichéd proposition. But none of that especially happens.
A voiceover narrator helpfully explains the magic of the terminal neighborhood: "There is a place like no other on earth, a land full of wonder, mystery, and danger." Hold on a minute. Writer-director Stein's night town looks like any other low-budget crime movie setting, with its shadowy streets and thicket of neon. Bill, the coughing English teacher (Pegg, holding up his end of the bargain), shuffles through the heavily stylized urban scenery like the Ancient Mariner. His Albatross is the railroad station custodian (a hammy Mike Myers), who always seems to pop up when the story lags.
Then, there are Vince (Fletcher) and his vague sidekick Alfred (Irons), a pair of bumbling hoods out to settle a score with the oft-mentioned, seldom seen crime boss Mr. Franklin. They all gravitate to the café run by Annie (Robbie, flashing her megawatt smile), where the rule of the day is absurdist non-sequitur lines Samuel Beckett might have been proud of. Or not. The narrative gaps are so numerous they become distracting, and the dialogue falls flat.
Ten minutes into this—no, five minutes—tedium sets in. It's going to be a long, long movie. The badinage between Robbie and Pegg, such as it is, is the best thing about this otherwise tiresome mess––the only thing to look forward to. We know we're in trouble when criminals start quoting Lewis Carroll. Worse, Vaughn's screenplay buries the lede—we have to wait until the end to see the backgrounded revenge story that might have made the movie worthwhile if it were placed up front. As it is, we lose interest before we ever get to it. Just when we think it can't get any worse, the scenario goes elliptical on us. Terminal actually makes us long for the days of Guy Ritchie.
This is one that Robbie (I, Tonya) will want to forget. She tries everything—a pole dance, a dominatrix routine, and Annie's apparent compassion for Bill. Nothing works. Annie and the other characters never resemble anything other than a group of cardboard cutouts. Filmmaker Stein, after working his way up to his directorial roll-out with a long string of assistant director jobs on projects like Our Kind of Traitor and The Danish Girl, probably needs to have a sit-down with another writer at some point in his future. Just to compare notes. Meanwhile, no amount of script doctoring could save Terminal. That train left long ago.
—Kelly Vance
Kelly Vance saw 99 River Street on TV at age eleven and, ever since, has had an irrepressible urge to beat up Jack Lambert. Kelly is the chief film reviewer at the East Bay Express and a member of the San Francisco Film Critics Circle.