Noir Now Streaming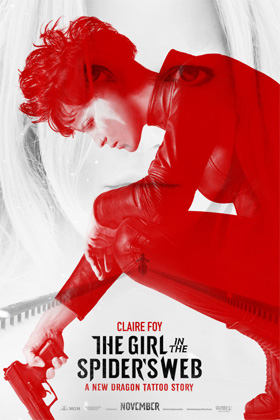 THE GIRL IN THE SPIDER'S WEB
The original Swedish movies that became known as the Dragon Tattoo Trilogy (aka the Millennium Trilogy) were the most exciting things to hit North American screens in 2010. Built around the face and the righteous indignation of wronged millennial Lisbeth Salander (indelibly personified by actor Noomi Rapace), the three-part adaptation of author Stieg Larsson's best-selling novels revived a very old cinematic discussion—the one about lithe female warriors emerging from the shadows in search of justice ––with a brash 21st-century European style.
No one was surprised that Hollywood would remake the property with English-speaking actors. Director David Fincher did his best with 2011's The Girl with the Dragon Tattoo, with Rooney Mara as a recognizable Lisbeth––cool, hurt, alone, encased in black leather––but it was obviously redundant.
Now comes the international co-production The Girl in the Spider's Web––subtitled A New Dragon Tattoo Story––which finds the franchise at a crucial junction. In the wake of author Larsson's death and the passing of the reigns to writer David Lagercrantz, what will become of Lisbeth? Will she sell her motorcycle and get married to a stockbroker, or remain the defiant, eternally angry riot grrrl that thrilled international audiences?
Sad news. In its third generation, the saga has become noticeably threadbare, even trite. As adapted from Lagercrantz' book by the busy Steven Knight (Peaky Blinders, Eastern Promises), journeyman Jay Basu, and director Fede Álvarez (Evil Dead, Don't Breathe), Spider's Web stalls out early and settles for the familiar. There's very little to distinguish it from any number of sexy-ladies-in-cat-suits-jumping-through-windows exercises, from Les Vampires to La Femme Nikita to Kill Bill to Hanna.
British actor Claire Foy (First Man, Unsane), in the all-important Lisbeth role, is a major part of the problem. With her medieval bobbed hairdo, this new Lisbeth gives the impression of an extra from Carl Theodor Dreyer's The Passion of Joan of Arc. (She could never pass for the saintly Joan herself, of course. If a squad of helmeted invaders ever came to drag Lisbeth off to be burned at the stake, she'd beat them senseless.) Worse yet are the things Lisbeth is asked to do.
A nefarious Russian criminal clan called the Spiders is trying to get hold of the internet security research of a Swedish scientist with the aim of hacking every nuclear system in the world. Opposing them are the scientist's clairvoyant young son (Christopher Convery), Millennium magazine's beleaguered investigative reporter Mikael Blomkvist (a completely harmless Sverrir Gudnason), and a hop-scotch pastiche of spooks, including a NSA operative (Lakeith Stanfield). Foy's Lisbeth is naturally on hand, although her mind is reeling from flashbacks of incestuous pederasty long ago, plus the knowledge that her older sister and fellow victim Camilla (Sylvia Hoeks) is now lined up with the Spiders.
In other words, the once-provocative action series is no different than any other routine spy-boiler. Compared to the sight of Rapace's lonely Lisbeth brooding in her dark apartment, trying to reconcile the crimes committed against her (sexual and otherwise) against her newfound sense of justice, the new film's nonstop explosions and quickie characterizations are terminally boring. Lisbeth is kaput. Long live Lisbeth.
—Kelly Vance
Kelly Vance saw 99 River Street on TV at age eleven and, ever since, has had an irrepressible urge to beat up Jack Lambert. Kelly is the chief film reviewer at the East Bay Express and a member of the San Francisco Film Critics Circle.