Noir Now Streaming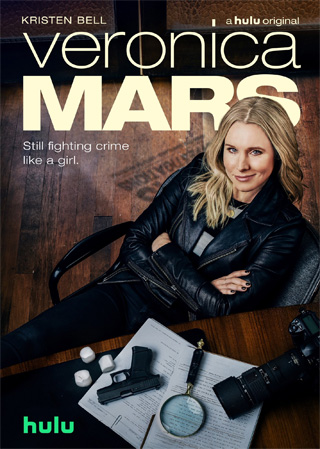 VERONICA MARS (2019)
Veronica Mars launched in 2004 as a youth-skewing high school version of the American detective drama: Nancy Drew meets Raymond Chandler in a beachside suburb of big city noir. It ran for three seasons, followed by a disappointing 2014 Kickstarter-funded feature film—but neither creator Rob Thomas nor the fans were ready to let go of the sardonic Veronica.
The 2019 revival picks up with Veronica as a 30-something private investigator back in the corrupt seaside town of Neptune. She's working with her father, Keith (Enrico Colantoni, still TV's greatest dad), and living with her boyfriend, Logan (Jason Dohring), the hot-tempered former bad boy now a military intelligence officer who, thanks to therapy, is keeping his temper under control between missions. The eight-episode series (which Hulu modestly calls "Season Four") kicks off with a literal explosion amidst the drunken excess of Spring Break; it's the first strike in a serial bombing spree targeting struggling beachside dives and privileged partiers alike. Veronica and Keith aren't the only ones investigating—there's the police, the FBI, sleazy bottom-feeding PI Vinnie Van Lowe (Ken Marino), and an amateur "Murder Club" led by an aging, attention-hungry pizza delivery guy (Patton Oswalt)—but they are the town's best hope of navigating the suspect pool of predatory businessmen, spoiled rich kids, and petty gangbangers.
"Season Four" or "Veronica Mars 2019"—whatever you want to call it—is both a return to form and an evolution of the original series. Most of the original cast members are back, along with the familiar elements: volleys of playful bantering between Veronica and Keith, self-aware narration that mixes hardboiled attitude with contemporary wit, and the socially and economically polarized culture of Neptune, which has gotten worse over the years. Predatory developers are gobbling up failing properties to transform this West Coast Fort Lauderdale into a millionaire's club, and a career thief/ex-con/fixer to the rich (J.K. Simmons, superb as usual) has a better moral compass than his boss.
Veronica is now grown up, more confident and fearless than ever behind twinkling eyes that can turn hard and piercing at the drop of threat. Her deflective wisecracking serves as emotional armor as Logan pushes for a more mature relationship. Bell's chemistry with both Colantoni (affectionate and protective) and Dohring (simmering sexual heat) powers the show and the easy byplay between Colantoni and Simmons, playing middle-aged men who share a bond of professionalism and experience (albeit on opposite sides of the street), offers one of the show's greatest pleasures.
The return of Veronica Mars is smart and sharp, full of deft, snappy writing. The humor and energy and playful banter gives the show a brightness that belies the darkness at its heart. The rich think of dead kids merely as collateral damage if it saves them money. Everyone else is fighting to hang on. That kind of desperation doesn't make for a healthy society—but it sure makes for a compelling show.
Eight episodes streaming on Hulu. The first three seasons are also available to stream.
—Sean Axmaker
Sean Axmaker lives in Seattle with his cats, Hammett and Chandler, and writes the syndicated newspaper column Stream On Demand and the companion website.