BOSCH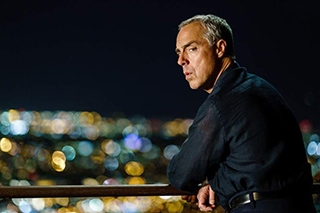 STREAMING FROM AMAZON
From its disorienting opening credits, a kaleidoscope of metropolitan Los Angeles to the desiccated cliffs of its more desolate locales, Bosch promises and delivers a procedural showcasing Southern California landmarks brought down to earth with gritty realism. + READ MORE
MANHUNT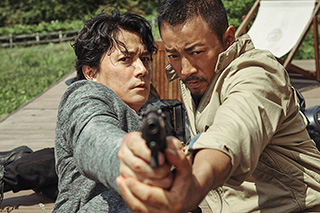 STREAMING FROM NETFLIX
"For a better tomorrow," remarks one character in a rare moment of downtime in John Woo's Manhunt, drawing a direct connection to Woo's 1986 break-out hit. Not that he needed to drop so blatant a callback. Released in 2017 across Asian cinemas but debuting on Netflix in the U.S., Manhunt is a self-conscious throwback to the Hong Kong films that made Woo's reputation among action movie fans around the world––a gleefully overstuffed thriller that races through the greatest-hits-of-Woo trademarks, right down to a hardboiled cop who bonds with his nemesis as he pursues him across the city. + READ MORE
TERMINAL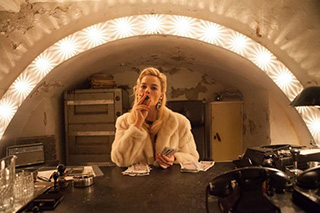 In Theaters
Prognosis: Terminal. The flirty blond waitress (Margot Robbie) at the diner near the railway station is not exactly what she seems, as two hit men (Dexter Fletcher and Max Irons) and a dying schoolteacher (Simon Pegg) discover. That's just about all there is to writer-director Vaughn Stein's expensive-looking, cheap-playing mood piece. With a setup like that, a cinematic stylist with flair could have lots of room to explore the characters and the milieu and put an exclamation mark on an open-ended, somewhat clichéd proposition. But none of that especially happens. + READ MORE
DARK CRIMES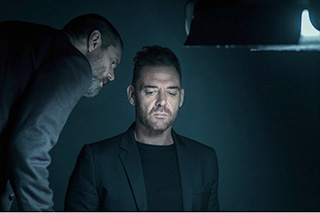 In Theaters
It starts with a naked woman, bound and hanging from her wrists, glimpsed in some sort of concrete storage space/torture chamber. Then, an orgy in full swing. We're apparently in a bunker where nude young women are confined in cells under the domination of men. We sense that all is not well here. + READ MORE
BABYLON BERLIN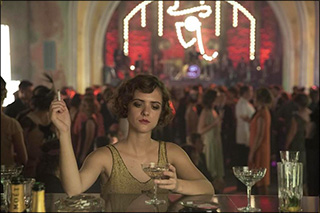 Streaming FROM NETFLIX
The most expensive German TV series ever produced, Babylon Berlin, is Weimar noir, a detective drama turned conspiracy thriller set against the backdrop of decadence, poverty, and corruption in 1929 Berlin just before the Nazi party rode the swell of nationalism to power. Think Cabaret meets L.A. Confidential as produced by UFA, recreating a cultural moment that is about to implode.+ READ MORE
COUNTERPART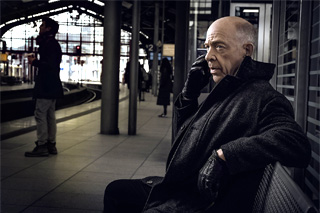 STARZ NETWORK
Arriving without the noise of prestige series, Counterpart stealthily sidestepped any hype to emerge as one of this season's best new dramas. Part espionage procedural, part speculative fiction, it's neo-noir with overtones of Cold War dread, infused with our own paranoia. + READ MORE
MUTE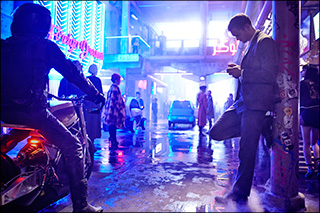 STREAMING FROM NETFLIX
It sounds like a natural: Duncan Jones, director of the ingenious science fiction mystery Moon, goes back to the future with a throwback plot that could have been pilfered from a 1940s B-movie noir.
Alexander Skarsgård (True Blood) is the gentle, mute bartender Leo, an innocent in crisp, buttoned-up shirts who works in an upscale bar catering to the rich, corrupt, and criminal. His blue-haired waitress girlfriend Naadirah (Seyneb Saleh) is a born hustler with a shadowy past brewing up some kind of scheme. When she disappears, he hits the mean streets of 2058 Berlin in search of his tarnished angel, who may or may not have played him for a patsy. + READ MORE
THE ALIENIST: Season 1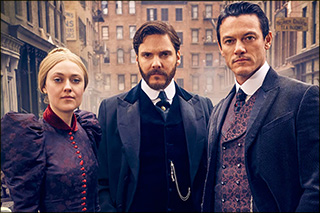 streaming from TNT
My primary recollection of Caleb Carr's novel The Alienist, which I read fifteen years ago, is thinking a screen adaptation was inevitable. Set in 1896 New York City, with a team of investigators using pioneering methods to identify and capture a serial killer preying on juvenile male prostitutes, it played with the "birth of criminal profiling" conceit and played upon readers' familiarity with modern forensics as these mavericks work outside a corrupt and hidebound system. The characters were sketched in broad strokes, but the historical backdrop, period detail, and mix of real-life and fictional figures gave the proto-procedural premise a compelling hook. It seemed destined to be a movie. Instead, it was developed by writer/producer Hossein Amini (Drive) as a ten-part cable series for TNT. + READ MORE
RACER AND THE JAILBIRD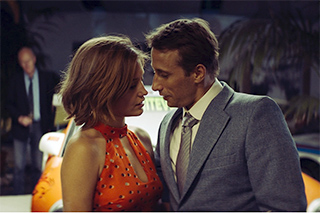 IN THEATERS
First there's that title, which makes the movie sound like an American–International juvenile delinquent film from the 1950s. In the rest of the world, the third feature from Belgium's Michaël R. Roskam (Bullhead, The Drop) is known as Le Fidèle, or The Faithful. + READ MORE
ANON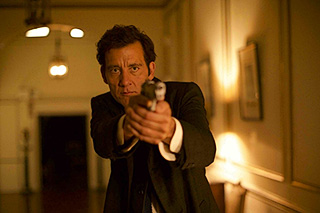 STREAMING FROM NETFLIX
Sal Frieland (Clive Owen) strolls down a city street, the anonymous faces in the crowds streaming past him instantly tagged with pop-up IDs. Frieland's a cop in a future where every brain is connected to a central server, his hardwired Google Glass eyeballs giving him access not just to individuals' data but everything they've seen and heard, all of it recorded for posterity and occasionally self-incrimination. Then, he's called to a murder scene and finds the mind of the victim has been hacked––the culprit gone without leaving a digital footprint of any kind. Is this ghost in the machine a serial killer, an assassin, or something else? + READ MORE
OCCUPIED: Season 2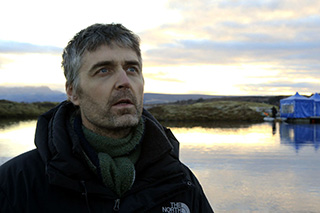 STREAMING FROM NETFLIX
The first season of Occupied debuted on Netflix in January 2016 to little notice. Maybe the whole enterprise was too far-fetched. America putting itself first and turning its back on the rest of the world? Russia meddling in the political affairs of other nations? Please. When is 24 coming back?
What a difference a presidential election makes. Now Occupied's startling prescience is almost an obstacle; binge-watching season two won't exactly provide a break from the news. + READ MORE
AMERICAN ANIMALS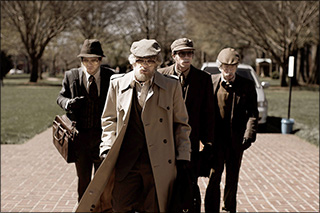 In Theaters JUNE 1
Here's a one-sentence headline-style synopsis for Bart Layton's American Animals: Rookies in Over Their Heads in Art Heist. But there's a bit more to writer-director Layton's clever, stylish true-crime yarn about four lads and their grandiose idea to steal a priceless collection of art prints and rare books from a university library—with no previous experience at that kind of work. Layton's ostensibly playful pic, based on an actual 2004 walk-right-in, walk-right-out-with-the-loot daylight robbery, could conceivably fit into the same teenage-prankster-popcorn groove as Ferris Bueller's Day Off, if we were to swap out upper-middle-class schoolboys in the Chicago suburbs in favor of a quartet of goofball college students from Kentucky. + READ MORE
THOROUGHBREDS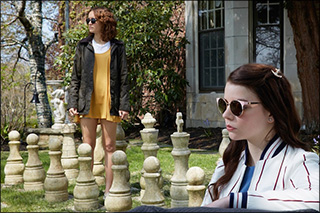 In Theaters
Heathers meets American Psycho" reads the drop quote on the poster of Thoroughbreds, the debut feature from writer/director Cory Finley. It's a tasty little tag and accurate enough, in its way. There's a wicked satire under the cultivated surfaces and carefully groomed front, but a chilly alienation sets this teen-killer thriller apart from the flamboyant films of the quote. + READ MORE
YOU WERE NEVER REALLY HERE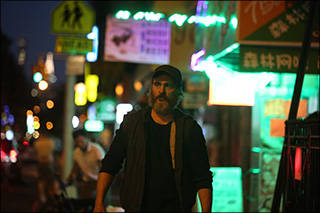 In Theaters
In the cinematic netherworld imagined by Lynne Ramsay, writer-director of You Were Never Really Here, any crime involving children—now or in the dimly remembered past—reverberates through the air to poison all that it touches, infecting everything, including the visual language of the film itself.
The 48-year-old Scotland native's Morvern Callar (2002) related the inner turmoil of a young woman who believes she deserves better than she's getting, with a disturbingly brilliant performance by actor Samantha Morton. + READ MORE
GEMINI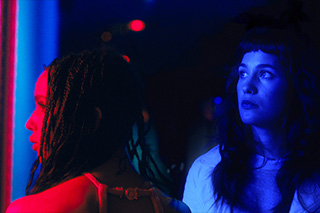 In Theaters
Return with us now to the problem of convincingly writing and/or portraying one-dimensional, dumbed-down characters without being mistaken for dumb oneself. It's a difficult trick to pull off. Case in point: writer-director Aaron Katz's doomed whodunnit Gemini. + READ MORE
UNSANE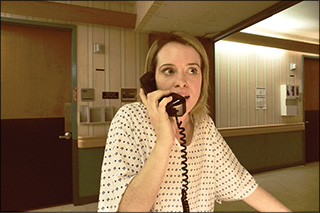 In Theaters
Sawyer Valentini seems to be behaving a bit oddly. She makes sour faces at her colleagues in the cubicles at work. She rebuffs her boss' unwanted sexual innuendo with a trace of panic in her manner. And after flirting with a blind date and bringing him back to her apartment, the evening blows up when she recoils from him screaming. Is Sawyer (played by English actor Claire Foy) just another highly strung urbanite? Are people truly picking on her? Or, is she, in fact, Unsane? + READ MORE